The word "beginning" occurs 100 times in the Bible. The infographic below identifies the points of each occurrence. This graphic presentation starts with Genesis in the top left and concludes with Revelation in the bottom right.
Here are the 30 most encouraging Bible scriptures on new beginnings.
2 Corinthians 5:17
Therefore, if anyone is in Christ, he is a new creation. The old has passed away; behold, the new has come.
Jeremiah 29:11
"For I know the plans I have for you," declares the Lord, "plans for welfare and not for evil, to give you a future and a hope."
Isaiah 43:19
"Behold, I am doing a new thing; now it springs forth, do you not perceive it? I will make a way in the wilderness and rivers in the desert."
Isaiah 40:31
But they who wait for the Lord shall renew their strength; they shall mount up with wings like eagles; they shall run and not be weary; they shall walk and not faint.
1 John 4:18
There is no fear in love, but perfect love casts out fear. For fear has to do with punishment, and whoever fears has not been perfected in love.
1 Peter 1:3
Blessed be the God and Father of our Lord Jesus Christ! According to his great mercy, he has caused us to be born again to a living hope through the resurrection of Jesus Christ from the dead.
2 Chronicles 7:14
If my people who are called by my name humble themselves, and pray and seek my face and turn from their wicked ways, then I will hear from heaven and will forgive their sin and heal their land.
Acts 3:19
Repent therefore, and turn again, that your sins may be blotted out.
Ecclesiastes 3:11
He has made everything beautiful in its time. Also, he has put eternity into man's heart, yet so that he cannot find out what God has done from the beginning to the end.
Ezekiel 11:19
And I will give them one heart, and a new spirit I will put within them. I will remove the heart of stone from their flesh and give them a heart of flesh.
Ezekiel 36:26
And I will give you a new heart, and a new spirit I will put within you. And I will remove the heart of stone from your flesh and give you a heart of flesh.
Genesis 1:1
In the beginning, God created the heavens and the earth.
Genesis 1:9
And God said, "Let the waters under the heavens be gathered together into one place, and let the dry land appear." And it was so.
Isaiah 58:12
And your ancient ruins shall be rebuilt; you shall raise up the foundations of many generations; you shall be called the repairer of the breach, the restorer of streets to dwell in.
Isaiah 65:17
"For behold, I create new heavens and a new earth, and the former things shall not be remembered or come into mind."
Job 8:7
And though your beginning was small, your latter days will be very great.
John 1:1
In the beginning was the Word, and the Word was with God, and the Word was God.
John 3:16
For God so loved the world, that he gave his only Son, that whoever believes in him should not perish but have eternal life.
John 3:3
Jesus answered him, "Truly, truly, I say to you, unless one is born again he cannot see the kingdom of God."
Lamentations 3:22
The steadfast love of the Lord never ceases; his mercies never come to an end.
Luke 7:47
"Therefore I tell you, her sins, which are many, are forgiven—for she loved much. But he who is forgiven little, loves little."
Malachi 4:2
"But for you who fear my name, the sun of righteousness shall rise with healing in its wings. You shall go out leaping like calves from the stall."
Matthew 7:7
"Ask, and it will be given to you; seek, and you will find; knock, and it will be opened to you."
Philippians 4:6
Do not be anxious about anything, but in everything by prayer and supplication with thanksgiving let your requests be made known to God.
Psalm 102:25
Of old you laid the foundation of the earth, and the heavens are the work of your hands.
Psalm 65:11
You crown the year with your bounty; your wagon tracks overflow with abundance.
Revelation 21:4
"He will wipe away every tear from their eyes, and death shall be no more, neither shall there be mourning, nor crying, nor pain anymore, for the former things have passed away."
Revelation 21:5
And he who was seated on the throne said, "Behold, I am making all things new." Also he said, "Write this down, for these words are trustworthy and true."
Romans 12:2
Do not be conformed to this world, but be transformed by the renewal of your mind, that by testing you may discern what is the will of God, what is good and acceptable and perfect.
Romans 8:31
What then shall we say to these things? If God is for us, who can be against us?
More Bible Verses that Will Move You
50 Most Powerful Scriptures on Faith
60 Transcendent Verses on Trust
50 Strong Scriptures on Perseverance
68 Powerful Verses on Forgiveness
40 Uplifting Scriptures on Patience
Add Our Infographic Below to Your Pinterest Board
Hit the pin button below to add our infographic, with all the verses, to one of your Pinterest boards.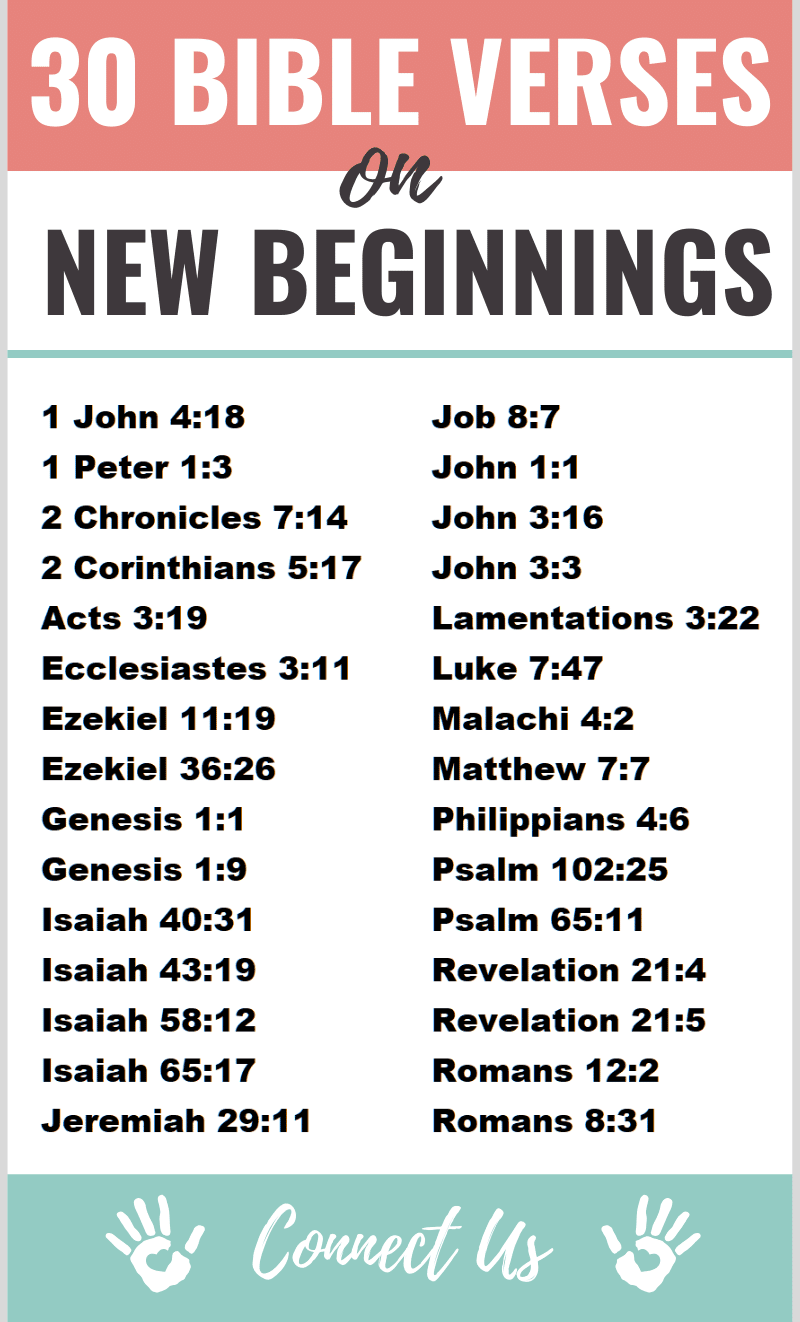 Author Bio
Natalie Regoli is a child of God, devoted wife, and mother of two boys. She has a Master's Degree in Law from The University of Texas. Natalie has been published in several national journals and has been practicing law for 18 years.