Here are the 30 most important Bible scriptures on offense.
Proverbs 19:11
Good sense makes one slow to anger, and it is his glory to overlook an offense.
Proverbs 18:19
A brother offended is more unyielding than a strong city, and quarreling is like the bars of a castle.
James 3:16
For where jealousy and selfish ambition exist, there will be disorder and every vile practice.
Leviticus 19:18
"You shall not take vengeance or bear a grudge against the sons of your own people, but you shall love your neighbor as yourself: I am the Lord."
1 Peter 2:23
When he was reviled, he did not revile in return; when he suffered, he did not threaten, but continued entrusting himself to him who judges justly.
1 Corinthians 1:23
But we preach Christ crucified, a stumbling block to Jews and folly to Gentiles.
1 Corinthians 10:32
Give no offense to Jews or to Greeks or to the church of God.
1 Corinthians 13:5
Or rude. It does not insist on its own way; it is not irritable or resentful.
1 Peter 2:8
And "A stone of stumbling, and a rock of offense." They stumble because they disobey the word, as they were destined to do.
Acts 24:16
So I always take pains to have a clear conscience toward both God and man.
Colossians 3:13
Bearing with one another and, if one has a complaint against another, forgiving each other; as the Lord has forgiven you, so you also must forgive.
Ephesians 4:26
Be angry and do not sin; do not let the sun go down on your anger.
Ephesians 4:32
Be kind to one another, tenderhearted, forgiving one another, as God in Christ forgave you.
Galatians 5:11
But if I, brothers, still preach circumcision, why am I still being persecuted? In that case the offense of the cross has been removed.
Galatians 5:13
For you were called to freedom, brothers. Only do not use your freedom as an opportunity for the flesh, but through love serve one another.
Galatians 5:22
But the fruit of the Spirit is love, joy, peace, patience, kindness, goodness, faithfulness.
Galatians 5:26
Let us not become conceited, provoking one another, envying one another.
Isaiah 8:14
And he will become a sanctuary and a stone of offense and a rock of stumbling to both houses of Israel, a trap and a snare to the inhabitants of Jerusalem.
James 1:19
Know this, my beloved brothers: let every person be quick to hear, slow to speak, slow to anger.
Luke 17:1
And he said to his disciples, "Temptations to sin are sure to come, but woe to the one through whom they come!"
Luke 17:3
"Pay attention to yourselves! If your brother sins, rebuke him, and if he repents, forgive him."
Luke 17:4
"And if he sins against you seven times in the day, and turns to you seven times, saying, 'I repent,' you must forgive him."
Matthew 16:23
But he turned and said to Peter, "Get behind me, Satan! You are a hindrance to me. For you are not setting your mind on the things of God, but on the things of man."
Matthew 18:17
"If he refuses to listen to them, tell it to the church. And if he refuses to listen even to the church, let him be to you as a Gentile and a tax collector."
Matthew 18:6
"But whoever causes one of these little ones who believe in me to sin, it would be better for him to have a great millstone fastened around his neck and to be drowned in the depth of the sea."
Matthew 18:7
"Woe to the world for temptations to sin! For it is necessary that temptations come, but woe to the one by whom the temptation comes!"
Proverbs 10:12
Hatred stirs up strife, but love covers all offenses.
Proverbs 17:9
Whoever covers an offense seeks love, but he who repeats a matter separates close friends.
Psalm 119:165
Great peace have those who love your law; nothing can make them stumble.
Romans 3:23
For all have sinned and fall short of the glory of God.
More Bible Verses that Will Move You
50 Most Powerful Scriptures on Faith
60 Transcendent Verses on Trust
50 Strong Scriptures on Perseverance
68 Powerful Verses on Forgiveness
40 Uplifting Scriptures on Patience
Add Our Infographic Below to Your Pinterest Board
Hit the pin button below to add our infographic, with all the verses, to one of your Pinterest boards.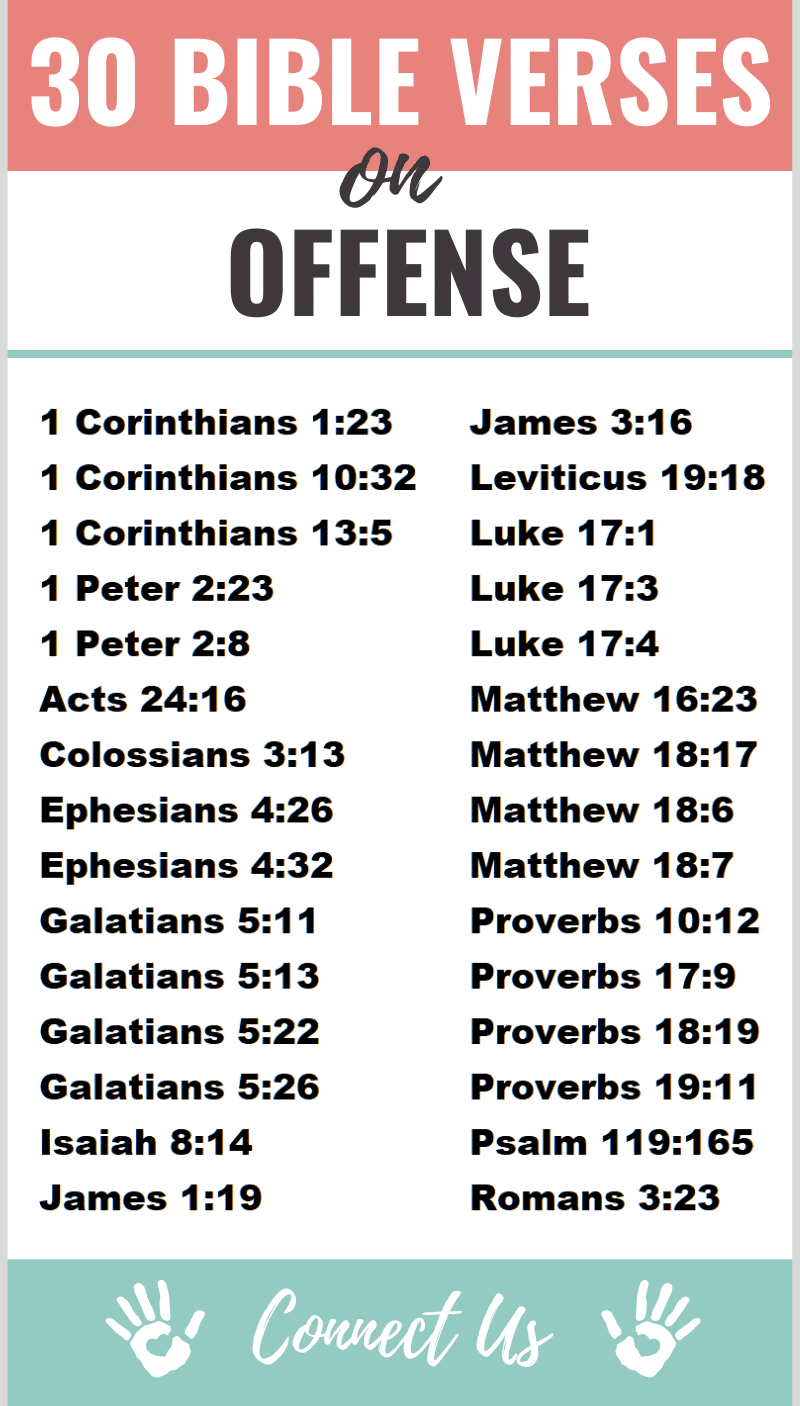 Author Bio
Natalie Regoli is a child of God, devoted wife, and mother of two boys. She has a Master's Degree in Law from The University of Texas. Natalie has been published in several national journals and has been practicing law for 18 years.