Here are the 30 most meaningful Bible scriptures on fellowship.
1 Thessalonians 5:11
Therefore encourage one another and build one another up, just as you are doing.
Hebrews 10:25
Not neglecting to meet together, as is the habit of some, but encouraging one another, and all the more as you see the Day drawing near.
1 John 1:3
That which we have seen and heard we proclaim also to you, so that you too may have fellowship with us; and indeed our fellowship is with the Father and with his Son Jesus Christ.
Proverbs 27:17
Iron sharpens iron, and one man sharpens another.
Matthew 18:20
"For where two or three are gathered in my name, there am I among them."
1 Corinthians 1:9
God is faithful, by whom you were called into the fellowship of his Son, Jesus Christ our Lord.
1 Corinthians 12:12
For just as the body is one and has many members, and all the members of the body, though many, are one body, so it is with Christ.
1 Corinthians 15:33
Do not be deceived: "Bad company ruins good morals."
1 John 1:7
But if we walk in the light, as he is in the light, we have fellowship with one another, and the blood of Jesus his Son cleanses us from all sin.
1 Peter 3:8
Finally, all of you, have unity of mind, sympathy, brotherly love, a tender heart, and a humble mind.
1 Thessalonians 5:14
And we urge you, brothers, admonish the idle, encourage the fainthearted, help the weak, be patient with them all.
2 Corinthians 13:14
The grace of the Lord Jesus Christ and the love of God and the fellowship of the Holy Spirit be with you all.
2 Corinthians 6:14
Do not be unequally yoked with unbelievers. For what partnership has righteousness with lawlessness? Or what fellowship has light with darkness?
Acts 2:42
And they devoted themselves to the apostles' teaching and the fellowship, to the breaking of bread and the prayers.
Acts 2:44
And all who believed were together and had all things in common.
Colossians 2:2
That their hearts may be encouraged, being knit together in love, to reach all the riches of full assurance of understanding and the knowledge of God's mystery, which is Christ.
Colossians 3:16
Let the word of Christ dwell in you richly, teaching and admonishing one another in all wisdom, singing psalms and hymns and spiritual songs, with thankfulness in your hearts to God.
Ephesians 5:11
Take no part in the unfruitful works of darkness, but instead expose them.
Ephesians 5:30
Because we are members of his body.
Galatians 2:9
And when James and Cephas and John, who seemed to be pillars, perceived the grace that was given to me, they gave the right hand of fellowship to Barnabas and me, that we should go to the Gentiles and they to the circumcised.
Galatians 6:10
So then, as we have opportunity, let us do good to everyone, and especially to those who are of the household of faith.
Galatians 6:2
Bear one another's burdens, and so fulfill the law of Christ.
Hebrews 10:24
And let us consider how to stir up one another to love and good works.
John 13:34
"A new commandment I give to you, that you love one another: just as I have loved you, you also are to love one another."
John 17:21
"That they may all be one, just as you, Father, are in me, and I in you, that they also may be in us, so that the world may believe that you have sent me."
Philippians 1:5
Because of your partnership in the gospel from the first day until now.
Philippians 2:1
So if there is any encouragement in Christ, any comfort from love, any participation in the Spirit, any affection and sympathy.
Philippians 2:2
Complete my joy by being of the same mind, having the same love, being in full accord and of one mind.
Psalm 55:14
We used to take sweet counsel together; within God's house we walked in the throng.
Romans 1:12
That is, that we may be mutually encouraged by each other's faith, both yours and mine.
More Bible Verses that Will Move You
50 Most Powerful Scriptures on Faith
60 Transcendent Verses on Trust
50 Strong Scriptures on Perseverance
68 Powerful Verses on Forgiveness
40 Uplifting Scriptures on Patience
Add Our Infographic Below to Your Pinterest Board
Hit the pin button below to add our infographic, with all the verses, to one of your Pinterest boards.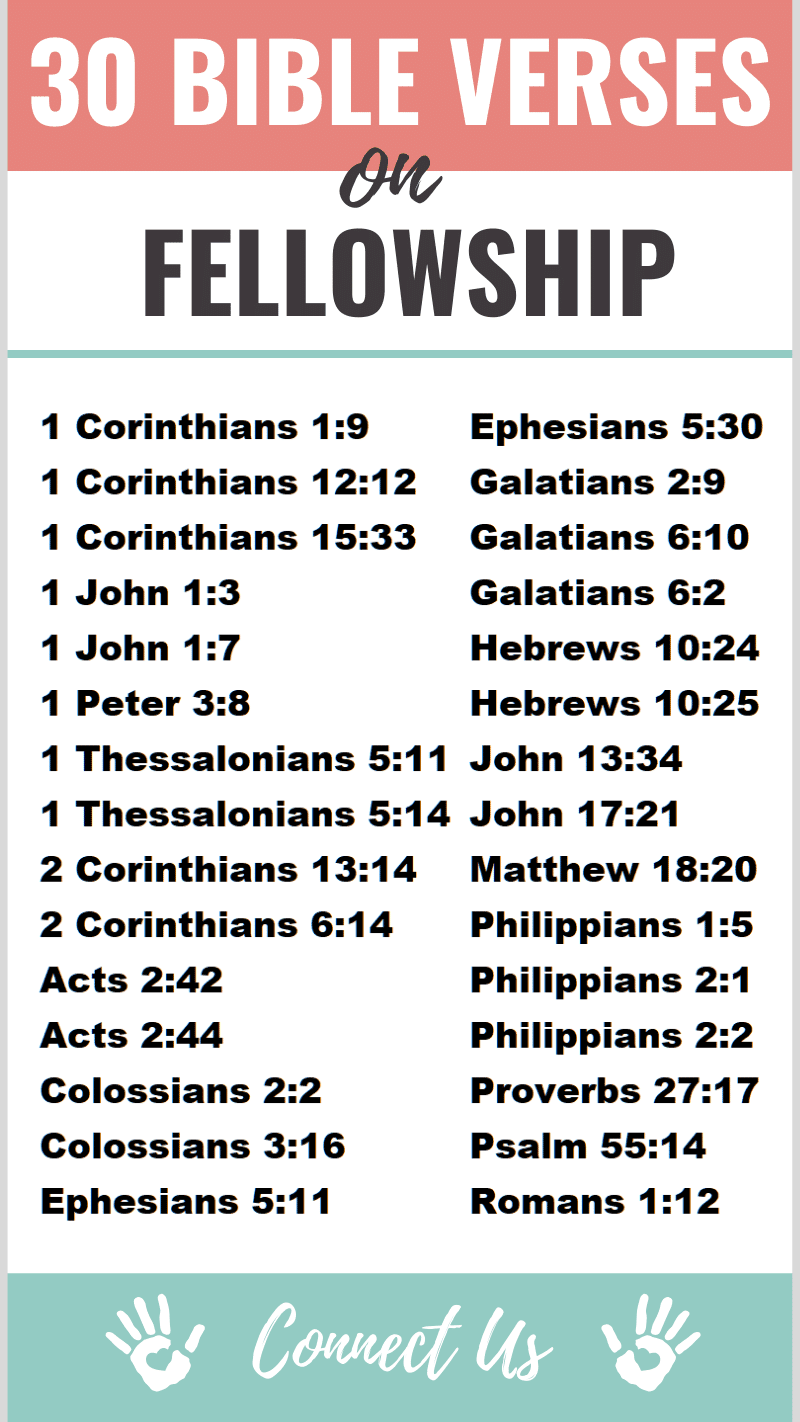 Author Bio
Natalie Regoli is a child of God, devoted wife, and mother of two boys. She has a Master's Degree in Law from The University of Texas. Natalie has been published in several national journals and has been practicing law for 18 years.