Here are the 30 most powerful Bible scriptures on refreshing.
Psalm 23:3
He restores my soul. He leads me in paths of righteousness for his name's sake.
Jeremiah 31:25
"For I will satisfy the weary soul, and every languishing soul I will replenish."
Romans 13:11
Besides this you know the time, that the hour has come for you to wake from sleep. For salvation is nearer to us now than when we first believed.
1 Corinthians 16:18
For they refreshed my spirit as well as yours. Give recognition to such men.
John 16:13
"When the Spirit of truth comes, he will guide you into all the truth, for he will not speak on his own authority, but whatever he hears he will speak, and he will declare to you the things that are to come."
1 John 1:9
If we confess our sins, he is faithful and just to forgive us our sins and to cleanse us from all unrighteousness.
1 John 3:3
And everyone who thus hopes in him purifies himself as he is pure.
1 Kings 13:7
And the king said to the man of God, "Come home with me, and refresh yourself, and I will give you a reward."
1 Samuel 16:23
And whenever the harmful spirit from God was upon Saul, David took the lyre and played it with his hand. So Saul was refreshed and was well, and the harmful spirit departed from him.
2 Corinthians 5:17
Therefore, if anyone is in Christ, he is a new creation. The old has passed away; behold, the new has come.
2 Timothy 1:16
May the Lord grant mercy to the household of Onesiphorus, for he often refreshed me and was not ashamed of my chains.
Acts 3:19
Repent therefore, and turn again, that your sins may be blotted out.
Exodus 23:12
"Six days you shall do your work, but on the seventh day you shall rest; that your ox and your donkey may have rest, and the son of your servant woman, and the alien, may be refreshed."
Exodus 31:17
"'It is a sign forever between me and the people of Israel that in six days the Lord made heaven and earth, and on the seventh day he rested and was refreshed.'"
Isaiah 40:31
But they who wait for the Lord shall renew their strength; they shall mount up with wings like eagles; they shall run and not be weary; they shall walk and not faint.
Isaiah 41:10
"Fear not, for I am with you; be not dismayed, for I am your God; I will strengthen you, I will help you, I will uphold you with my righteous right hand."
Isaiah 44:3
"For I will pour water on the thirsty land, and streams on the dry ground; I will pour my Spirit upon your offspring, and my blessing on your descendants."
Jeremiah 29:11
"For I know the plans I have for you," declares the Lord, "plans for welfare and not for evil, to give you a future and a hope."
Job 32:20
I must speak, that I may find relief; I must open my lips and answer.
John 20:31
"But these are written so that you may believe that Jesus is the Christ, the Son of God, and that by believing you may have life in his name."
John 3:16
For God so loved the world, that he gave his only Son, that whoever believes in him should not perish but have eternal life.
Jude 1:24
Now to him who is able to keep you from stumbling and to present you blameless before the presence of his glory with great joy.
Philemon 1:7
For I have derived much joy and comfort from your love, my brother, because the hearts of the saints have been refreshed through you.
Philippians 4:13
I can do all things through him who strengthens me.
Psalm 19:7
The law of the Lord is perfect, reviving the soul; the testimony of the Lord is sure, making wise the simple.
Psalm 23:2
He makes me lie down in green pastures. He leads me beside still waters.
Psalm 68:9
Rain in abundance, O God, you shed abroad; you restored your inheritance as it languished.
Romans 15:13
May the God of hope fill you with all joy and peace in believing, so that by the power of the Holy Spirit you may abound in hope.
Romans 15:32
So that by God's will I may come to you with joy and be refreshed in your company.
Romans 8:28
And we know that for those who love God all things work together for good, for those who are called according to his purpose.
More Bible Verses that Will Move You
50 Most Powerful Scriptures on Faith
60 Transcendent Verses on Trust
50 Strong Scriptures on Perseverance
68 Powerful Verses on Forgiveness
40 Uplifting Scriptures on Patience
Add Our Infographic Below to Your Pinterest Board
Hit the pin button below to add our infographic, with all the verses, to one of your Pinterest boards.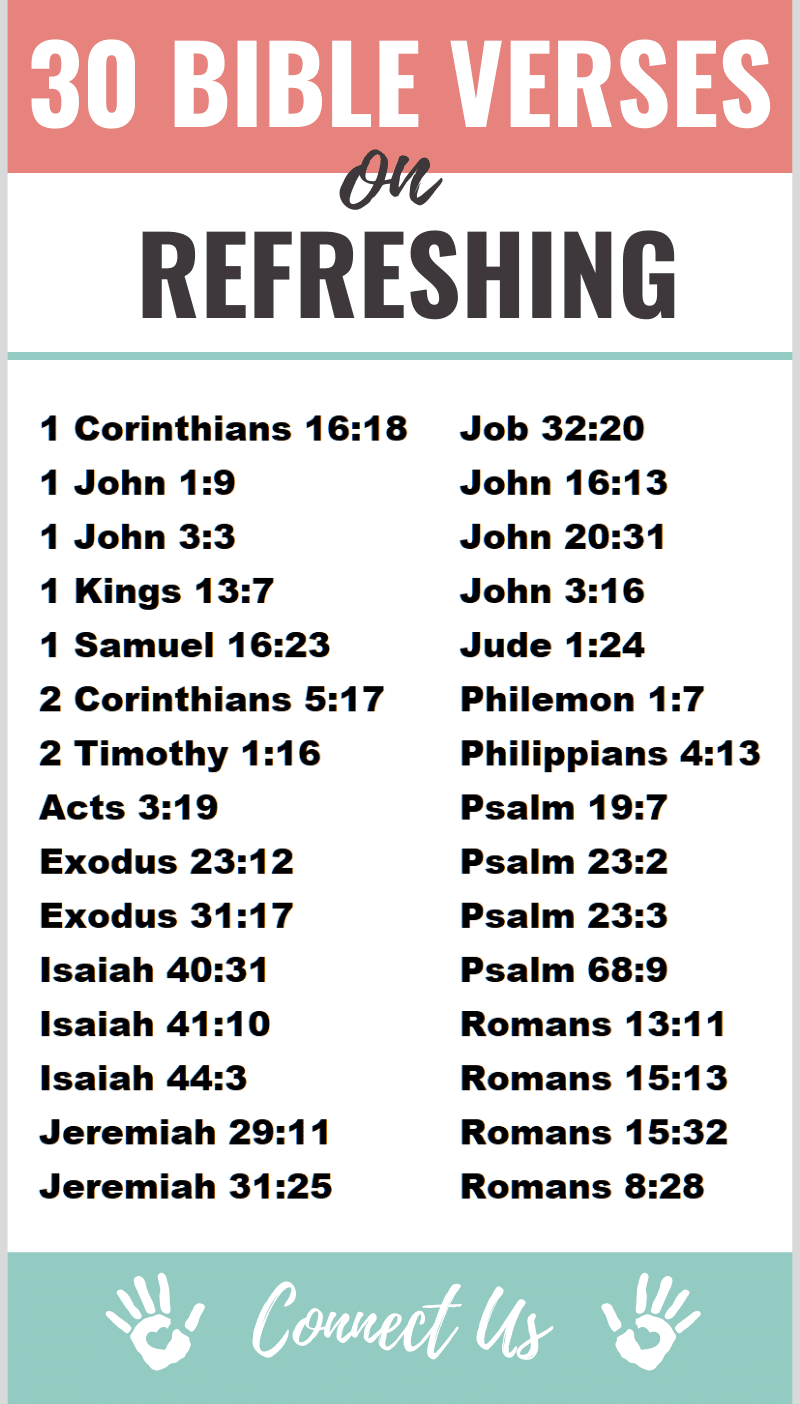 Author Bio
Natalie Regoli is a child of God, devoted wife, and mother of two boys. She has a Master's Degree in Law from The University of Texas. Natalie has been published in several national journals and has been practicing law for 18 years.