Isaiah 49:16
"See, I have engraved you on the palms of my hands; your walls are ever before me."
Explanation and Commentary of Isaiah 49:16
This is a beautiful prophecy of hope and promise for God's children. It is one of the most tender looks at the heart of God for his people. Isaiah 49:14-15 says, "14 But Zion said, 'The Lord has forsaken me, the Lord has forgotten me.' 15 Can a mother forget the baby at her breast and have no compassion on the child she has borne?
Though she may forget, I will not forget you!" The compassion of our Father in heaven is beyond what the sinful heart can comprehend, but God will never leave us or forsake us, even if for a time he has had to discipline us for our good.
God gives her an image of an engraving on his palms, reminding one of a mother who tattoos the names of her children on her heart. The image is meant to encourage us that he not only has not forgotten his people, but he cannot. Having set his heart on them, they never leave his mind. He sees the walls of his holy city in his mind's eye constantly.
We forget God all the time, and we often fail to keep in mind those we are supposed to love in this world. We get distracted and consumed with our own troubles and feelings. For this reason, we sometimes think that God is like us, distracted from us. We think because we have not been thinking of him, he has not been thinking of us. But God is not like us (Ps 50:21), he is perfectly faithful. In this chapter of Scripture, it not only shows that God has a mind for us, but he also has a heart for us. He loves us, and that is why he will not forget us.
Breaking Down the Key Parts of Isaiah 49:16
#1 "See,"
God calls us to look at him. He is not a distant God. He is not a concept or a construct. He is a person that has revealed himself to us that we may know him and the power of his resurrection (Phil 3:10). His charge to us every day is to look at him and "see."
#2 "I have engraved you on the palms of my hands;"
God the Father is a spirit. He has no physical hands, but this is poetic imagery that means he keeps us in his mind by way of a powerful and permanent reminder in himself. It is interesting to note that God the Son would later come and receive more than the engraving on his own hands for the sake of the Church. It was the nail holes in the hands that turned Thomas from his doubting (Jn 20:27).
#3 "your walls are ever before me."
These are not walls that could keep God out. They are the walls of security and protection from the enemies of God and themselves. God's imagination of his city with its walls intact is a sign of the health and prosperity of his chosen people. God never stops thinking of his people and how to do them good.
Expert Overview of Isaiah 40-66
Biblical Translations of Isaiah 49:16
NIV
"See, I have engraved you on the palms of my hands; your walls are ever before me."
NLT
"See, I have written your name on the palms of my hands. Always in my mind is a picture of Jerusalem's walls in ruins."
ESV
"Behold, I have engraved you on the palms of my hands; your walls are continually before me."
KJV
"Behold, I have graven thee upon the palms of my hands; thy walls are continually before me."
NKJV
"See, I have inscribed you on the palms of My hands; Your walls are continually before Me."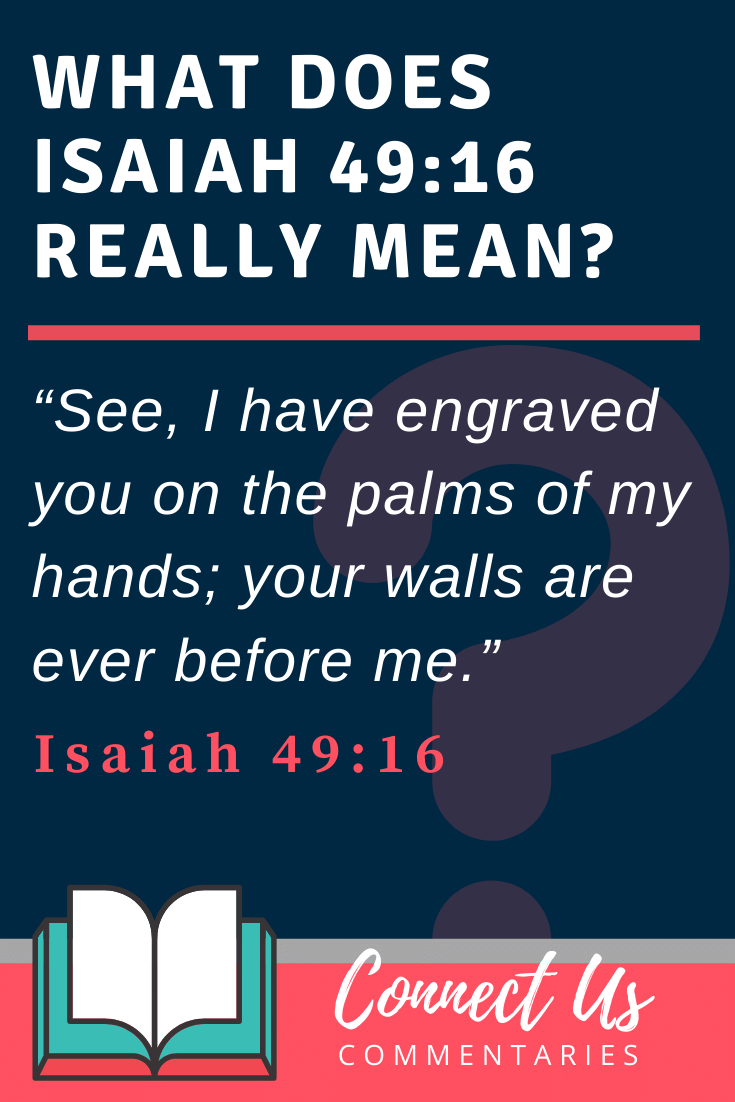 Author Bio
Natalie Regoli is a child of God, devoted wife, and mother of two boys. She has a Master's Degree in Law from The University of Texas. Natalie has been published in several national journals and has been practicing law for 18 years.