The word "betray" appears 55 times throughout the books of the Bible. The graph below shows the locations of each appearance. It begins with Genesis in the top left and concludes with Revelation in the bottom right.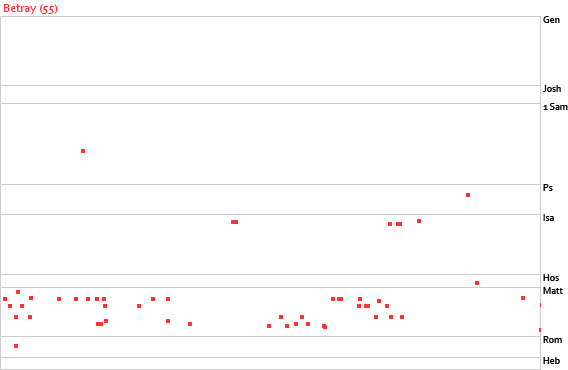 Here are the 30 strongest Bible scriptures on betrayal.
Proverbs 19:5
A false witness will not go unpunished, and he who breathes out lies will not escape.
Genesis 12:3
"I will bless those who bless you, and him who dishonors you I will curse, and in you all the families of the earth shall be blessed."
Matthew 24:10
"And then many will fall away and betray one another and hate one another."
Luke 22:48
But Jesus said to him, "Judas, would you betray the Son of Man with a kiss?"
Psalm 41:9
Even my close friend in whom I trusted, who ate my bread, has lifted his heel against me.
1 Corinthians 2:14
The natural person does not accept the things of the Spirit of God, for they are folly to him, and he is not able to understand them because they are spiritually discerned.
2 Samuel 11:15
In the letter he wrote, "Set Uriah in the forefront of the hardest fighting, and then draw back from him, that he may be struck down, and die."
2 Timothy 2:15
Do your best to present yourself to God as one approved, a worker who has no need to be ashamed, rightly handling the word of truth.
Ephesians 5:25
Husbands, love your wives, as Christ loved the church and gave himself up for her.
Genesis 4:8
Cain spoke to Abel his brother. And when they were in the field, Cain rose up against his brother Abel and killed him.
Hebrews 4:15
For we do not have a high priest who is unable to sympathize with our weaknesses, but one who in every respect has been tempted as we are, yet without sin.
Isaiah 53:10
Yet it was the will of the Lord to crush him; he has put him to grief; when his soul makes an offering for guilt, he shall see his offspring; he shall prolong his days; the will of the Lord shall prosper in his hand.
Jeremiah 12:6
"For even your brothers and the house of your father, even they have dealt treacherously with you; they are in full cry after you; do not believe them, though they speak friendly words to you."
John 13:21
After saying these things, Jesus was troubled in his spirit, and testified, "Truly, truly, I say to you, one of you will betray me."
John 14:6
Jesus said to him, "I am the way, and the truth, and the life. No one comes to the Father except through me."
Judges 16:15
And she said to him, "How can you say, 'I love you,' when your heart is not with me? You have mocked me these three times, and you have not told me where your great strength lies."
Mark 11:25
"And whenever you stand praying, forgive, if you have anything against anyone, so that your Father also who is in heaven may forgive you your trespasses."
Mark 14:10
Then Judas Iscariot, who was one of the twelve, went to the chief priests in order to betray him to them.
Mark 14:11
And when they heard it, they were glad and promised to give him money. And he sought an opportunity to betray him.
Matthew 26:50
Jesus said to him, "Friend, do what you came to do." Then they came up and laid hands on Jesus and seized him.
Matthew 7:12
"So whatever you wish that others would do to you, do also to them, for this is the Law and the Prophets."
Philippians 4:13
I can do all things through him who strengthens me.
Proverbs 11:31
If the righteous is repaid on earth, how much more the wicked and the sinner!
Psalm 109:4
In return for my love they accuse me, but I give myself to prayer.
Psalm 69:9
For zeal for your house has consumed me, and the reproaches of those who reproach you have fallen on me.
Romans 1:29
They were filled with all manner of unrighteousness, evil, covetousness, malice. They are full of envy, murder, strife, deceit, maliciousness. They are gossips.
Romans 3:13
Their throat is an open grave; they use their tongues to deceive. The venom of asps is under their lips.
Romans 3:23
For all have sinned and fall short of the glory of God.
Romans 3:24
And are justified by his grace as a gift, through the redemption that is in Christ Jesus.
Romans 5:6
For while we were still weak, at the right time Christ died for the ungodly.
More Bible Verses that Will Move You
50 Most Powerful Scriptures on Faith
60 Transcendent Verses on Trust
50 Strong Scriptures on Perseverance
68 Powerful Verses on Forgiveness
40 Uplifting Scriptures on Patience
Add Our Infographic Below to Your Pinterest Board
Hit the pin button below to add our infographic, with all the verses, to one of your Pinterest boards.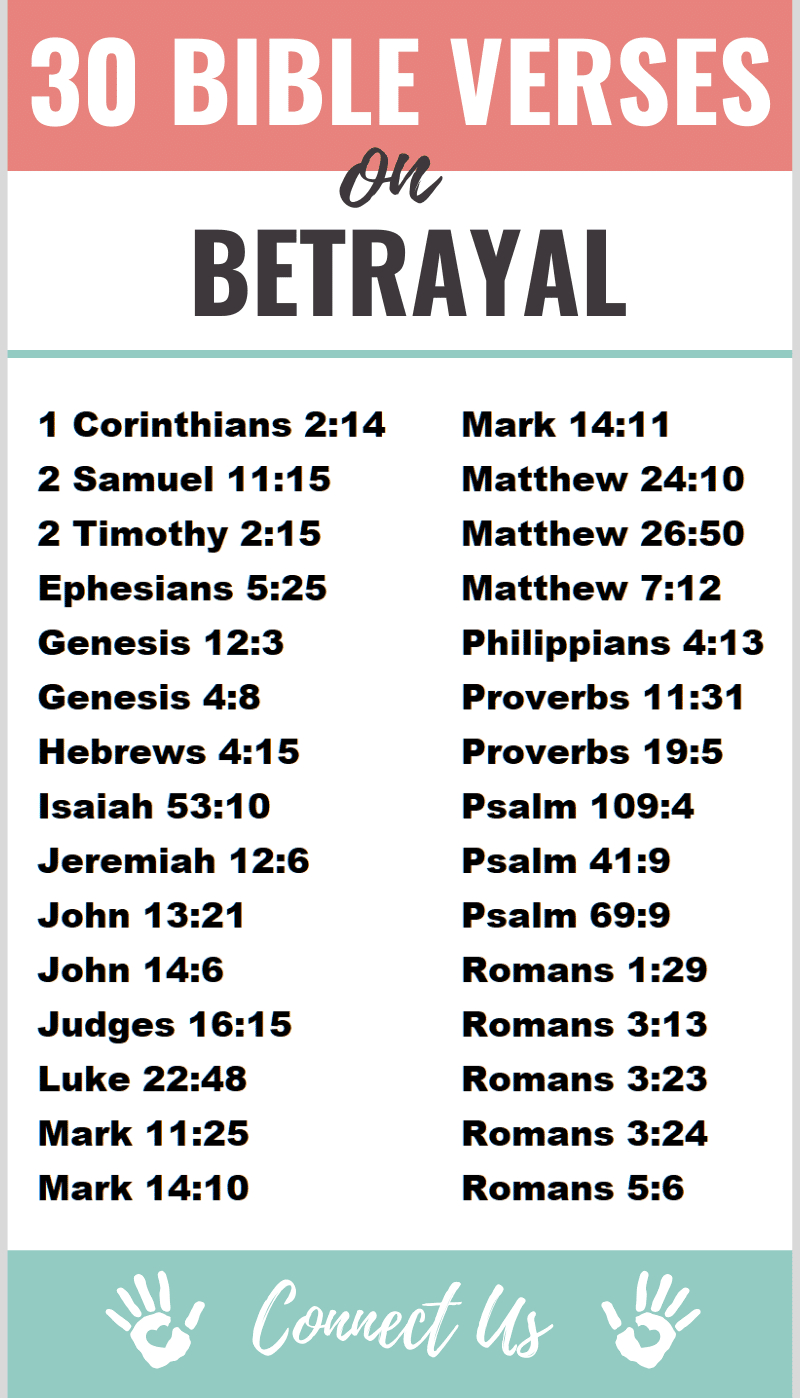 Author Bio
Natalie Regoli is a child of God, devoted wife, and mother of two boys. She has a Master's Degree in Law from The University of Texas. Natalie has been published in several national journals and has been practicing law for 18 years.