Here are the 30 most uplifting Bible scriptures on excellence.
Daniel 6:3
Then this Daniel became distinguished above all the other presidents and satraps, because an excellent spirit was in him. And the king planned to set him over the whole kingdom.
Philippians 4:8
Finally, brothers, whatever is true, whatever is honorable, whatever is just, whatever is pure, whatever is lovely, whatever is commendable, if there is any excellence, if there is anything worthy of praise, think about these things.
Colossians 3:23
Whatever you do, work heartily, as for the Lord and not for men.
Titus 2:7
Show yourself in all respects to be a model of good works, and in your teaching show integrity, dignity.
2 Corinthians 8:7
But as you excel in everything—in faith, in speech, in knowledge, in all earnestness, and in our love for you—see that you excel in this act of grace also.
1 Corinthians 12:31
But earnestly desire the higher gifts. And I will show you a still more excellent way.
1 Corinthians 15:58
Therefore, my beloved brothers, be steadfast, immovable, always abounding in the work of the Lord, knowing that in the Lord your labor is not in vain.
1 John 3:2
Beloved, we are God's children now, and what we will be has not yet appeared; but we know that when he appears we shall be like him, because we shall see him as he is.
1 Peter 2:9
But you are a chosen race, a royal priesthood, a holy nation, a people for his own possession, that you may proclaim the excellencies of him who called you out of darkness into his marvelous light.
1 Thessalonians 4:10
For that indeed is what you are doing to all the brothers throughout Macedonia. But we urge you, brothers, to do this more and more.
1 Timothy 6:11
But as for you, O man of God, flee these things. Pursue righteousness, godliness, faith, love, steadfastness, gentleness.
2 Peter 1:5
For this very reason, make every effort to supplement your faith with virtue, and virtue with knowledge.
2 Peter 1:9
For whoever lacks these qualities is so nearsighted that he is blind, having forgotten that he was cleansed from his former sins.
2 Timothy 3:16
All Scripture is breathed out by God and profitable for teaching, for reproof, for correction, and for training in righteousness.
Daniel 5:12
Because an excellent spirit, knowledge, and understanding to interpret dreams, explain riddles, and solve problems were found in this Daniel, whom the king named Belteshazzar. Now let Daniel be called, and he will show the interpretation.
Ecclesiastes 9:10
Whatever your hand finds to do, do it with your might, for there is no work or thought or knowledge or wisdom in Sheol, to which you are going.
Isaiah 12:5
Sing praises to the Lord, for he has done gloriously; let this be made known in all the earth.
Job 32:8
But it is the spirit in man, the breath of the Almighty, that makes him understand.
Joshua 1:8
"This Book of the Law shall not depart from your mouth, but you shall meditate on it day and night, so that you may be careful to do according to all that is written in it. For then you will make your way prosperous, and then you will have good success."
Matthew 22:37
And he said to him, "You shall love the Lord your God with all your heart and with all your soul and with all your mind."
Matthew 5:16
"In the same way, let your light shine before others, so that they may see your good works and give glory to your Father who is in heaven."
Philippians 4:13
I can do all things through him who strengthens me.
Proverbs 17:27
Whoever restrains his words has knowledge, and he who has a cool spirit is a man of understanding.
Proverbs 22:29
Do you see a man skillful in his work? He will stand before kings; he will not stand before obscure men.
Proverbs 31:30
Charm is deceitful, and beauty is vain, but a woman who fears the Lord is to be praised.
Proverbs 4:23
Keep your heart with all vigilance, for from it flow the springs of life.
Psalm 119:99
I have more understanding than all my teachers, for your testimonies are my meditation.
Psalm 71:21
You will increase my greatness and comfort me again.
Psalm 8:1
To the choirmaster: according to The Gittith. A Psalm of David. O Lord, our Lord, how majestic is your name in all the earth! You have set your glory above the heavens.
Romans 12:2
Do not be conformed to this world, but be transformed by the renewal of your mind, that by testing you may discern what is the will of God, what is good and acceptable and perfect.
More Bible Verses that Will Move You
50 Most Powerful Scriptures on Faith
60 Transcendent Verses on Trust
50 Strong Scriptures on Perseverance
68 Powerful Verses on Forgiveness
40 Uplifting Scriptures on Patience
Add Our Infographic Below to Your Pinterest Board
Hit the pin button below to add our infographic, with all the verses, to one of your Pinterest boards.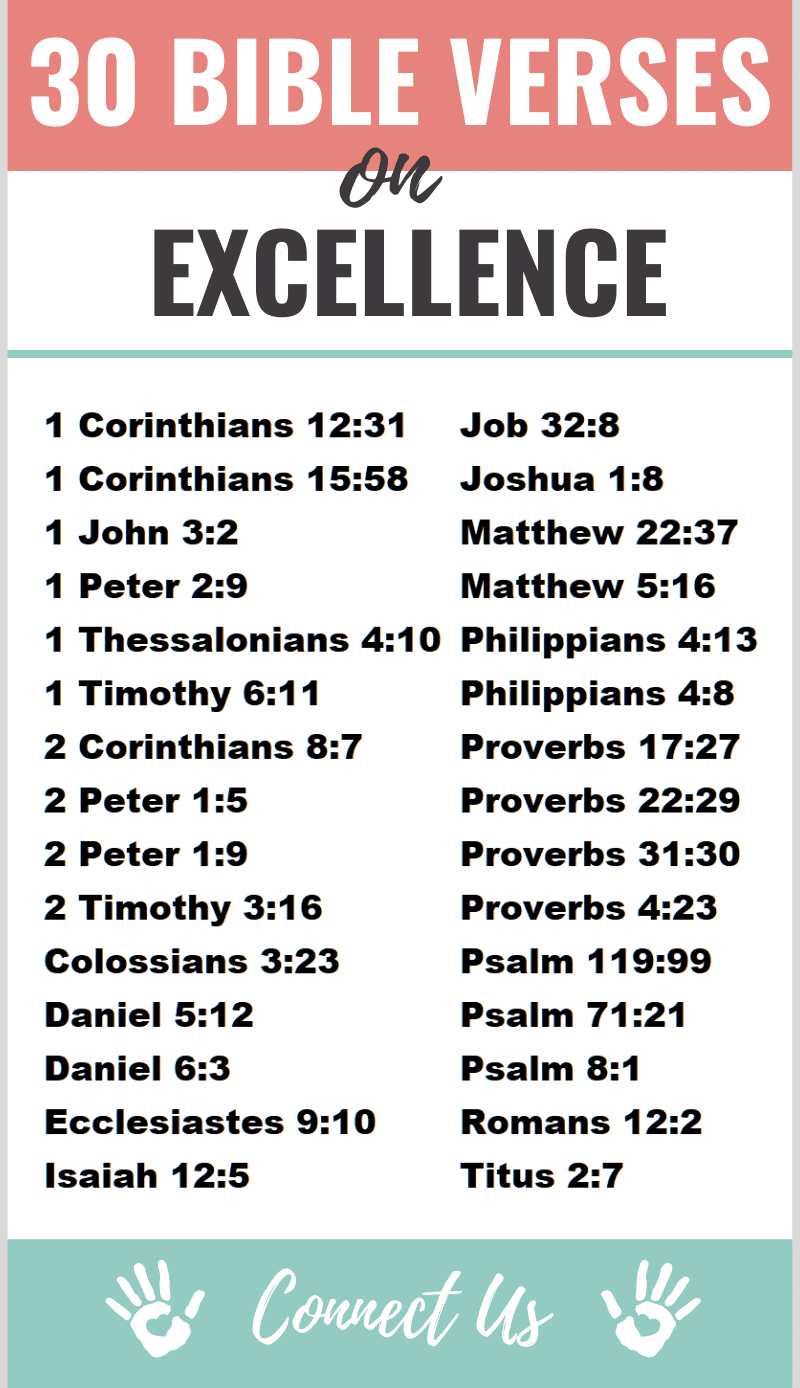 Author Bio
Natalie Regoli is a child of God, devoted wife, and mother of two boys. She has a Master's Degree in Law from The University of Texas. Natalie has been published in several national journals and has been practicing law for 18 years.