The word "counsel" appears 133 times throughout the books of the Bible. The graph below shows the locations of each appearance. It begins with Genesis in the top left and concludes with Revelation in the bottom right.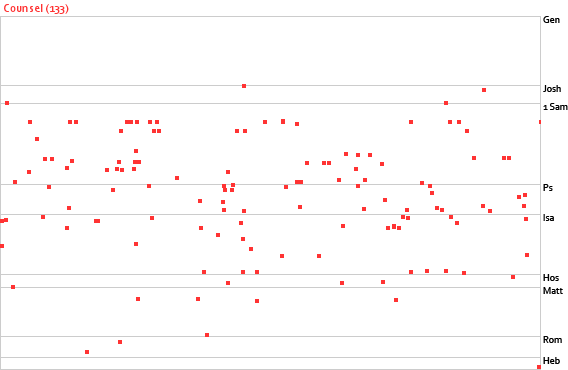 Here are the 40 best Bible scriptures on counseling.
Proverbs 15:22
Without counsel plans fail, but with many advisers they succeed.
Proverbs 13:10
By insolence comes nothing but strife, but with those who take advice is wisdom.
Proverbs 20:5
The purpose in a man's heart is like deep water, but a man of understanding will draw it out.
John 16:13
"When the Spirit of truth comes, he will guide you into all the truth, for he will not speak on his own authority, but whatever he hears he will speak, and he will declare to you the things that are to come."
Proverbs 11:14
Where there is no guidance, a people falls, but in an abundance of counselors there is safety.
1 Chronicles 16:11
Seek the Lord and his strength; seek his presence continually!
1 Corinthians 15:33
Do not be deceived: "Bad company ruins good morals."
1 Peter 3:7
Likewise, husbands, live with your wives in an understanding way, showing honor to the woman as the weaker vessel, since they are heirs with you of the grace of life, so that your prayers may not be hindered.
1 Peter 5:7
Casting all your anxieties on him, because he cares for you.
1 Thessalonians 5:11
Therefore encourage one another and build one another up, just as you are doing.
1 Thessalonians 5:14
And we urge you, brothers, admonish the idle, encourage the fainthearted, help the weak, be patient with them all.
Colossians 1:28
Him we proclaim, warning everyone and teaching everyone with all wisdom, that we may present everyone mature in Christ.
Colossians 2:8
See to it that no one takes you captive by philosophy and empty deceit, according to human tradition, according to the elemental spirits of the world, and not according to Christ.
Ephesians 4:32
Be kind to one another, tenderhearted, forgiving one another, as God in Christ forgave you.
Ephesians 5:3
But sexual immorality and all impurity or covetousness must not even be named among you, as is proper among saints.
Galatians 6:1
Brothers, if anyone is caught in any transgression, you who are spiritual should restore him in a spirit of gentleness. Keep watch on yourself, lest you too be tempted.
Galatians 6:2
Bear one another's burdens, and so fulfill the law of Christ.
Hebrews 3:13
But exhort one another every day, as long as it is called "today," that none of you may be hardened by the deceitfulness of sin.
Hebrews 4:12
For the word of God is living and active, sharper than any two-edged sword, piercing to the division of soul and of spirit, of joints and of marrow, and discerning the thoughts and intentions of the heart.
Isaiah 40:1
Comfort, comfort my people, says your God.
Isaiah 9:6
For to us a child is born, to us a son is given; and the government shall be upon his shoulder, and his name shall be called Wonderful Counselor, Mighty God, Everlasting Father, Prince of Peace.
James 1:19
Know this, my beloved brothers: let every person be quick to hear, slow to speak, slow to anger.
James 3:17
But the wisdom from above is first pure, then peaceable, gentle, open to reason, full of mercy and good fruits, impartial and sincere.
James 5:16
Therefore, confess your sins to one another and pray for one another, that you may be healed. The prayer of a righteous person has great power as it is working.
John 10:10
"The thief comes only to steal and kill and destroy. I came that they may have life and have it abundantly."
John 14:26
"But the Helper, the Holy Spirit, whom the Father will send in my name, he will teach you all things and bring to your remembrance all that I have said to you."
Proverbs 12:15
The way of a fool is right in his own eyes, but a wise man listens to advice.
Proverbs 12:18
There is one whose rash words are like sword thrusts, but the tongue of the wise brings healing.
Proverbs 18:13
If one gives an answer before he hears, it is his folly and shame.
Proverbs 19:20
Listen to advice and accept instruction, that you may gain wisdom in the future.
Proverbs 20:18
Plans are established by counsel; by wise guidance wage war.
Proverbs 24:6
For by wise guidance you can wage your war, and in abundance of counselors there is victory.
Proverbs 26:5
Answer a fool according to his folly, lest he be wise in his own eyes.
Proverbs 27:9
Oil and perfume make the heart glad, and the sweetness of a friend comes from his earnest counsel.
Psalm 119:24
Your testimonies are my delight; they are my counselors.
Psalm 16:7
I bless the Lord who gives me counsel; in the night also my heart instructs me.
Psalm 32:8
I will instruct you and teach you in the way you should go; I will counsel you with my eye upon you.
Psalm 56:8
You have kept count of my tossings; put my tears in your bottle. Are they not in your book?
Psalm 73:24
You guide me with your counsel, and afterward you will receive me to glory.
Romans 15:14
I myself am satisfied about you, my brothers, that you yourselves are full of goodness, filled with all knowledge and able to instruct one another.
More Bible Verses that Will Move You
50 Most Powerful Scriptures on Faith
60 Transcendent Verses on Trust
50 Strong Scriptures on Perseverance
68 Powerful Verses on Forgiveness
40 Uplifting Scriptures on Patience
Add Our Infographic Below to Your Pinterest Board
Hit the pin button below to add our infographic, with all the verses, to one of your Pinterest boards.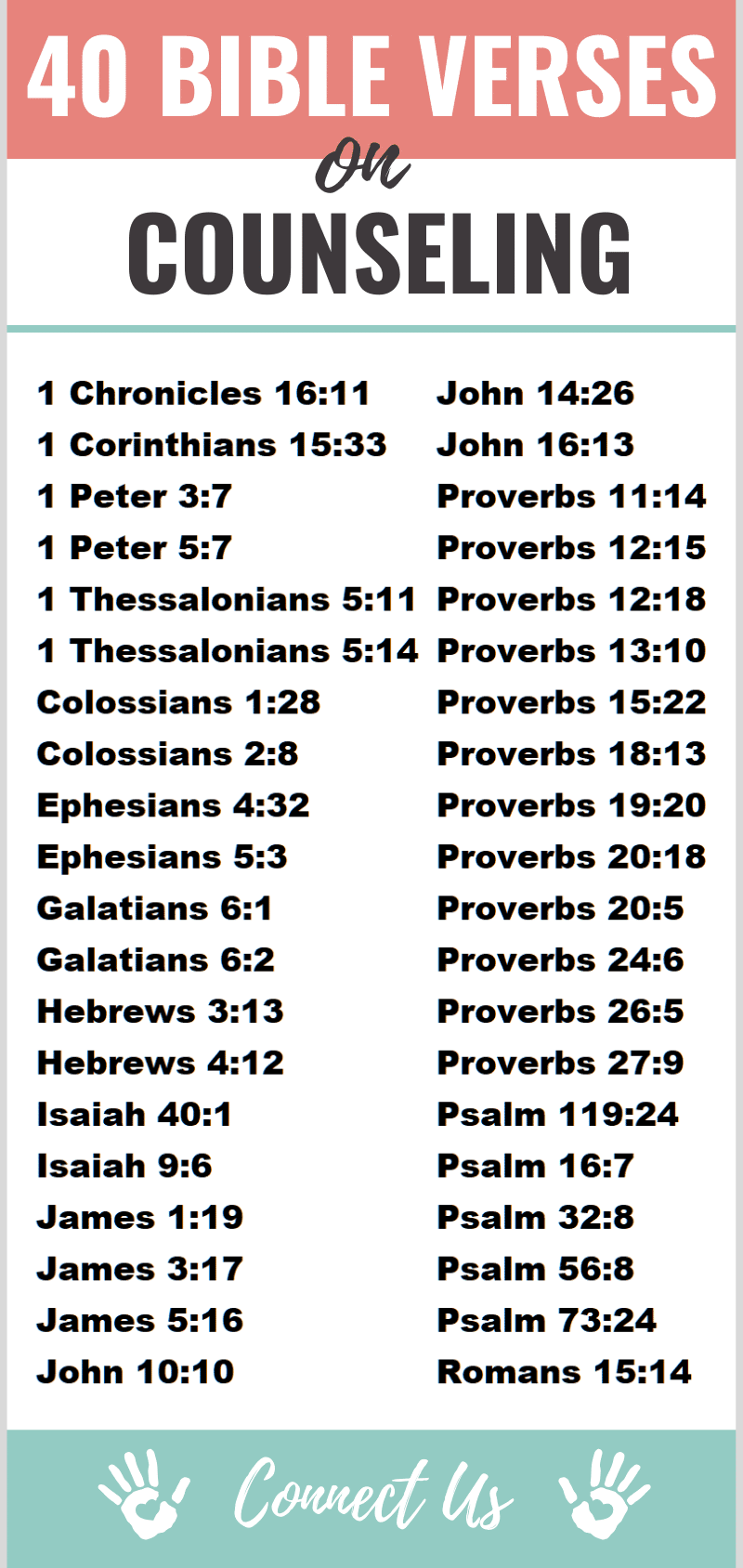 Author Bio
Natalie Regoli is a child of God, devoted wife, and mother of two boys. She has a Master's Degree in Law from The University of Texas. Natalie has been published in several national journals and has been practicing law for 18 years.