The word "offering" appears 1,158 times throughout the books of the Bible. The graph below shows the locations of each appearance. It begins with Genesis in the top left and concludes with Revelation in the bottom right.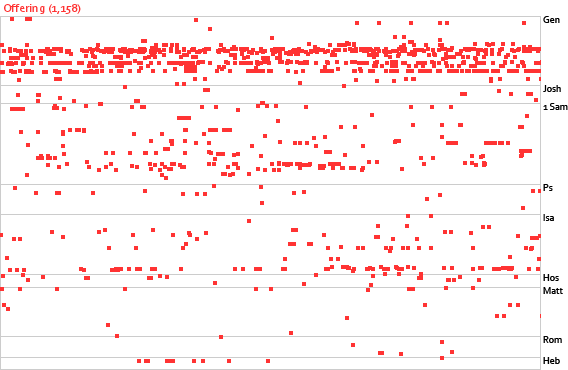 Here are the 40 best Bible scriptures on giving offering.
Luke 6:38
"Give, and it will be given to you. Good measure, pressed down, shaken together, running over, will be put into your lap. For with the measure you use it will be measured back to you."
2 Corinthians 9:7
Each one must give as he has decided in his heart, not reluctantly or under compulsion, for God loves a cheerful giver.
Malachi 3:10
Bring the full tithe into the storehouse, that there may be food in my house. And thereby put me to the test, says the Lord of hosts, if I will not open the windows of heaven for you and pour down for you a blessing until there is no more need.
Acts 20:35
In all things I have shown you that by working hard in this way we must help the weak and remember the words of the Lord Jesus, how he himself said, 'It is more blessed to give than to receive.'
2 Corinthians 8:7
But as you excel in everything—in faith, in speech, in knowledge, in all earnestness, and in our love for you—see that you excel in this act of grace also.
1 Chronicles 29:14
But who am I, and what is my people, that we should be able thus to offer willingly? For all things come from you, and of your own have we given you.
1 Chronicles 29:9
Then the people rejoiced because they had given willingly, for with a whole heart they had offered freely to the Lord. David the king also rejoiced greatly.
1 Corinthians 16:2
On the first day of every week, each of you is to put something aside and store it up, as he may prosper, so that there will be no collecting when I come.
2 Corinthians 8:12
For if the readiness is there, it is acceptable according to what a person has, not according to what he does not have.
2 Corinthians 8:9
For you know the grace of our Lord Jesus Christ, that though he was rich, yet for your sake he became poor, so that you by his poverty might become rich.
2 Corinthians 9:10
He who supplies seed to the sower and bread for food will supply and multiply your seed for sowing and increase the harvest of your righteousness.
2 Corinthians 9:12
For the ministry of this service is not only supplying the needs of the saints but is also overflowing in many thanksgivings to God.
2 Corinthians 9:6
The point is this: whoever sows sparingly will also reap sparingly, and whoever sows bountifully will also reap bountifully.
2 Peter 3:9
The Lord is not slow to fulfill his promise as some count slowness, but is patient toward you, not wishing that any should perish, but that all should reach repentance.
Deuteronomy 15:10
You shall give to him freely, and your heart shall not be grudging when you give to him, because for this the Lord your God will bless you in all your work and in all that you undertake.
Deuteronomy 16:17
Every man shall give as he is able, according to the blessing of the Lord your God that he has given you.
Ecclesiastes 11:1
Cast your bread upon the waters, for you will find it after many days.
Galatians 2:10
Only, they asked us to remember the poor, the very thing I was eager to do.
Haggai 2:8
The silver is mine, and the gold is mine, declares the Lord of hosts.
Hebrews 13:16
Do not neglect to do good and to share what you have, for such sacrifices are pleasing to God.
James 1:17
Every good gift and every perfect gift is from above, coming down from the Father of lights with whom there is no variation or shadow due to change.
James 1:27
Religion that is pure and undefiled before God, the Father, is this: to visit orphans and widows in their affliction, and to keep oneself unstained from the world.
Leviticus 27:30
Every tithe of the land, whether of the seed of the land or of the fruit of the trees, is the Lord's; it is holy to the Lord.
Luke 11:42
"But woe to you Pharisees! For you tithe mint and rue and every herb, and neglect justice and the love of God. These you ought to have done, without neglecting the others."
Luke 6:30
"Give to everyone who begs from you, and from one who takes away your goods do not demand them back."
Malachi 3:8
"Will man rob God? Yet you are robbing me. But you say, 'How have we robbed you?' In your tithes and contributions."
Matthew 23:23
"Woe to you, scribes and Pharisees, hypocrites! For you tithe mint and dill and cumin, and have neglected the weightier matters of the law: justice and mercy and faithfulness. These you ought to have done, without neglecting the others."
Matthew 6:21
"For where your treasure is, there your heart will be also."
Matthew 6:33
"But seek first the kingdom of God and his righteousness, and all these things will be added to you."
Numbers 18:21
"To the Levites I have given every tithe in Israel for an inheritance, in return for their service that they do, their service in the tent of meeting."
Philippians 4:19
And my God will supply every need of yours according to his riches in glory in Christ Jesus.
Proverbs 11:24
One gives freely, yet grows all the richer; another withholds what he should give, and only suffers want.
Proverbs 19:17
Whoever is generous to the poor lends to the Lord, and he will repay him for his deed.
Proverbs 21:26
All day long he craves and craves, but the righteous gives and does not hold back.
Proverbs 22:9
Whoever has a bountiful eye will be blessed, for he shares his bread with the poor.
Proverbs 28:27
Whoever gives to the poor will not want, but he who hides his eyes will get many a curse.
Proverbs 3:27
Do not withhold good from those to whom it is due, when it is in your power to do it.
Psalm 24:1
A Psalm of David. The earth is the Lord's and the fullness thereof, the world and those who dwell therein.
Romans 12:1
I appeal to you therefore, brothers, by the mercies of God, to present your bodies as a living sacrifice, holy and acceptable to God, which is your spiritual worship.
Romans 8:32
He who did not spare his own Son but gave him up for us all, how will he not also with him graciously give us all things?
More Bible Verses that Will Move You
50 Most Powerful Scriptures on Faith
60 Transcendent Verses on Trust
50 Strong Scriptures on Perseverance
68 Powerful Verses on Forgiveness
40 Uplifting Scriptures on Patience
Add Our Infographic Below to Your Pinterest Board
Hit the pin button below to add our infographic, with all the verses, to one of your Pinterest boards.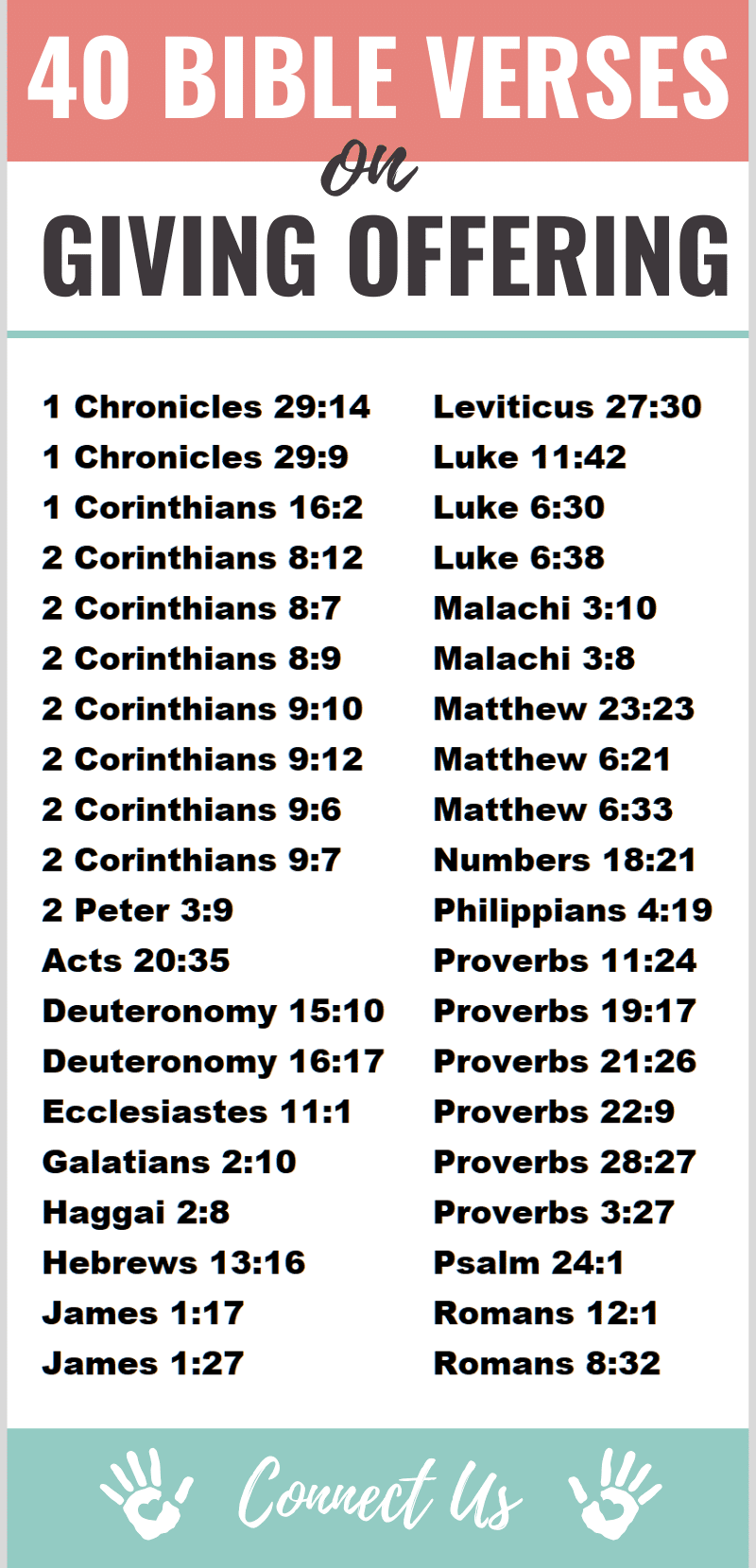 Author Bio
Natalie Regoli is a child of God, devoted wife, and mother of two boys. She has a Master's Degree in Law from The University of Texas. Natalie has been published in several national journals and has been practicing law for 18 years.