Here are the 40 best Bible scriptures on gluttony.
Philippians 3:19
Their end is destruction, their god is their belly, and they glory in their shame, with minds set on earthly things.
Proverbs 23:2
And put a knife to your throat if you are given to appetite.
Proverbs 23:21
For the drunkard and the glutton will come to poverty, and slumber will clothe them with rags.
Proverbs 25:16
If you have found honey, eat only enough for you, lest you have your fill of it and vomit it.
Psalm 78:18
They tested God in their heart by demanding the food they craved.
1 Corinthians 10:31
So, whether you eat or drink, or whatever you do, do all to the glory of God.
1 Corinthians 10:7
Do not be idolaters as some of them were; as it is written, "The people sat down to eat and drink and rose up to play."
1 Corinthians 15:32
What do I gain if, humanly speaking, I fought with beasts at Ephesus? If the dead are not raised, "Let us eat and drink, for tomorrow we die."
1 Corinthians 6:12
"All things are lawful for me," but not all things are helpful. "All things are lawful for me," but I will not be enslaved by anything.
1 Corinthians 6:19
Or do you not know that your body is a temple of the Holy Spirit within you, whom you have from God? You are not your own.
1 Corinthians 9:27
But I discipline my body and keep it under control, lest after preaching to others I myself should be disqualified.
1 John 2:16
For all that is in the world—the desires of the flesh and the desires of the eyes and pride in possessions—is not from the Father but is from the world.
1 Peter 5:8
Be sober-minded; be watchful. Your adversary the devil prowls around like a roaring lion, seeking someone to devour.
2 Corinthians 12:9
But he said to me, "My grace is sufficient for you, for my power is made perfect in weakness." Therefore I will boast all the more gladly of my weaknesses, so that the power of Christ may rest upon me.
2 Corinthians 7:1
Since we have these promises, beloved, let us cleanse ourselves from every defilement of body and spirit, bringing holiness to completion in the fear of God.
2 Timothy 1:7
For God gave us a spirit not of fear but of power and love and self-control.
Colossians 3:5
Put to death therefore what is earthly in you: sexual immorality, impurity, passion, evil desire, and covetousness, which is idolatry.
Daniel 5:1
King Belshazzar made a great feast for a thousand of his lords and drank wine in front of the thousand.
Deuteronomy 21:20
And they shall say to the elders of his city, "This our son is stubborn and rebellious; he will not obey our voice; he is a glutton and a drunkard."
Ecclesiastes 10:17
Happy are you, O land, when your king is the son of the nobility, and your princes feast at the proper time, for strength, and not for drunkenness!
Exodus 32:6
And they rose up early the next day and offered burnt offerings and brought peace offerings. And the people sat down to eat and drink and rose up to play.
Galatians 5:24
And those who belong to Christ Jesus have crucified the flesh with its passions and desires.
Hebrews 12:16
That no one is sexually immoral or unholy like Esau, who sold his birthright for a single meal.
Isaiah 22:13
And behold, joy and gladness, killing oxen and slaughtering sheep, eating flesh and drinking wine. "Let us eat and drink, for tomorrow we die."
James 1:14
But each person is tempted when he is lured and enticed by his own desire.
James 4:7
Submit yourselves therefore to God. Resist the devil, and he will flee from you.
John 4:34
Jesus said to them, "My food is to do the will of him who sent me and to accomplish his work."
Luke 12:45
"But if that servant says to himself, 'My master is delayed in coming,' and begins to beat the male and female servants, and to eat and drink and get drunk."
Luke 21:34
"But watch yourselves lest your hearts be weighed down with dissipation and drunkenness and cares of this life, and that day come upon you suddenly like a trap."
Luke 7:34
"The Son of Man has come eating and drinking, and you say, 'Look at him! A glutton and a drunkard, a friend of tax collectors and sinners!'"
Matthew 11:19
"The Son of Man came eating and drinking, and they say, 'Look at him! A glutton and a drunkard, a friend of tax collectors and sinners!' Yet wisdom is justified by her deeds."
Matthew 4:4
"But he answered, "It is written, 'Man shall not live by bread alone, but by every word that comes from the mouth of God.'"
Matthew 5:6
"Blessed are those who hunger and thirst for righteousness, for they shall be satisfied."
Philippians 4:5
Let your reasonableness be known to everyone. The Lord is at hand.
Proverbs 23:20
Be not among drunkards or among gluttonous eaters of meat.
Proverbs 28:7
The one who keeps the law is a son with understanding, but a companion of gluttons shames his father.
Psalm 22:26
The afflicted shall eat and be satisfied; those who seek him shall praise the Lord! May your hearts live forever!
Romans 12:1
I appeal to you therefore, brothers, by the mercies of God, to present your bodies as a living sacrifice, holy and acceptable to God, which is your spiritual worship.
Romans 13:14
But put on the Lord Jesus Christ, and make no provision for the flesh, to gratify its desires.
Titus 1:12
One of the Cretans, a prophet of their own, said, "Cretans are always liars, evil beasts, lazy gluttons."
More Bible Verses that Will Move You
50 Most Powerful Scriptures on Faith
60 Transcendent Verses on Trust
50 Strong Scriptures on Perseverance
68 Powerful Verses on Forgiveness
40 Uplifting Scriptures on Patience
Add Our Infographic Below to Your Pinterest Board
Hit the pin button below to add our infographic, with all the verses, to one of your Pinterest boards.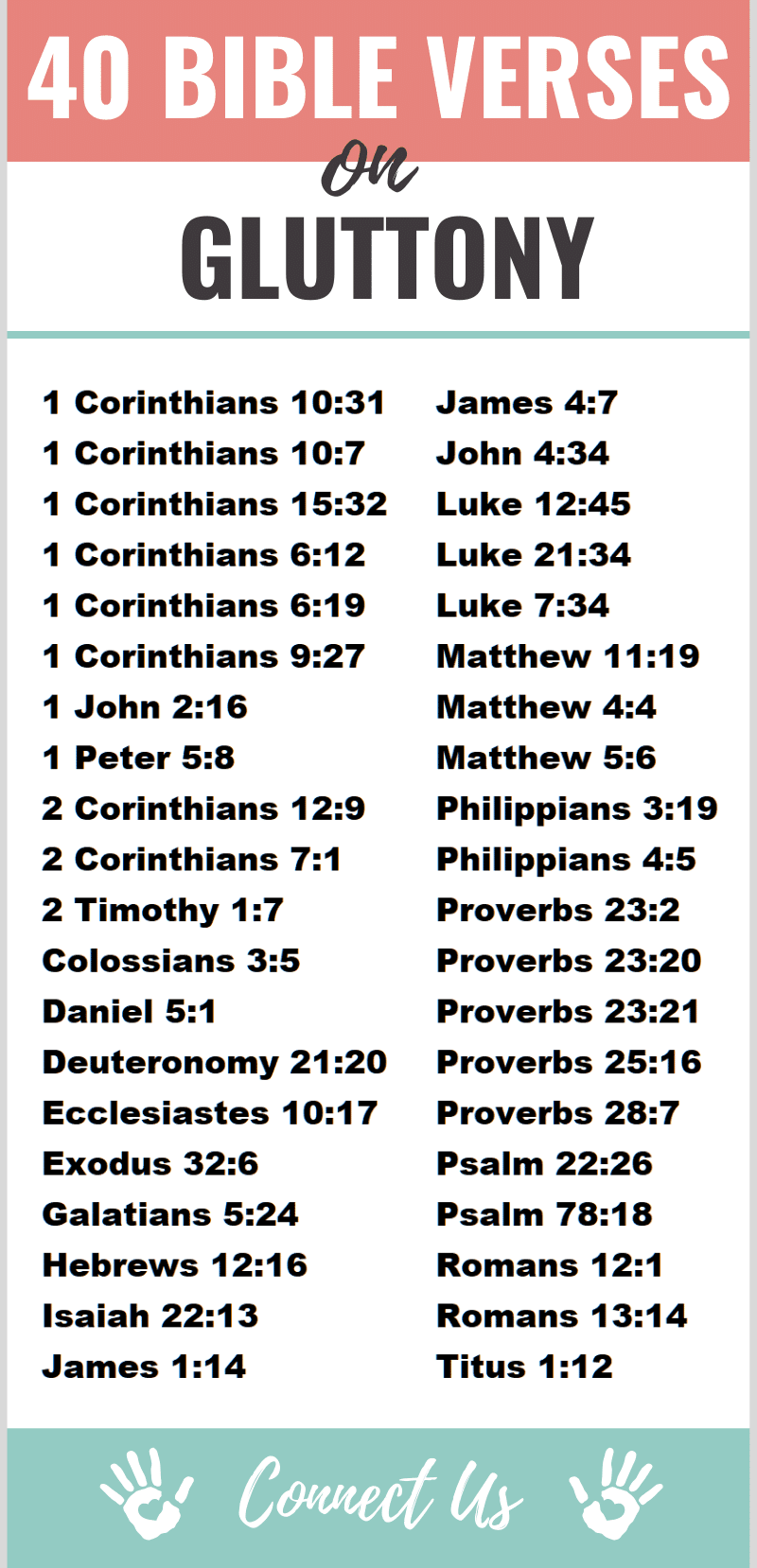 Author Bio
Natalie Regoli is a child of God, devoted wife, and mother of two boys. She has a Master's Degree in Law from The University of Texas. Natalie has been published in several national journals and has been practicing law for 18 years.