The word "judgment" appears 246 times throughout the books of the Bible. The graph below shows the locations of each appearance. It begins with Genesis in the top left and concludes with Revelation in the bottom right.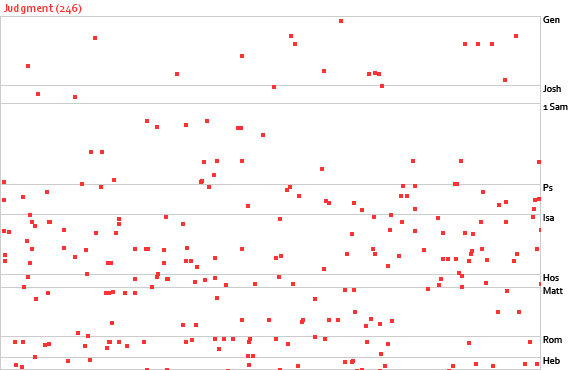 Here are the 40 best Bible scriptures on judgment.
James 2:13
For judgment is without mercy to one who has shown no mercy. Mercy triumphs over judgment.
2 Corinthians 5:10
For we must all appear before the judgment seat of Christ, so that each one may receive what is due for what he has done in the body, whether good or evil.
Matthew 12:36
"I tell you, on the day of judgment people will give account for every careless word they speak."
Matthew 12:37
"For by your words you will be justified, and by your words you will be condemned."
1 Corinthians 4:5
Therefore do not pronounce judgment before the time, before the Lord comes, who will bring to light the things now hidden in darkness and will disclose the purposes of the heart. Then each one will receive his commendation from God.
1 Corinthians 6:2
Or do you not know that the saints will judge the world? And if the world is to be judged by you, are you incompetent to try trivial cases?
1 John 4:17
By this is love perfected with us, so that we may have confidence for the day of judgment, because as he is so also are we in this world.
1 Peter 1:17
And if you call on him as Father who judges impartially according to each one's deeds, conduct yourselves with fear throughout the time of your exile.
1 Peter 4:17
For it is time for judgment to begin at the household of God; and if it begins with us, what will be the outcome for those who do not obey the gospel of God?
1 Peter 4:5
But they will give account to him who is ready to judge the living and the dead.
2 Peter 2:4
For if God did not spare angels when they sinned, but cast them into hell and committed them to chains of gloomy darkness to be kept until the judgment.
2 Peter 2:9
Then the Lord knows how to rescue the godly from trials, and to keep the unrighteous under punishment until the day of judgment.
2 Peter 3:7
But by the same word the heavens and earth that now exist are stored up for fire, being kept until the day of judgment and destruction of the ungodly.
2 Timothy 4:8
Henceforth there is laid up for me the crown of righteousness, which the Lord, the righteous judge, will award to me on that Day, and not only to me but also to all who have loved his appearing.
Acts 10:42
And he commanded us to preach to the people and to testify that he is the one appointed by God to be judge of the living and the dead.
Acts 17:31
Because he has fixed a day on which he will judge the world in righteousness by a man whom he has appointed; and of this he has given assurance to all by raising him from the dead."
Amos 4:12
"Therefore thus I will do to you, O Israel; because I will do this to you, prepare to meet your God, O Israel!"
Deuteronomy 1:17
"You shall not be partial in judgment. You shall hear the small and the great alike. You shall not be intimidated by anyone, for the judgment is God's. And the case that is too hard for you, you shall bring to me, and I will hear it."
Ecclesiastes 12:14
For God will bring every deed into judgment, with every secret thing, whether good or evil.
Hebrews 12:11
For the moment all discipline seems painful rather than pleasant, but later it yields the peaceful fruit of righteousness to those who have been trained by it.
Hebrews 9:27
And just as it is appointed for man to die once, and after that comes judgment.
John 12:48
"The one who rejects me and does not receive my words has a judge; the word that I have spoken will judge him on the last day."
John 3:17
For God did not send his Son into the world to condemn the world, but in order that the world might be saved through him.
John 5:22
"The Father judges no one, but has given all judgment to the Son."
John 5:24
"Truly, truly, I say to you, whoever hears my word and believes him who sent me has eternal life. He does not come into judgment, but has passed from death to life."
John 5:30
"I can do nothing on my own. As I hear, I judge, and my judgment is just, because I seek not my own will but the will of him who sent me."
John 7:24
"Do not judge by appearances, but judge with right judgment."
Jude 1:15
To execute judgment on all and to convict all the ungodly of all their deeds of ungodliness that they have committed in such an ungodly way, and of all the harsh things that ungodly sinners have spoken against him.
Jude 1:6
And the angels who did not stay within their own position of authority, but left their proper dwelling, he has kept in eternal chains under gloomy darkness until the judgment of the great day.
Luke 6:37
"Judge not, and you will not be judged; condemn not, and you will not be condemned; forgive, and you will be forgiven."
Matthew 10:15
"Truly, I say to you, it will be more bearable on the day of judgment for the land of Sodom and Gomorrah than for that town."
Matthew 7:1
"Judge not, that you be not judged."
Matthew 7:2
"For with the judgment you pronounce you will be judged, and with the measure you use it will be measured to you."
Matthew 7:3
"Why do you see the speck that is in your brother's eye, but do not notice the log that is in your own eye?"
Psalm 82:3
Give justice to the weak and the fatherless; maintain the right of the afflicted and the destitute.
Psalm 98:9
Before the Lord, for he comes to judge the earth. He will judge the world with righteousness, and the peoples with equity.
Revelation 11:18
The nations raged, but your wrath came, and the time for the dead to be judged, and for rewarding your servants, the prophets and saints, and those who fear your name, both small and great, and for destroying the destroyers of the earth.
Romans 14:13
Therefore let us not pass judgment on one another any longer, but rather decide never to put a stumbling block or hindrance in the way of a brother.
Romans 2:1
Therefore you have no excuse, O man, every one of you who judges. For in passing judgment on another you condemn yourself, because you, the judge, practice the very same things.
Romans 6:23
For the wages of sin is death, but the free gift of God is eternal life in Christ Jesus our Lord.
More Bible Verses that Will Move You
50 Most Powerful Scriptures on Faith
60 Transcendent Verses on Trust
50 Strong Scriptures on Perseverance
68 Powerful Verses on Forgiveness
40 Uplifting Scriptures on Patience
Add Our Infographic Below to Your Pinterest Board
Hit the pin button below to add our infographic, with all the verses, to one of your Pinterest boards.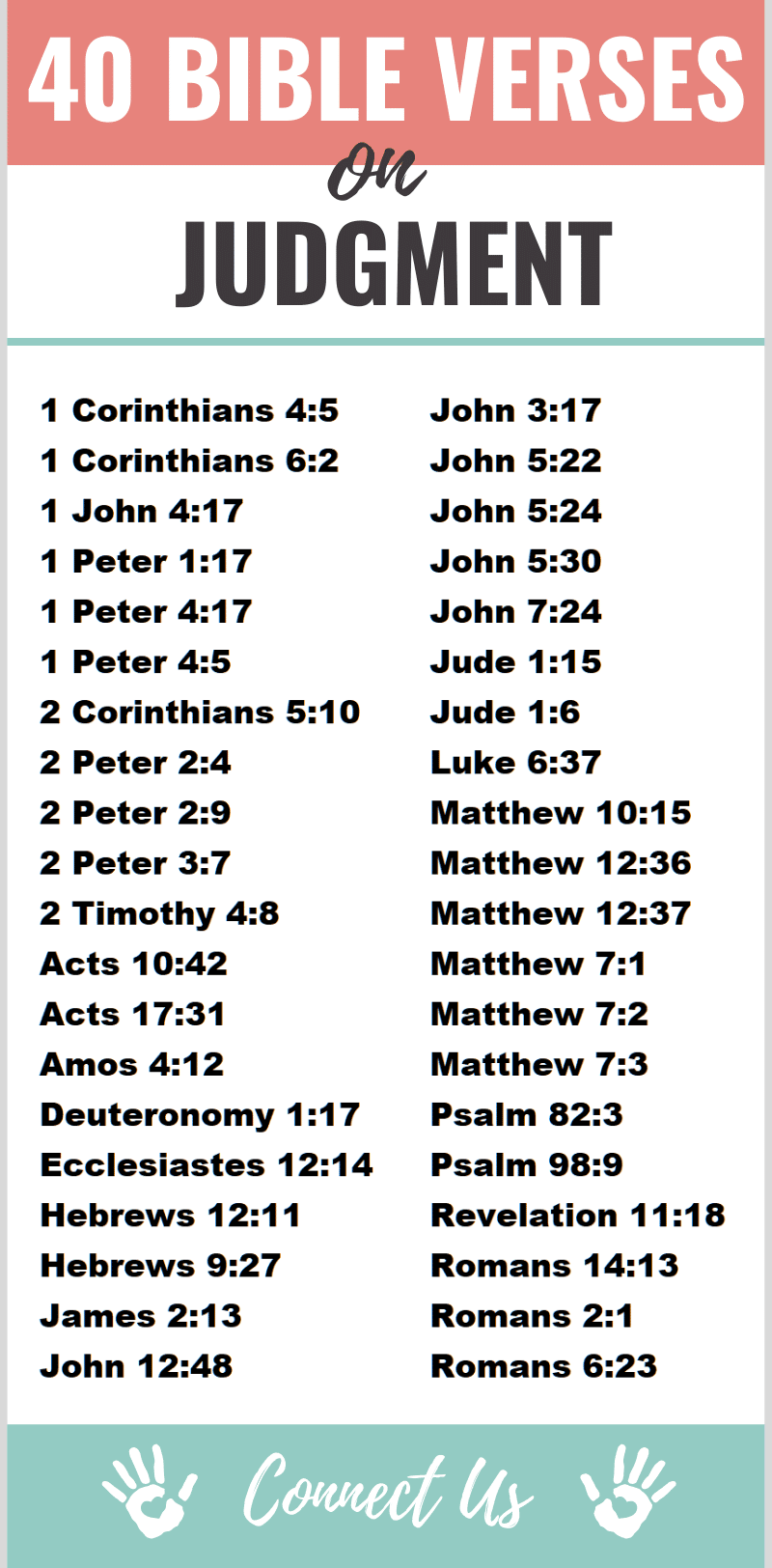 Author Bio
Natalie Regoli is a child of God, devoted wife, and mother of two boys. She has a Master's Degree in Law from The University of Texas. Natalie has been published in several national journals and has been practicing law for 18 years.