The word "learn" occurs 83 times in the Bible. The infographic below identifies the points of each occurrence. This graphic presentation starts with Genesis in the top left and concludes with Revelation in the bottom right.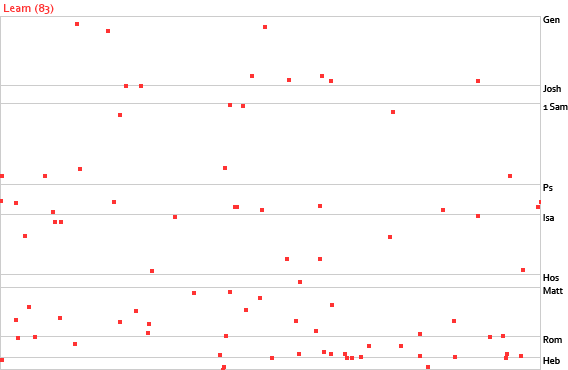 Here are the 40 most encouraging Bible scriptures on learning.
Proverbs 1:5
Let the wise hear and increase in learning, and the one who understands obtain guidance.
Proverbs 18:15
An intelligent heart acquires knowledge, and the ear of the wise seeks knowledge.
Proverbs 1:7
The fear of the Lord is the beginning of knowledge; fools despise wisdom and instruction.
Proverbs 9:9
Give instruction to a wise man, and he will be still wiser; teach a righteous man, and he will increase in learning.
2 Timothy 3:16
All Scripture is breathed out by God and profitable for teaching, for reproof, for correction, and for training in righteousness.
1 Chronicles 16:11
Seek the Lord and his strength; seek his presence continually!
1 John 1:9
If we confess our sins, he is faithful and just to forgive us our sins and to cleanse us from all unrighteousness.
1 John 2:27
But the anointing that you received from him abides in you, and you have no need that anyone should teach you. But as his anointing teaches you about everything, and is true, and is no lie—just as it has taught you, abide in him.
1 Peter 5:5
Likewise, you who are younger, be subject to the elders. Clothe yourselves, all of you, with humility toward one another, for "God opposes the proud but gives grace to the humble."
1 Thessalonians 5:11
Therefore encourage one another and build one another up, just as you are doing.
1 Timothy 4:12
Let no one despise you for your youth, but set the believers an example in speech, in conduct, in love, in faith, in purity.
2 John 1:9
Everyone who goes on ahead and does not abide in the teaching of Christ, does not have God. Whoever abides in the teaching has both the Father and the Son.
2 Timothy 2:15
Do your best to present yourself to God as one approved, a worker who has no need to be ashamed, rightly handling the word of truth.
2 Timothy 3:7
Always learning and never able to arrive at a knowledge of the truth.
Colossians 2:8
See to it that no one takes you captive by philosophy and empty deceit, according to human tradition, according to the elemental spirits of the world, and not according to Christ.
Colossians 3:16
Let the word of Christ dwell in you richly, teaching and admonishing one another in all wisdom, singing psalms and hymns and spiritual songs, with thankfulness in your hearts to God.
Colossians 3:20
Children, obey your parents in everything, for this pleases the Lord.
Daniel 1:17
As for these four youths, God gave them learning and skill in all literature and wisdom, and Daniel had understanding in all visions and dreams.
Deuteronomy 5:1
And Moses summoned all Israel and said to them, "Hear, O Israel, the statutes and the rules that I speak in your hearing today, and you shall learn them and be careful to do them."
Exodus 20:12
"Honor your father and your mother, that your days may be long in the land that the Lord your God is giving you."
Isaiah 26:9
My soul yearns for you in the night; my spirit within me earnestly seeks you. For when your judgments are in the earth, the inhabitants of the world learn righteousness.
James 1:5
If any of you lacks wisdom, let him ask God, who gives generously to all without reproach, and it will be given him.
John 14:26
"But the Helper, the Holy Spirit, whom the Father will send in my name, he will teach you all things and bring to your remembrance all that I have said to you."
John 3:16
For God so loved the world, that he gave his only Son, that whoever believes in him should not perish but have eternal life.
Luke 2:52
And Jesus increased in wisdom and in stature and in favor with God and man.
Matthew 11:29
"Take my yoke upon you, and learn from me, for I am gentle and lowly in heart, and you will find rest for your souls."
Matthew 18:10
"See that you do not despise one of these little ones. For I tell you that in heaven their angels always see the face of my Father who is in heaven."
Matthew 19:14
But Jesus said, "Let the little children come to me and do not hinder them, for to such belongs the kingdom of heaven."
Philippians 4:9
What you have learned and received and heard and seen in me—practice these things, and the God of peace will be with you.
Proverbs 10:17
Whoever heeds instruction is on the path to life, but he who rejects reproof leads others astray.
Proverbs 15:5
A fool despises his father's instruction, but whoever heeds reproof is prudent.
Proverbs 22:6
Train up a child in the way he should go; even when he is old he will not depart from it.
Psalm 119:11
I have stored up your word in my heart, that I might not sin against you.
Psalm 127:3
Behold, children are a heritage from the Lord, the fruit of the womb a reward.
Psalm 25:4
Make me to know your ways, O Lord; teach me your paths.
Psalm 25:5
Lead me in your truth and teach me, for you are the God of my salvation; for you I wait all the day long.
Psalm 32:8
I will instruct you and teach you in the way you should go; I will counsel you with my eye upon you.
Romans 15:4
For whatever was written in former days was written for our instruction, that through endurance and through the encouragement of the Scriptures we might have hope.
Romans 8:28
And we know that for those who love God all things work together for good, for those who are called according to his purpose.
Titus 2:1
But as for you, teach what accords with sound doctrine.
More Bible Verses that Will Move You
50 Most Powerful Scriptures on Faith
60 Transcendent Verses on Trust
50 Strong Scriptures on Perseverance
68 Powerful Verses on Forgiveness
40 Uplifting Scriptures on Patience
Add Our Infographic Below to Your Pinterest Board
Hit the pin button below to add our infographic, with all the verses, to one of your Pinterest boards.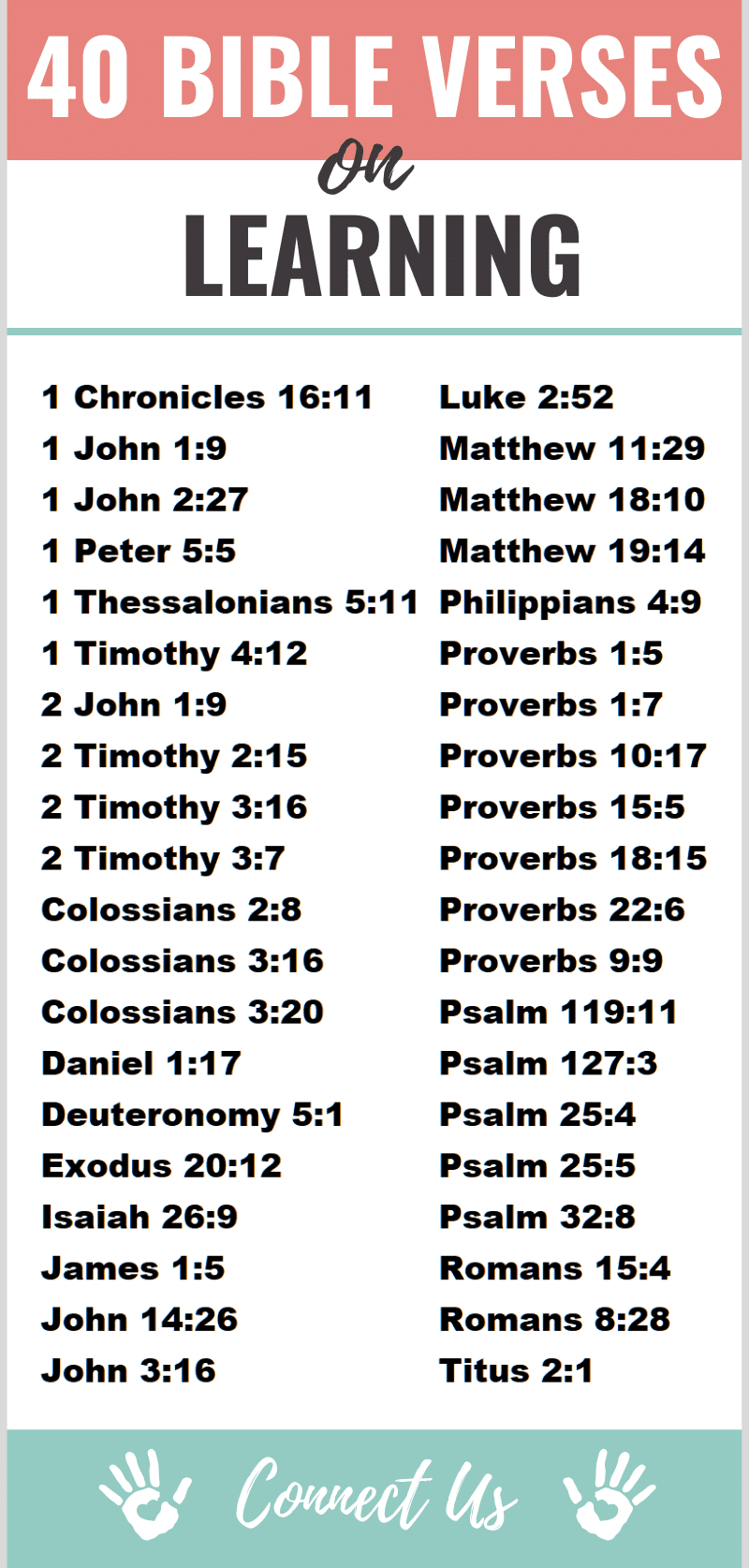 Author Bio
Natalie Regoli is a child of God, devoted wife, and mother of two boys. She has a Master's Degree in Law from The University of Texas. Natalie has been published in several national journals and has been practicing law for 18 years.