Matthew 6:34
"Therefore do not worry about tomorrow, for tomorrow will worry about itself. Each day has enough trouble of its own."
Explanation and Commentary of Matthew 6:34
Christ commands us not to worry. That is enough reason to have hope in his plan for tomorrow. James and Proverbs tell us not to boast about tomorrow either (Ja 4:13; Pr 27:1). Whether it is boasting or worrying, God calls us to the present to live our lives in him. God is with us here and now, to find him there can be no dreaming or worrying about tomorrow. He will be there too, and so will we when it becomes today.
Does this mean never to save money, never to plan a schedule, never to delay gratification? By no means, logic and the principle of stewardship show us that as image-bears, we will in part be held accountable tomorrow for the way we handled what we've been entrusted with today (Mat 25:14-30). But this can be done without worrying, which betrays a lack of trust in God to be there and care for us in the future, or boasting, which shows a lack of belief that God will have his own ideas and will sovereignly direct us in the future.
If one lives on biblical principles and trusts God, seeking first the kingdom and his righteousness today, then tomorrow is a forgone conclusion. How good it is to live this way, never dwelling on the past, and never worrying about the future. Ours is to trust God in each moment, stewarding each hour of our lives for the glory of God. If we can be doing that when he returns, we will experience both the abundant life he intended for us and the eternal reward of faithfulness.
Breaking Down the Key Parts of Matthew 6:34
#1 "Therefore…"
Because seeking the kingdom of God and his righteousness is what we are called to give our attention and energy to, not what we will eat or drink or wear tomorrow.
#2 "…do not worry…"
Many people think that emotions such as worry are involuntary. But they are involuntary only to the point that we do not take every thought captive (2 Cor 10:5) and stay our minds on Christ (Isa 26:3). It's true that when one is worrying she cannot just say to herself, "Do not worry." But she can reason with herself. This is her divine right as a rational, created image-bearer. Jesus has given us all the logical tools to counter lies and fears with truth, and in so doing we can obey his command to command our emotions.
#3 "…about tomorrow, for tomorrow will take care of itself. Each day has enough trouble of its own."
Thinking about tomorrow is wise when it comes to considering how to apply biblical principles so that tomorrow one will hear, "Well done, good and faithful servant." Worrying doesn't come from rational thinking. It is a fear that comes from an irrational attack in the thought life. A Christian who does not direct his own thoughts will be subject to satan's lies and accusations. "Each day" will have trouble. This should be where most of our mental energy and focus should be.
Expert Overview of Matthew Ch. 1-13
Biblical Translations of Matthew 6:34
NIV
"Therefore do not worry about tomorrow, for tomorrow will worry about itself. Each day has enough trouble of its own."
NLT
"So don't worry about tomorrow, for tomorrow will bring its own worries. Today's trouble is enough for today."
ESV
"Therefore do not be anxious about tomorrow, for tomorrow will be anxious for itself. Sufficient for the day is its own trouble."
KJV
"Take therefore no thought for the morrow: for the morrow shall take thought for the things of itself. Sufficient unto the day is the evil thereof."
NKJV
"Therefore do not worry about tomorrow, for tomorrow will worry about its own things. Sufficient for the day is its own trouble."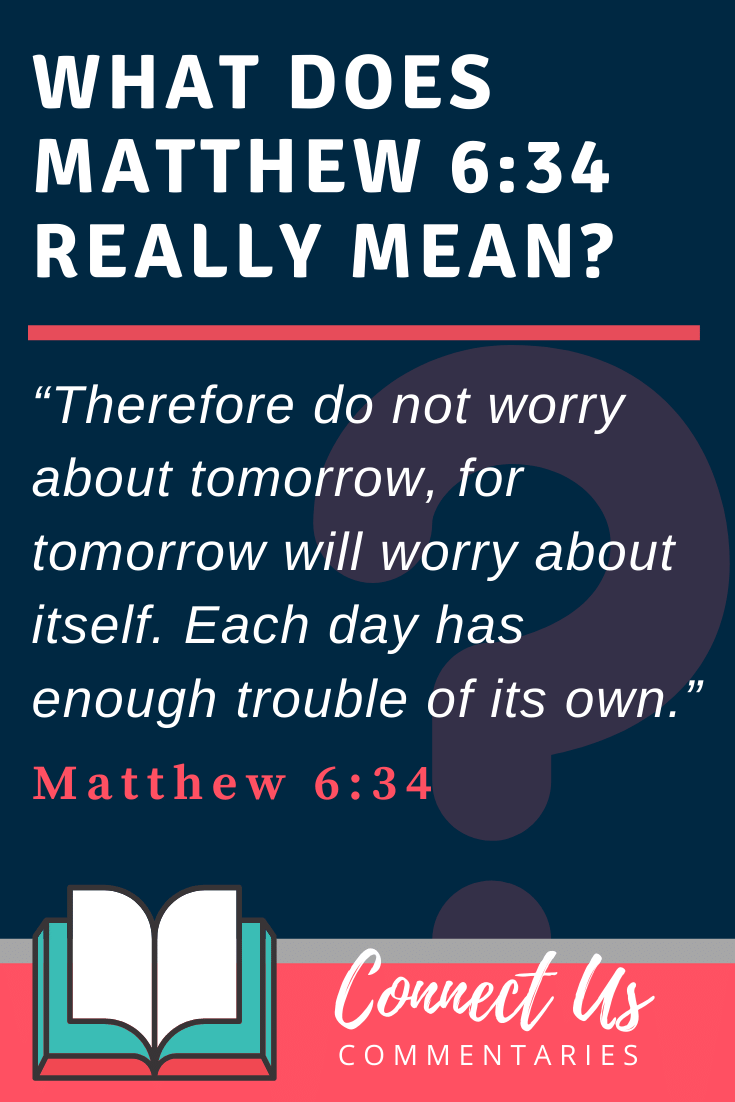 Author Bio
Natalie Regoli is a child of God, devoted wife, and mother of two boys. She has a Master's Degree in Law from The University of Texas. Natalie has been published in several national journals and has been practicing law for 18 years.