The word "foundation" occurs 80 times in the Bible. The infographic below identifies the points of each occurrence. This graphic presentation starts with Genesis in the top left and concludes with Revelation in the bottom right.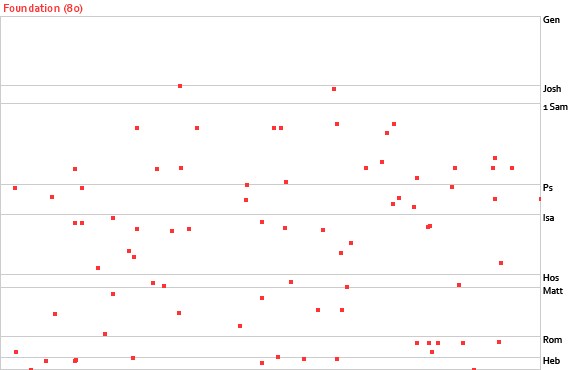 Here are the 40 most important Bible scriptures on foundation.
Matthew 7:24
"Everyone then who hears these words of mine and does them will be like a wise man who built his house on the rock."
Isaiah 28:16
Therefore thus says the Lord God, "Behold, I am the one who has laid as a foundation in Zion, a stone, a tested stone, a precious cornerstone, of a sure foundation: 'Whoever believes will not be in haste.'"
2 Timothy 2:19
But God's firm foundation stands, bearing this seal: "The Lord knows those who are his," and, "Let everyone who names the name of the Lord depart from iniquity."
Psalm 11:3
If the foundations are destroyed, what can the righteous do?
Hebrews 11:10
For he was looking forward to the city that has foundations, whose designer and builder is God.
1 Corinthians 3:10
According to the grace of God given to me, like a skilled master builder I laid a foundation, and someone else is building upon it. Let each one take care how he builds upon it.
1 Corinthians 3:11
For no one can lay a foundation other than that which is laid, which is Jesus Christ.
1 Corinthians 3:12
Now if anyone builds on the foundation with gold, silver, precious stones, wood, hay, straw.
1 Kings 16:34
In his days Hiel of Bethel built Jericho. He laid its foundation at the cost of Abiram his firstborn, and set up its gates at the cost of his youngest son Segub, according to the word of the Lord, which he spoke by Joshua the son of Nun.
1 Kings 5:17
At the king's command they quarried out great, costly stones in order to lay the foundation of the house with dressed stones.
1 Kings 6:37
In the fourth year the foundation of the house of the Lord was laid, in the month of Ziv.
1 Peter 1:20
He was foreknown before the foundation of the world but was made manifest in the last times for the sake of you.
1 Peter 2:6
For it stands in Scripture: "Behold, I am laying in Zion a stone, a cornerstone chosen and precious, and whoever believes in him will not be put to shame."
1 Timothy 6:19
Thus storing up treasure for themselves as a good foundation for the future, so that they may take hold of that which is truly life.
2 Peter 3:17
You therefore, beloved, knowing this beforehand, take care that you are not carried away with the error of lawless people and lose your own stability.
2 Timothy 1:9
Who saved us and called us to a holy calling, not because of our works but because of his own purpose and grace, which he gave us in Christ Jesus before the ages began.
2 Timothy 3:16
All Scripture is breathed out by God and profitable for teaching, for reproof, for correction, and for training in righteousness.
Deuteronomy 32:22
For a fire is kindled by my anger, and it burns to the depths of Sheol, devours the earth and its increase, and sets on fire the foundations of the mountains.
Ephesians 1:4
Even as he chose us in him before the foundation of the world, that we should be holy and blameless before him.
Ephesians 2:10
For we are his workmanship, created in Christ Jesus for good works, which God prepared beforehand, that we should walk in them.
Ephesians 2:20
Built on the foundation of the apostles and prophets, Christ Jesus himself being the cornerstone.
Ezra 3:11
And they sang responsively, praising and giving thanks to the Lord, "For he is good, for his steadfast love endures forever toward Israel." And all the people shouted with a great shout when they praised the Lord, because the foundation of the house of the Lord was laid.
Isaiah 58:12
And your ancient ruins shall be rebuilt; you shall raise up the foundations of many generations; you shall be called the repairer of the breach, the restorer of streets to dwell in.
Jeremiah 29:11
"For I know the plans I have for you," declares the Lord, "plans for welfare and not for evil, to give you a future and a hope."
John 17:24
"Father, I desire that they also, whom you have given me, may be with me where I am, to see my glory that you have given me because you loved me before the foundation of the world."
John 3:16
For God so loved the world, that he gave his only Son, that whoever believes in him should not perish but have eternal life.
Joshua 6:26
Joshua laid an oath on them at that time, saying, "Cursed before the Lord be the man who rises up and rebuilds this city, Jericho. At the cost of his firstborn shall he lay its foundation, and at the cost of his youngest son shall he set up its gates."
Luke 6:48
"He is like a man building a house, who dug deep and laid the foundation on the rock. And when a flood arose, the stream broke against that house and could not shake it, because it had been well built."
Matthew 13:35
This was to fulfill what was spoken by the prophet: "I will open my mouth in parables; I will utter what has been hidden since the foundation of the world."
Matthew 16:18
"And I tell you, you are Peter, and on this rock I will build my church, and the gates of hell shall not prevail against it."
Matthew 21:42
Jesus said to them, "Have you never read in the Scriptures: 'The stone that the builders rejected has become the cornerstone; this was the Lord's doing, and it is marvelous in our eyes?'"
Philippians 4:13
I can do all things through him who strengthens me.
Proverbs 16:16
How much better to get wisdom than gold! To get understanding is to be chosen rather than silver.
Proverbs 3:5
Trust in the Lord with all your heart, and do not lean on your own understanding.
Psalm 102:25
Of old you laid the foundation of the earth, and the heavens are the work of your hands.
Psalm 118:22
The stone that the builders rejected has become the cornerstone.
Revelation 17:8
The beast that you saw was, and is not, and is about to rise from the bottomless pit and go to destruction. And the dwellers on earth whose names have not been written in the book of life from the foundation of the world will marvel to see the beast, because it was and is not and is to come.
Revelation 21:14
And the wall of the city had twelve foundations, and on them were the twelve names of the twelve apostles of the Lamb.
Romans 15:20
And thus I make it my ambition to preach the gospel, not where Christ has already been named, lest I build on someone else's foundation.
Romans 8:28
And we know that for those who love God all things work together for good, for those who are called according to his purpose.
More Bible Verses that Will Move You
50 Most Powerful Scriptures on Faith
60 Transcendent Verses on Trust
50 Strong Scriptures on Perseverance
68 Powerful Verses on Forgiveness
40 Uplifting Scriptures on Patience
Add Our Infographic Below to Your Pinterest Board
Hit the pin button below to add our infographic, with all the verses, to one of your Pinterest boards.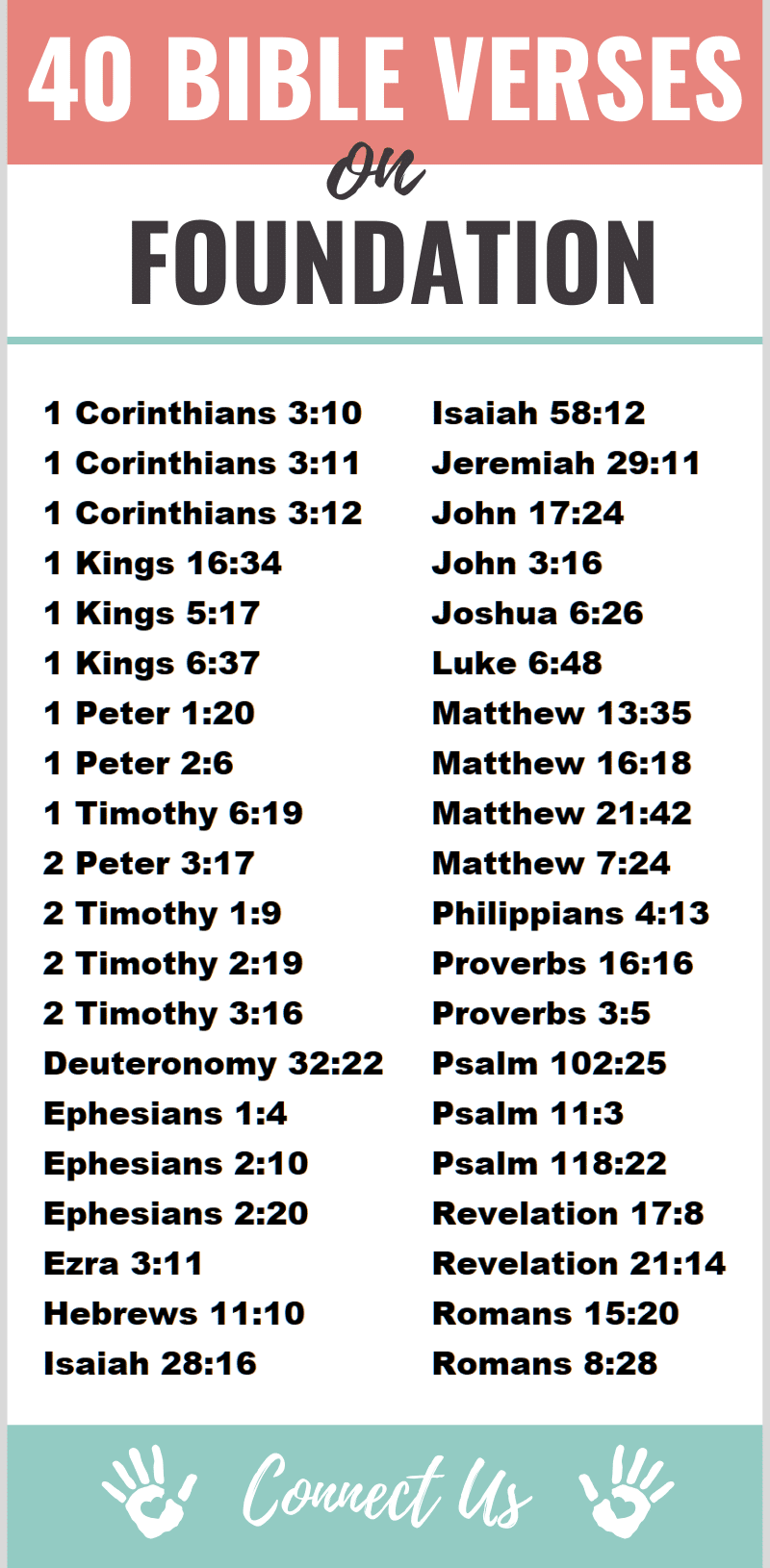 Author Bio
Natalie Regoli is a child of God, devoted wife, and mother of two boys. She has a Masters Degree in Law from The University of Texas. Natalie has been published in several national journals and has been practicing law for 18 years. If you would like to reach out to contact Natalie, then go here to
send her a message
.