The word vengeance is found 52 times in the Old and New Testament. The image below reveals the locations of each occurrence. This cool graph starts with Genesis in the top left and ends with Revelation in the bottom right.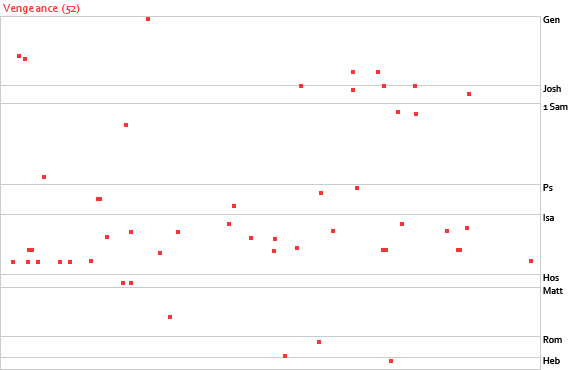 Here are the 40 most important Bible scriptures on vengeance.
Romans 12:19
Beloved, never avenge yourselves, but leave it to the wrath of God, for it is written, "Vengeance is mine, I will repay," says the Lord.
Ezekiel 25:17
"I will execute great vengeance on them with wrathful rebukes. Then they will know that I am the Lord, when I lay my vengeance upon them."
2 Thessalonians 1:6
Since indeed God considers it just to repay with affliction those who afflict you.
Hebrews 10:30
For we know him who said, "Vengeance is mine; I will repay." And again, "The Lord will judge his people."
Leviticus 19:18
"You shall not take vengeance or bear a grudge against the sons of your own people, but you shall love your neighbor as yourself: I am the Lord."
1 Samuel 24:12
May the Lord judge between me and you, may the Lord avenge me against you, but my hand shall not be against you.
1 Thessalonians 4:6
That no one transgress and wrong his brother in this matter, because the Lord is an avenger in all these things, as we told you beforehand and solemnly warned you.
1 Thessalonians 5:15
See that no one repays anyone evil for evil, but always seek to do good to one another and to everyone.
1 Timothy 5:8
But if anyone does not provide for his relatives, and especially for members of his household, he has denied the faith and is worse than an unbeliever.
2 Thessalonians 1:8
In flaming fire, inflicting vengeance on those who do not know God and on those who do not obey the gospel of our Lord Jesus.
2 Thessalonians 1:9
They will suffer the punishment of eternal destruction, away from the presence of the Lord and from the glory of his might.
Acts 2:31
He foresaw and spoke about the resurrection of the Christ, that he was not abandoned to Hades, nor did his flesh see corruption.
Deuteronomy 32:35
"Vengeance is mine, and recompense, for the time when their foot shall slip; for the day of their calamity is at hand, and their doom comes swiftly."
Ezekiel 18:20
The soul who sins shall die. The son shall not suffer for the iniquity of the father, nor the father suffer for the iniquity of the son. The righteousness of the righteous shall be upon himself, and the wickedness of the wicked shall be upon himself.
Hebrews 11:7
By faith Noah, being warned by God concerning events as yet unseen, in reverent fear constructed an ark for the saving of his household. By this he condemned the world and became an heir of the righteousness that comes by faith.
Hebrews 13:8
Jesus Christ is the same yesterday and today and forever.
Isaiah 14:9
Sheol beneath is stirred up to meet you when you come; it rouses the shades to greet you, all who were leaders of the earth; it raises from their thrones all who were kings of the nations.
James 2:24
You see that a person is justified by works and not by faith alone.
James 4:2
You desire and do not have, so you murder. You covet and cannot obtain, so you fight and quarrel. You do not have, because you do not ask.
John 14:15
"If you love me, you will keep my commandments."
John 14:26
"But the Helper, the Holy Spirit, whom the Father will send in my name, he will teach you all things and bring to your remembrance all that I have said to you."
Jude 1:7
Just as Sodom and Gomorrah and the surrounding cities, which likewise indulged in sexual immorality and pursued unnatural desire, serve as an example by undergoing a punishment of eternal fire.
Luke 13:3
"No, I tell you; but unless you repent, you will all likewise perish."
Luke 22:36
He said to them, "But now let the one who has a moneybag take it, and likewise a knapsack. And let the one who has no sword sell his cloak and buy one."
Malachi 3:6
"For I the Lord do not change; therefore you, O children of Jacob, are not consumed."
Matthew 10:28
"And do not fear those who kill the body but cannot kill the soul. Rather fear him who can destroy both soul and body in hell."
Matthew 25:41
"Then he will say to those on his left, 'Depart from me, you cursed, into the eternal fire prepared for the devil and his angels.'"
Matthew 25:46
"And these will go away into eternal punishment, but the righteous into eternal life."
Matthew 4:7
Jesus said to him, "Again it is written, 'You shall not put the Lord your God to the test.'"
Proverbs 25:26
Like a muddied spring or a polluted fountain is a righteous man who gives way before the wicked.
Psalm 144:1
Of David. Blessed be the Lord, my rock, who trains my hands for war, and my fingers for battle.
Psalm 145:8
The Lord is gracious and merciful, slow to anger and abounding in steadfast love.
Psalm 4:4
Be angry, and do not sin; ponder in your own hearts on your beds, and be silent. Selah.
Psalm 55:15
Let death steal over them; let them go down to Sheol alive; for evil is in their dwelling place and in their heart.
Psalm 94:1
O Lord, God of vengeance, O God of vengeance, shine forth!
Revelation 19:20
And the beast was captured, and with it the false prophet who in its presence had done the signs by which he deceived those who had received the mark of the beast and those who worshiped its image. These two were thrown alive into the lake of fire that burns with sulfur.
Revelation 2:11
"He who has an ear, let him hear what the Spirit says to the churches. The one who conquers will not be hurt by the second death."
Revelation 21:8
"But as for the cowardly, the faithless, the detestable, as for murderers, the sexually immoral, sorcerers, idolaters, and all liars, their portion will be in the lake that burns with fire and sulfur, which is the second death."
Revelation 6:10
They cried out with a loud voice, "O Sovereign Lord, holy and true, how long before you will judge and avenge our blood on those who dwell on the earth?"
Romans 13:4
For he is God's servant for your good. But if you do wrong, be afraid, for he does not bear the sword in vain. For he is the servant of God, an avenger who carries out God's wrath on the wrongdoer.
More Bible Verses that Will Move You
50 Most Powerful Scriptures on Faith
60 Transcendent Verses on Trust
50 Strong Scriptures on Perseverance
68 Powerful Verses on Forgiveness
40 Uplifting Scriptures on Patience
Add Our Infographic Below to Your Pinterest Board
Hit the pin button below to add our infographic, with all the verses, to one of your Pinterest boards.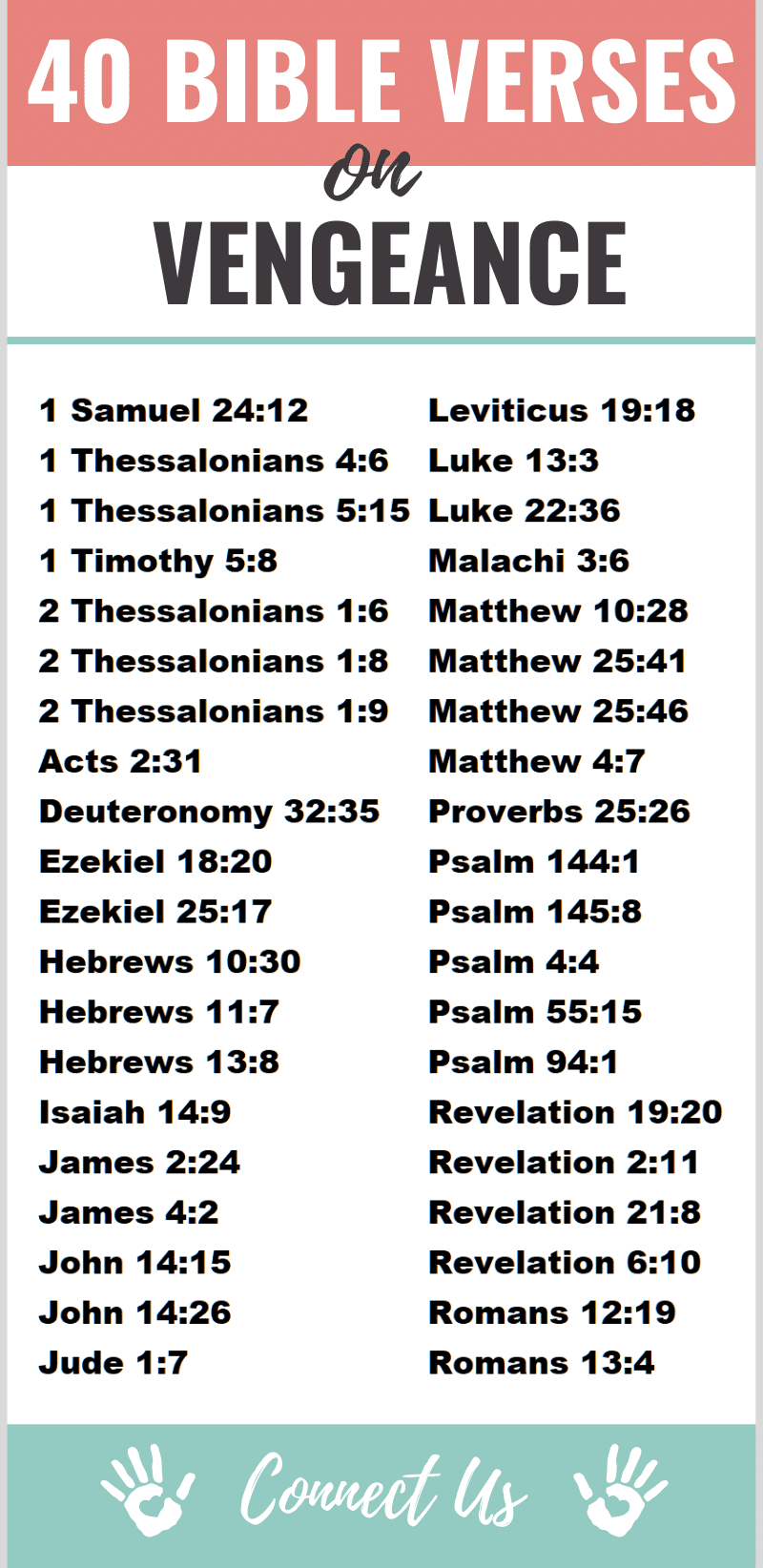 Author Bio
Natalie Regoli is a child of God, devoted wife, and mother of two boys. She has a Masters Degree in Law from The University of Texas. Natalie has been published in several national journals and has been practicing law for 18 years. If you would like to reach out to contact Natalie, then go here to
send her a message
.