Jeremiah 29:13
"You will seek me and find me, when you seek me with all your heart."
Explanation and Commentary of Jeremiah 29:13
The context for this verse is Jeremiah's letter to the exiled Jews in Babylon. This is a promise of restoration after the completion of the time allotted for their discipline. We should read this as pertaining not only to them but to all God's Church, even today. This was a specific promise to those Jews in exile, but it captures a basic principle of relating to our God that holds true in every generation of believers.
Jesus said, "Ask and it will be given to you; seek and you will find; knock and the door will be opened to you" (Mt 7:7). God has made himself completely and totally available to those who want him. He calls to us, but he does not force us to follow. His mysterious and prevenient grace notwithstanding, it is a crucial element of our relationship and fellowship with him that we actually choose to seek him, come to him and abide with and in him.
Romans 1:20 suggests that everyone, even the unregenerate actually knows this to be true, though they have lied to themselves: "For since the creation of the world God's invisible qualities—his eternal power and divine nature—have been clearly seen, being understood from what has been made, so that people are without excuse." For the Christian, it is necessary to wake up to this fact, stop running away, and begin running toward God, who has made himself apprehendable for the seeker.
Breaking Down the Key Parts of Jeremiah 29:13
#1 "You will seek me,"
Jeremiah prophesied that the Jews, currently then in exile for their failure to follow God, would indeed turn to him at the right time and seek his face. But more importantly to us, he has reserved his elect Church as those who will wake up to the truth and seek him.
#2 "and find me, when you seek me with all your heart."
The key to finding what we seek when we seek God is to put all our heart into it. This we will do only when we value God and a relationship with him more than anything else. Finding him is like finding a treasure in a field that is worth selling everything we have in order to buy it. In Luke 18:29-30, it says, "29 'Truly I tell you,' Jesus said to them, 'no one who has left home or wife or brothers or sisters or parents or children for the sake of the kingdom of God 30 will fail to receive many times as much in this age, and in the age to come eternal life.'" We must leave all behind in respect to what or who has the highest place in our hearts if we would truly find God.
Expert Overview of Jeremiah
Biblical Translations of Jeremiah 29:13
NIV
"You will seek me and find me when you seek me with all your heart."
NLT
"If you look for me wholeheartedly, you will find me."
ESV
"You will seek me and find me, when you seek me with all your heart."
KJV
"And ye shall seek me, and find me, when ye shall search for me with all your heart."
NKJV
"And you will seek Me and find Me, when you search for Me with all your heart."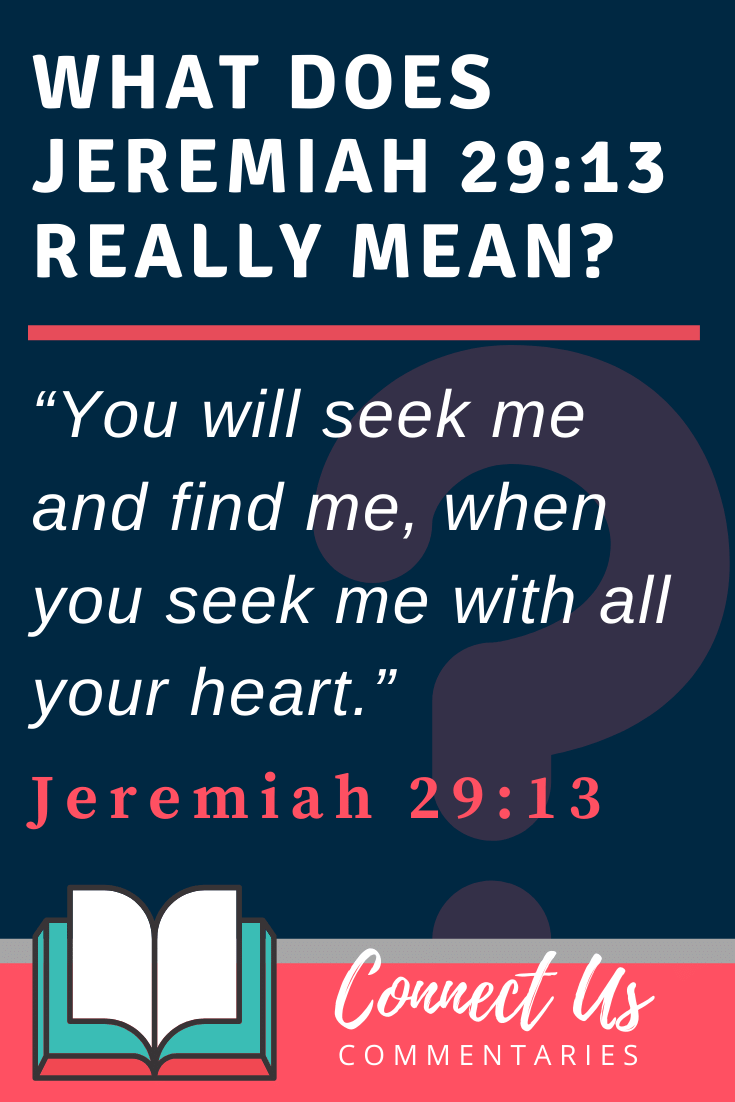 Author Bio
Natalie Regoli is a child of God, devoted wife, and mother of two boys. She has a Master's Degree in Law from The University of Texas. Natalie has been published in several national journals and has been practicing law for 18 years.