Here are the 40 most powerful Bible scriptures on boldness.
Proverbs 28:1
The wicked flee when no one pursues, but the righteous are bold as a lion.
Acts 28:31
Proclaiming the kingdom of God and teaching about the Lord Jesus Christ with all boldness and without hindrance.
Ephesians 3:12
In whom we have boldness and access with confidence through our faith in him.
Acts 4:31
And when they had prayed, the place in which they were gathered together was shaken, and they were all filled with the Holy Spirit and continued to speak the word of God with boldness.
Acts 4:29
And now, Lord, look upon their threats and grant to your servants to continue to speak your word with all boldness.
1 Chronicles 28:20
Then David said to Solomon his son, "Be strong and courageous and do it. Do not be afraid and do not be dismayed, for the Lord God, even my God, is with you. He will not leave you or forsake you, until all the work for the service of the house of the Lord is finished."
1 Corinthians 16:13
Be watchful, stand firm in the faith, act like men, be strong.
1 John 2:28
And now, little children, abide in him, so that when he appears we may have confidence and not shrink from him in shame at his coming.
1 John 2:5
But whoever keeps his word, in him truly the love of God is perfected. By this we may know that we are in him.
1 John 3:21
Beloved, if our heart does not condemn us, we have confidence before God.
1 John 5:14
And this is the confidence that we have toward him, that if we ask anything according to his will he hears us.
1 Peter 5:8
Be sober-minded; be watchful. Your adversary the devil prowls around like a roaring lion, seeking someone to devour.
1 Thessalonians 2:2
But though we had already suffered and been shamefully treated at Philippi, as you know, we had boldness in our God to declare to you the gospel of God in the midst of much conflict.
1 Timothy 3:13
For those who serve well as deacons gain a good standing for themselves and also great confidence in the faith that is in Christ Jesus.
2 Corinthians 10:2
I beg of you that when I am present I may not have to show boldness with such confidence as I count on showing against some who suspect us of walking according to the flesh.
2 Corinthians 3:12
Since we have such a hope, we are very bold.
2 Corinthians 7:4
I am acting with great boldness toward you; I have great pride in you; I am filled with comfort. In all our affliction, I am overflowing with joy.
2 Timothy 1:7
For God gave us a spirit not of fear but of power and love and self-control.
Acts 13:46
And Paul and Barnabas spoke out boldly, saying, "It was necessary that the word of God be spoken first to you. Since you thrust it aside and judge yourselves unworthy of eternal life, behold, we are turning to the Gentiles."
Acts 14:3
So they remained for a long time, speaking boldly for the Lord, who bore witness to the word of his grace, granting signs and wonders to be done by their hands.
Acts 18:26
He began to speak boldly in the synagogue, but when Priscilla and Aquila heard him, they took him and explained to him the way of God more accurately.
Acts 19:8
And he entered the synagogue and for three months spoke boldly, reasoning and persuading them about the kingdom of God.
Acts 4:13
Now when they saw the boldness of Peter and John, and perceived that they were uneducated, common men, they were astonished. And they recognized that they had been with Jesus.
Acts 9:27
But Barnabas took him and brought him to the apostles and declared to them how on the road he had seen the Lord, who spoke to him, and how at Damascus he had preached boldly in the name of Jesus.
Deuteronomy 31:6
Be strong and courageous. Do not fear or be in dread of them, for it is the Lord your God who goes with you. He will not leave you or forsake you.
Ephesians 6:19
And also for me, that words may be given to me in opening my mouth boldly to proclaim the mystery of the gospel.
Hebrews 10:19
Therefore, brothers, since we have confidence to enter the holy places by the blood of Jesus.
Hebrews 13:6
So we can confidently say, "The Lord is my helper; I will not fear; what can man do to me?"
Hebrews 4:16
Let us then with confidence draw near to the throne of grace, that we may receive mercy and find grace to help in time of need.
Isaiah 55:11
"So shall my word be that goes out from my mouth; it shall not return to me empty, but it shall accomplish that which I purpose, and shall succeed in the thing for which I sent it."
John 14:26
"But the Helper, the Holy Spirit, whom the Father will send in my name, he will teach you all things and bring to your remembrance all that I have said to you."
John 15:13
"Greater love has no one than this, that someone lay down his life for his friends."
Joshua 1:9
"Have I not commanded you? Be strong and courageous. Do not be frightened, and do not be dismayed, for the Lord your God is with you wherever you go."
Luke 11:8
"I tell you, though he will not get up and give him anything because he is his friend, yet because of his impudence he will rise and give him whatever he needs."
Philemon 1:8
Accordingly, though I am bold enough in Christ to command you to do what is required.
Philippians 1:14
And most of the brothers, having become confident in the Lord by my imprisonment, are much more bold to speak the word without fear.
Philippians 1:20
As it is my eager expectation and hope that I will not be at all ashamed, but that with full courage now as always Christ will be honored in my body, whether by life or by death.
Psalm 138:3
On the day I called, you answered me; my strength of soul you increased.
Psalm 27:1
Of David. The Lord is my light and my salvation; whom shall I fear? The Lord is the stronghold of my life; of whom shall I be afraid?
Romans 8:15
For you did not receive the spirit of slavery to fall back into fear, but you have received the Spirit of adoption as sons, by whom we cry, "Abba! Father!"
More Bible Verses that Will Move You
50 Most Powerful Scriptures on Faith
60 Transcendent Verses on Trust
50 Strong Scriptures on Perseverance
68 Powerful Verses on Forgiveness
40 Uplifting Scriptures on Patience
Add Our Infographic Below to Your Pinterest Board
Hit the pin button below to add our infographic, with all the verses, to one of your Pinterest boards.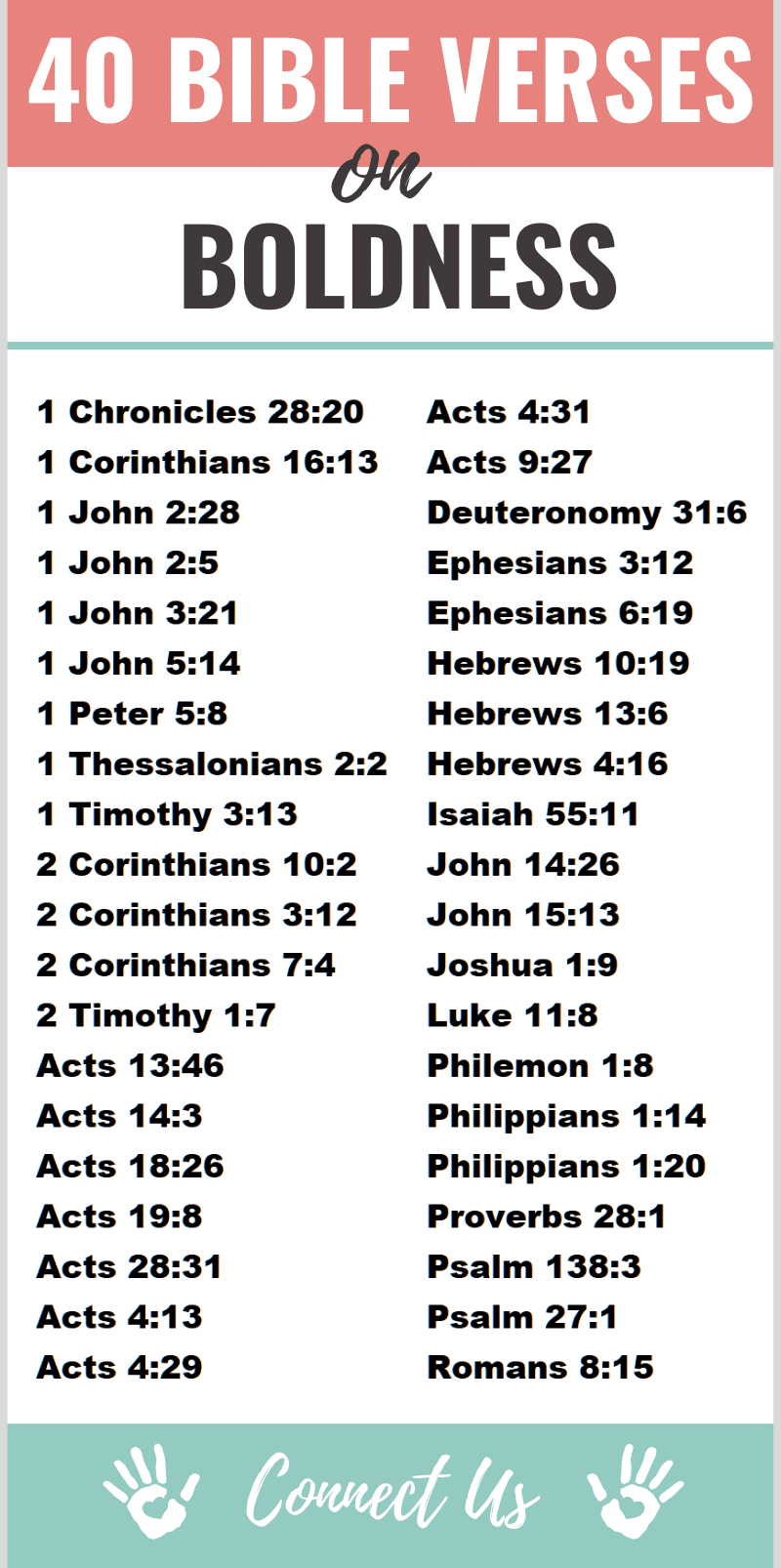 Author Bio
Natalie Regoli is a child of God, devoted wife, and mother of two boys. She has a Master's Degree in Law from The University of Texas. Natalie has been published in several national journals and has been practicing law for 18 years.