Here are the 40 most powerful Bible scriptures on forgiveness of sin.
1 John 1:9
If we confess our sins, he is faithful and just to forgive us our sins and to cleanse us from all unrighteousness.
Acts 2:38
And Peter said to them, "Repent and be baptized every one of you in the name of Jesus Christ for the forgiveness of your sins, and you will receive the gift of the Holy Spirit."
Colossians 3:13
Bearing with one another and, if one has a complaint against another, forgiving each other; as the Lord has forgiven you, so you also must forgive.
Acts 3:19
Repent therefore, and turn again, that your sins may be blotted out.
Mark 11:25
"And whenever you stand praying, forgive, if you have anything against anyone, so that your Father also who is in heaven may forgive you your trespasses."
1 John 2:1
My little children, I am writing these things to you so that you may not sin. But if anyone does sin, we have an advocate with the Father, Jesus Christ the righteous.
1 John 2:12
I am writing to you, little children, because your sins are forgiven for his name's sake.
2 Chronicles 7:14
If my people who are called by my name humble themselves, and pray and seek my face and turn from their wicked ways, then I will hear from heaven and will forgive their sin and heal their land.
2 Corinthians 5:17
Therefore, if anyone is in Christ, he is a new creation. The old has passed away; behold, the new has come.
2 Corinthians 5:21
For our sake he made him to be sin who knew no sin, so that in him we might become the righteousness of God.
Acts 10:43
To him all the prophets bear witness that everyone who believes in him receives forgiveness of sins through his name."
Acts 13:38
Let it be known to you therefore, brothers, that through this man forgiveness of sins is proclaimed to you.
Acts 26:18
To open their eyes, so that they may turn from darkness to light and from the power of Satan to God, that they may receive forgiveness of sins and a place among those who are sanctified by faith in me.
Colossians 1:14
In whom we have redemption, the forgiveness of sins.
Ephesians 1:7
In him we have redemption through his blood, the forgiveness of our trespasses, according to the riches of his grace.
Ephesians 4:32
Be kind to one another, tenderhearted, forgiving one another, as God in Christ forgave you.
Hebrews 10:17
Then he adds, "I will remember their sins and their lawless deeds no more."
Hebrews 8:12
"For I will be merciful toward their iniquities, and I will remember their sins no more."
Hebrews 9:22
Indeed, under the law almost everything is purified with blood, and without the shedding of blood there is no forgiveness of sins.
Isaiah 1:18
"Come now, let us reason together," says the Lord: "though your sins are like scarlet, they shall be as white as snow; though they are red like crimson, they shall become like wool."
Isaiah 43:25
"I, I am he who blots out your transgressions for my own sake, and I will not remember your sins."
Isaiah 55:7
Let the wicked forsake his way, and the unrighteous man his thoughts; let him return to the Lord, that he may have compassion on him, and to our God, for he will abundantly pardon.
John 3:16
For God so loved the world, that he gave his only Son, that whoever believes in him should not perish but have eternal life.
Luke 23:34
And Jesus said, "Father, forgive them, for they know not what they do." And they cast lots to divide his garments.
Luke 24:47
And that repentance and forgiveness of sins should be proclaimed in his name to all nations, beginning from Jerusalem.
Luke 3:3
And he went into all the region around the Jordan, proclaiming a baptism of repentance for the forgiveness of sins.
Luke 6:37
"Judge not, and you will not be judged; condemn not, and you will not be condemned; forgive, and you will be forgiven."
Matthew 26:28
"For this is my blood of the covenant, which is poured out for many for the forgiveness of sins."
Matthew 6:12
"And forgive us our debts, as we also have forgiven our debtors."
Matthew 6:14
"For if you forgive others their trespasses, your heavenly Father will also forgive you."
Matthew 6:15
"But if you do not forgive others their trespasses, neither will your Father forgive your trespasses."
Proverbs 17:9
Whoever covers an offense seeks love, but he who repeats a matter separates close friends.
Proverbs 28:13
Whoever conceals his transgressions will not prosper, but he who confesses and forsakes them will obtain mercy.
Psalm 103:12
As far as the east is from the west, so far does he remove our transgressions from us.
Psalm 130:4
But with you there is forgiveness, that you may be feared.
Psalm 32:5
I acknowledged my sin to you, and I did not cover my iniquity; I said, "I will confess my transgressions to the Lord," and you forgave the iniquity of my sin. Selah.
Romans 12:20
To the contrary, "if your enemy is hungry, feed him; if he is thirsty, give him something to drink; for by so doing you will heap burning coals on his head."
Romans 3:23
For all have sinned and fall short of the glory of God.
Romans 6:23
For the wages of sin is death, but the free gift of God is eternal life in Christ Jesus our Lord.
Romans 8:1
There is therefore now no condemnation for those who are in Christ Jesus.
More Bible Verses that Will Move You
50 Most Powerful Scriptures on Faith
60 Transcendent Verses on Trust
50 Strong Scriptures on Perseverance
68 Powerful Verses on Forgiveness
40 Uplifting Scriptures on Patience
Add Our Infographic Below to Your Pinterest Board
Hit the pin button below to add our infographic, with all the verses, to one of your Pinterest boards.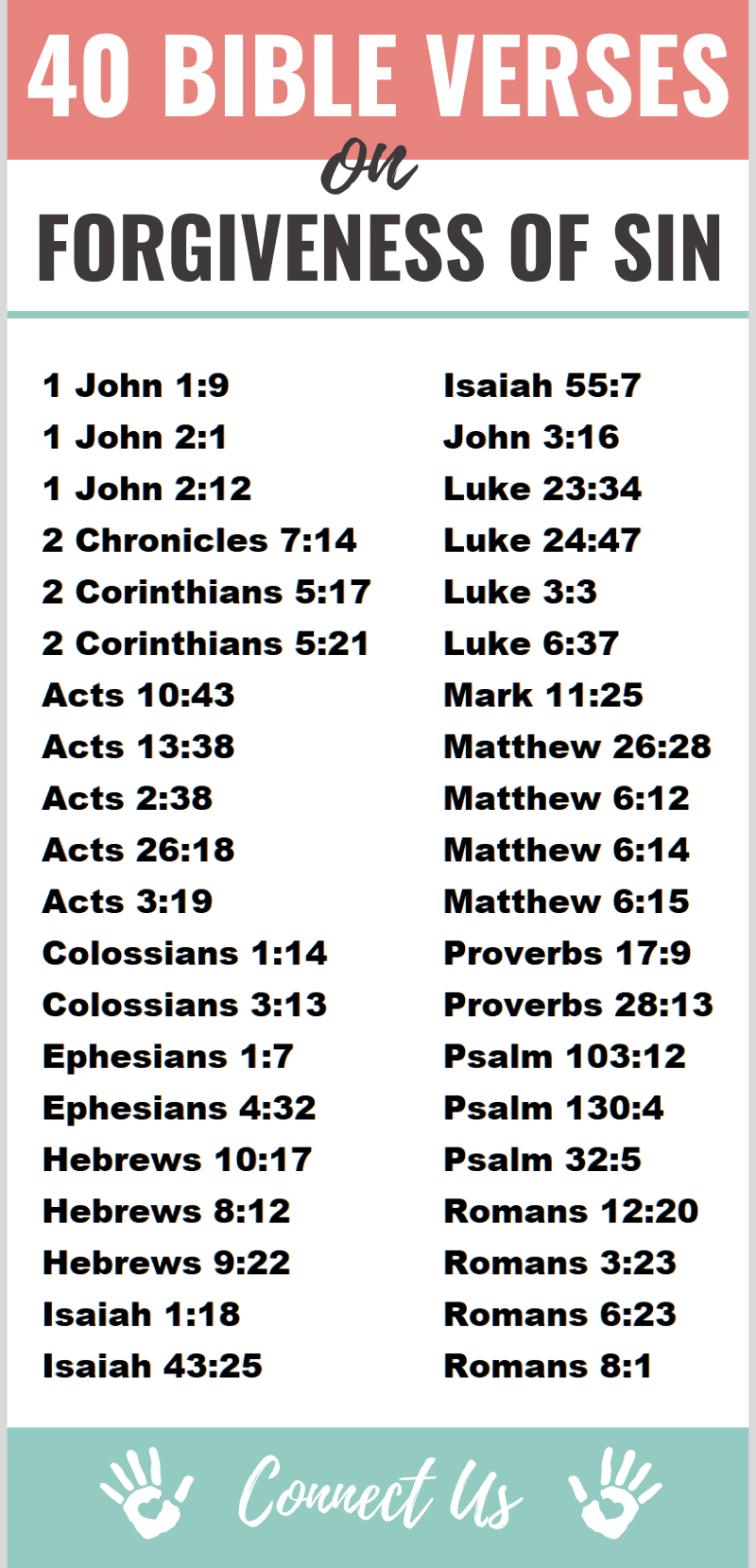 Author Bio
Natalie Regoli is a child of God, devoted wife, and mother of two boys. She has a Master's Degree in Law from The University of Texas. Natalie has been published in several national journals and has been practicing law for 18 years.