Here are the 40 most transcendent Bible scriptures on knowing God.
Philippians 3:10
That I may know him and the power of his resurrection, and may share his sufferings, becoming like him in his death.
John 17:3
"And this is eternal life, that they know you the only true God, and Jesus Christ whom you have sent."
Romans 12:2
Do not be conformed to this world, but be transformed by the renewal of your mind, that by testing you may discern what is the will of God, what is good and acceptable and perfect.
2 Peter 3:18
But grow in the grace and knowledge of our Lord and Savior Jesus Christ. To him be the glory both now and to the day of eternity. Amen.
Proverbs 8:17
I love those who love me, and those who seek me diligently find me.
1 Chronicles 16:11
Seek the Lord and his strength; seek his presence continually!
1 John 2:13
I am writing to you, fathers, because you know him who is from the beginning. I am writing to you, young men, because you have overcome the evil one. I write to you, children, because you know the Father.
1 John 3:6
No one who abides in him keeps on sinning; no one who keeps on sinning has either seen him or known him.
1 John 4:6
We are from God. Whoever knows God listens to us; whoever is not from God does not listen to us. By this we know the Spirit of truth and the spirit of error.
1 Peter 3:18
For Christ also suffered once for sins, the righteous for the unrighteous, that he might bring us to God, being put to death in the flesh but made alive in the spirit.
2 Timothy 1:7
For God gave us a spirit not of fear but of power and love and self-control.
2 Timothy 3:16
All Scripture is breathed out by God and profitable for teaching, for reproof, for correction, and for training in righteousness.
Colossians 1:9
And so, from the day we heard, we have not ceased to pray for you, asking that you may be filled with the knowledge of his will in all spiritual wisdom and understanding.
Daniel 11:32
He shall seduce with flattery those who violate the covenant, but the people who know their God shall stand firm and take action.
Ephesians 1:17
That the God of our Lord Jesus Christ, the Father of glory, may give you a spirit of wisdom and of revelation in the knowledge of him.
Ephesians 3:19
And to know the love of Christ that surpasses knowledge, that you may be filled with all the fullness of God.
Hebrews 4:12
For the word of God is living and active, sharper than any two-edged sword, piercing to the division of soul and of spirit, of joints and of marrow, and discerning the thoughts and intentions of the heart.
Hosea 6:3
Let us know; let us press on to know the Lord; his going out is sure as the dawn; he will come to us as the showers, as the spring rains that water the earth."
Isaiah 53:6
All we like sheep have gone astray; we have turned—every one—to his own way; and the Lord has laid on him the iniquity of us all.
Isaiah 55:8
"For my thoughts are not your thoughts, neither are your ways my ways," declares the Lord.
James 4:7
Submit yourselves therefore to God. Resist the devil, and he will flee from you.
Jeremiah 22:16
He judged the cause of the poor and needy; then it was well. Is not this to know me? declares the Lord.
Jeremiah 24:7
"I will give them a heart to know that I am the Lord, and they shall be my people and I will be their God, for they shall return to me with their whole heart."
Job 22:21
Agree with God, and be at peace; thereby good will come to you.
John 1:1
In the beginning was the Word, and the Word was with God, and the Word was God.
John 10:10
"The thief comes only to steal and kill and destroy. I came that they may have life and have it abundantly."
John 14:6
Jesus said to him, "I am the way, and the truth, and the life. No one comes to the Father except through me."
John 3:16
For God so loved the world, that he gave his only Son, that whoever believes in him should not perish but have eternal life.
John 3:36
Whoever believes in the Son has eternal life; whoever does not obey the Son shall not see life, but the wrath of God remains on him.
John 5:30
"I can do nothing on my own. As I hear, I judge, and my judgment is just, because I seek not my own will but the will of him who sent me."
John 9:31
"We know that God does not listen to sinners, but if anyone is a worshiper of God and does his will, God listens to him."
Joshua 1:8
"This Book of the Law shall not depart from your mouth, but you shall meditate on it day and night, so that you may be careful to do according to all that is written in it. For then you will make your way prosperous, and then you will have good success."
Proverbs 3:6
In all your ways acknowledge him, and he will make straight your paths.
Psalm 119:10
With my whole heart I seek you; let me not wander from your commandments!
Psalm 119:103
How sweet are your words to my taste, sweeter than honey to my mouth!
Psalm 119:105
Your word is a lamp to my feet and a light to my path.
Psalm 119:11
I have stored up your word in my heart, that I might not sin against you.
Psalm 119:18
Open my eyes, that I may behold wondrous things out of your law.
Psalm 119:9
How can a young man keep his way pure? By guarding it according to your word.
Psalm 46:10
"Be still, and know that I am God. I will be exalted among the nations, I will be exalted in the earth!"
More Bible Verses that Will Move You
50 Most Powerful Scriptures on Faith
60 Transcendent Verses on Trust
50 Strong Scriptures on Perseverance
68 Powerful Verses on Forgiveness
40 Uplifting Scriptures on Patience
Add Our Infographic Below to Your Pinterest Board
Hit the pin button below to add our infographic, with all the verses, to one of your Pinterest boards.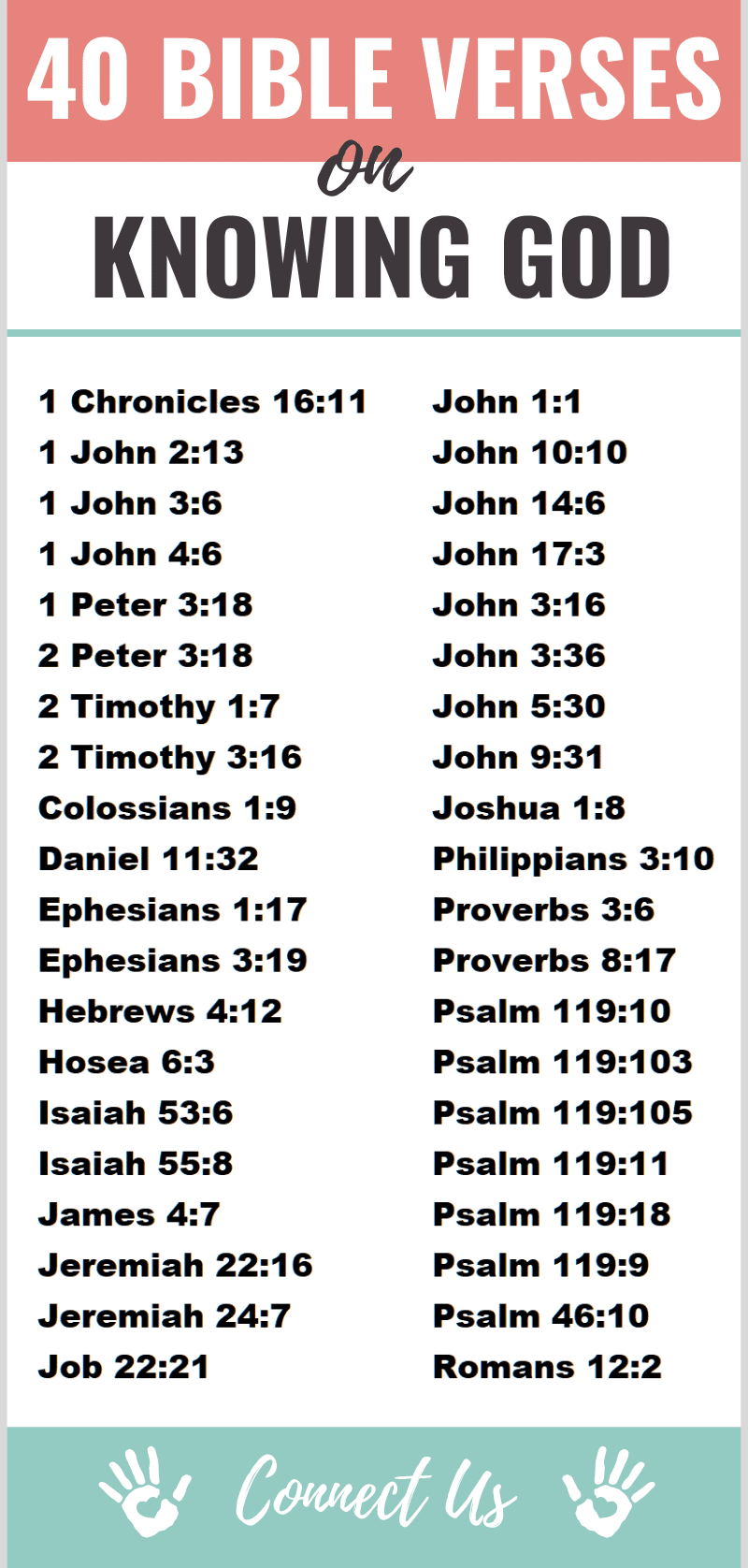 Author Bio
Natalie Regoli is a child of God, devoted wife, and mother of two boys. She has a Master's Degree in Law from The University of Texas. Natalie has been published in several national journals and has been practicing law for 18 years.