Here are the 40 most transcendent Bible scriptures on ministry.
2 Timothy 2:15
Do your best to present yourself to God as one approved, a worker who has no need to be ashamed, rightly handling the word of truth.
1 Timothy 4:12
Let no one despise you for your youth, but set the believers an example in speech, in conduct, in love, in faith, in purity.
Hebrews 13:7
Remember your leaders, those who spoke to you the word of God. Consider the outcome of their way of life, and imitate their faith.
Acts 20:24
But I do not account my life of any value nor as precious to myself, if only I may finish my course and the ministry that I received from the Lord Jesus, to testify to the gospel of the grace of God.
2 Corinthians 3:6
Who has made us competent to be ministers of a new covenant, not of the letter but of the Spirit. For the letter kills, but the Spirit gives life.
1 Corinthians 14:26
What then, brothers? When you come together, each one has a hymn, a lesson, a revelation, a tongue, or an interpretation. Let all things be done for building up.
1 Peter 3:15
But in your hearts honor Christ the Lord as holy, always being prepared to make a defense to anyone who asks you for a reason for the hope that is in you; yet do it with gentleness and respect.
1 Peter 5:3
Not domineering over those in your charge, but being examples to the flock.
1 Peter 5:5
Likewise, you who are younger, be subject to the elders. Clothe yourselves, all of you, with humility toward one another, for "God opposes the proud but gives grace to the humble."
1 Timothy 1:12
I thank him who has given me strength, Christ Jesus our Lord, because he judged me faithful, appointing me to his service.
1 Timothy 2:7
For this I was appointed a preacher and an apostle (I am telling the truth, I am not lying), a teacher of the Gentiles in faith and truth.
1 Timothy 5:17
Let the elders who rule well be considered worthy of double honor, especially those who labor in preaching and teaching.
2 Corinthians 4:1
Therefore, having this ministry by the mercy of God, we do not lose heart.
2 Timothy 2:2
And what you have heard from me in the presence of many witnesses entrust to faithful men who will be able to teach others also.
2 Timothy 4:5
As for you, always be sober-minded, endure suffering, do the work of an evangelist, fulfill your ministry.
Acts 1:17
For he was numbered among us and was allotted his share in this ministry.
Acts 1:25
To take the place in this ministry and apostleship from which Judas turned aside to go to his own place.
Acts 1:8
"But you will receive power when the Holy Spirit has come upon you, and you will be my witnesses in Jerusalem and in all Judea and Samaria, and to the end of the earth."
Acts 20:28
Pay careful attention to yourselves and to all the flock, in which the Holy Spirit has made you overseers, to care for the church of God, which he obtained with his own blood.
Acts 6:4
But we will devote ourselves to prayer and to the ministry of the word.
Colossians 3:16
Let the word of Christ dwell in you richly, teaching and admonishing one another in all wisdom, singing psalms and hymns and spiritual songs, with thankfulness in your hearts to God.
Colossians 3:23
Whatever you do, work heartily, as for the Lord and not for men.
Deuteronomy 6:7
You shall teach them diligently to your children, and shall talk of them when you sit in your house, and when you walk by the way, and when you lie down, and when you rise.
Ecclesiastes 12:1
Remember also your Creator in the days of your youth, before the evil days come and the years draw near of which you will say, "I have no pleasure in them."
Ephesians 4:12
To equip the saints for the work of ministry, for building up the body of Christ.
Ephesians 4:32
Be kind to one another, tenderhearted, forgiving one another, as God in Christ forgave you.
Exodus 20:12
"Honor your father and your mother, that your days may be long in the land that the Lord your God is giving you."
Galatians 5:13
For you were called to freedom, brothers. Only do not use your freedom as an opportunity for the flesh, but through love serve one another.
Hebrews 13:17
Obey your leaders and submit to them, for they are keeping watch over your souls, as those who will have to give an account. Let them do this with joy and not with groaning, for that would be of no advantage to you.
Hebrews 6:10
For God is not unjust so as to overlook your work and the love that you have shown for his name in serving the saints, as you still do.
Isaiah 6:8
And I heard the voice of the Lord saying, "Whom shall I send, and who will go for us?" Then I said, "Here am I! Send me."
James 4:10
Humble yourselves before the Lord, and he will exalt you.
Luke 3:23
Jesus, when he began his ministry, was about thirty years of age, being the son (as was supposed) of Joseph, the son of Heli.
Mark 10:45
"For even the Son of Man came not to be served but to serve, and to give his life as a ransom for many."
Matthew 18:10
"See that you do not despise one of these little ones. For I tell you that in heaven their angels always see the face of my Father who is in heaven."
Matthew 20:28
"Even as the Son of Man came not to be served but to serve, and to give his life as a ransom for many."
Philippians 4:13
I can do all things through him who strengthens me.
Proverbs 22:6
Train up a child in the way he should go; even when he is old he will not depart from it.
Psalm 127:3
Behold, children are a heritage from the Lord, the fruit of the womb a reward.
Romans 1:1
Paul, a servant of Christ Jesus, called to be an apostle, set apart for the gospel of God.
More Bible Verses that Will Move You
50 Most Powerful Scriptures on Faith
60 Transcendent Verses on Trust
50 Strong Scriptures on Perseverance
68 Powerful Verses on Forgiveness
40 Uplifting Scriptures on Patience
Add Our Infographic Below to Your Pinterest Board
Hit the pin button below to add our infographic, with all the verses, to one of your Pinterest boards.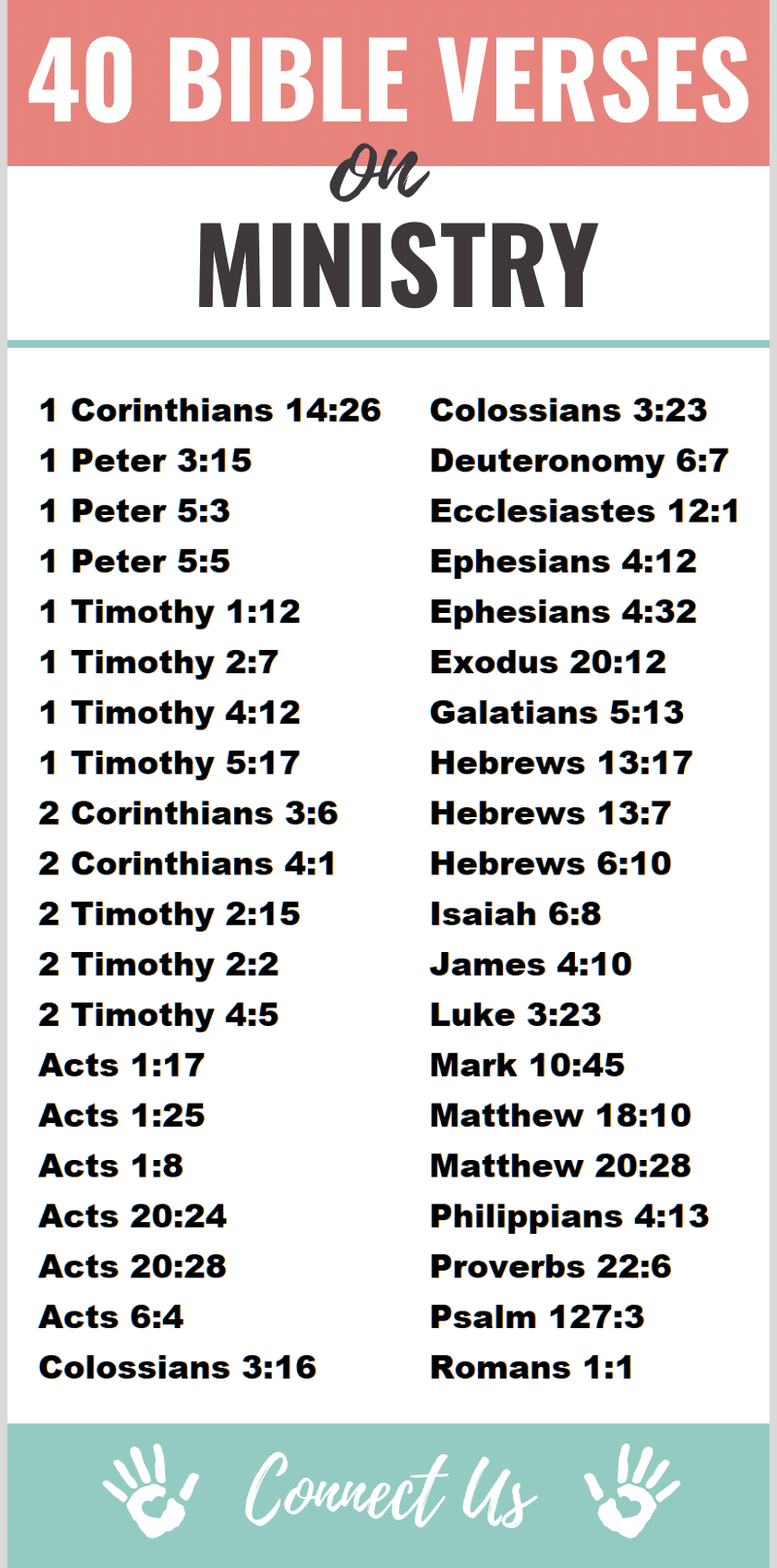 Author Bio
Natalie Regoli is a child of God, devoted wife, and mother of two boys. She has a Master's Degree in Law from The University of Texas. Natalie has been published in several national journals and has been practicing law for 18 years.