The word "abundance" occurs 71 times in the Bible. The infographic below identifies the points of each occurrence. This graphic presentation starts with Genesis in the top left and concludes with Revelation in the bottom right.
Here are the 50 most powerful Bible scriptures on abundance.
Ephesians 3:20
Now to him who is able to do far more abundantly than all that we ask or think, according to the power at work within us.
John 10:10
"The thief comes only to steal and kill and destroy. I came that they may have life and have it abundantly."
Psalm 23:5
You prepare a table before me in the presence of my enemies; you anoint my head with oil; my cup overflows.
Psalm 65:11
You crown the year with your bounty; your wagon tracks overflow with abundance.
Matthew 6:33
"But seek first the kingdom of God and his righteousness, and all these things will be added to you."
1 Kings 2:3
And keep the charge of the Lord your God, walking in his ways and keeping his statutes, his commandments, his rules, and his testimonies, as it is written in the Law of Moses, that you may prosper in all that you do and wherever you turn.
1 Timothy 1:14
And the grace of our Lord overflowed for me with the faith and love that are in Christ Jesus.
1 Timothy 5:8
But if anyone does not provide for his relatives, and especially for members of his household, he has denied the faith and is worse than an unbeliever.
2 Corinthians 8:2
For in a severe test of affliction, their abundance of joy and their extreme poverty have overflowed in a wealth of generosity on their part.
2 Corinthians 8:9
For you know the grace of our Lord Jesus Christ, that though he was rich, yet for your sake he became poor, so that you by his poverty might become rich.
2 Corinthians 9:8
And God is able to make all grace abound to you, so that having all sufficiency in all things at all times, you may abound in every good work.
2 Peter 1:2
May grace and peace be multiplied to you in the knowledge of God and of Jesus our Lord.
3 John 1:2
Beloved, I pray that all may go well with you and that you may be in good health, as it goes well with your soul.
Deuteronomy 28:12
The Lord will open to you his good treasury, the heavens, to give the rain to your land in its season and to bless all the work of your hands. And you shall lend to many nations, but you shall not borrow.
Deuteronomy 28:47
Because you did not serve the Lord your God with joyfulness and gladness of heart, because of the abundance of all things.
Deuteronomy 29:9
Therefore keep the words of this covenant and do them, that you may prosper in all that you do.
Deuteronomy 30:9
The Lord your God will make you abundantly prosperous in all the work of your hand, in the fruit of your womb and in the fruit of your cattle and in the fruit of your ground. For the Lord will again take delight in prospering you, as he took delight in your fathers.
Deuteronomy 8:18
You shall remember the Lord your God, for it is he who gives you power to get wealth, that he may confirm his covenant that he swore to your fathers, as it is this day.
Ecclesiastes 5:19
Everyone also to whom God has given wealth and possessions and power to enjoy them, and to accept his lot and rejoice in his toil—this is the gift of God.
Exodus 34:6
The Lord passed before him and proclaimed, "The Lord, the Lord, a God merciful and gracious, slow to anger, and abounding in steadfast love and faithfulness."
James 1:17
Every good gift and every perfect gift is from above, coming down from the Father of lights with whom there is no variation or shadow due to change.
Jeremiah 29:11
For I know the plans I have for you, declares the Lord, plans for welfare and not for evil, to give you a future and a hope.
John 1:16
"And from his fullness we have all received, grace upon grace."
John 21:6
He said to them, "Cast the net on the right side of the boat, and you will find some." So they cast it, and now they were not able to haul it in, because of the quantity of fish.
John 3:16
For God so loved the world, that he gave his only Son, that whoever believes in him should not perish but have eternal life.
John 7:38
"Whoever believes in me, as the Scripture has said, 'Out of his heart will flow rivers of living water.'"
Joshua 1:8
This Book of the Law shall not depart from your mouth, but you shall meditate on it day and night, so that you may be careful to do according to all that is written in it. For then you will make your way prosperous, and then you will have good success.
Luke 12:15
And he said to them, "Take care, and be on your guard against all covetousness, for one's life does not consist in the abundance of his possessions."
Luke 6:38
"Give, and it will be given to you. Good measure, pressed down, shaken together, running over, will be put into your lap. For with the measure you use it will be measured back to you."
Luke 6:45
"The good person out of the good treasure of his heart produces good, and the evil person out of his evil treasure produces evil, for out of the abundance of the heart his mouth speaks."
Malachi 3:10
"Bring the full tithe into the storehouse, that there may be food in my house. And thereby put me to the test," says the Lord of hosts, "if I will not open the windows of heaven for you and pour down for you a blessing until there is no more need."
Matthew 13:12
"For to the one who has, more will be given, and he will have an abundance, but from the one who has not, even what he has will be taken away."
Philippians 4:19
And my God will supply every need of yours according to his riches in glory in Christ Jesus.
Proverbs 10:22
The blessing of the Lord makes rich, and he adds no sorrow with it.
Proverbs 13:22
A good man leaves an inheritance to his children's children, but the sinner's wealth is laid up for the righteous.
Proverbs 22:4
The reward for humility and fear of the Lord is riches and honor and life.
Proverbs 3:10
Then your barns will be filled with plenty, and your vats will be bursting with wine.
Proverbs 3:5
Trust in the Lord with all your heart, and do not lean on your own understanding.
Psalm 1:3
He is like a tree planted by streams of water that yields its fruit in its season, and its leaf does not wither. In all that he does, he prospers.
Psalm 115:14
May the Lord give you increase, you and your children!
Psalm 23:6
Surely goodness and mercy shall follow me all the days of my life, and I shall dwell in the house of the Lord forever.
Psalm 24:1
A Psalm of David. The earth is the Lord's and the fullness thereof, the world and those who dwell therein.
Psalm 35:27
Let those who delight in my righteousness shout for joy and be glad and say evermore, "Great is the Lord, who delights in the welfare of his servant!"
Psalm 36:8
They feast on the abundance of your house, and you give them drink from the river of your delights.
Psalm 37:11
But the meek shall inherit the land and delight themselves in abundant peace.
Psalm 37:4
Delight yourself in the Lord, and he will give you the desires of your heart.
Psalm 68:19
Blessed be the Lord, who daily bears us up; God is our salvation. Selah.
Psalm 72:16
May there be abundance of grain in the land; on the tops of the mountains may it wave; may its fruit be like Lebanon; and may people blossom in the cities like the grass of the field!
Romans 12:2
Do not be conformed to this world, but be transformed by the renewal of your mind, that by testing you may discern what is the will of God, what is good and acceptable and perfect.
Romans 15:13
May the God of hope fill you with all joy and peace in believing, so that by the power of the Holy Spirit you may abound in hope.
More Bible Verses that Will Move You
50 Most Powerful Scriptures on Faith
60 Transcendent Verses on Trust
50 Strong Scriptures on Perseverance
68 Powerful Verses on Forgiveness
40 Uplifting Scriptures on Patience
Add Our Infographic Below to Your Pinterest Board
Hit the pin button below to add our infographic, with all the verses, to one of your Pinterest boards.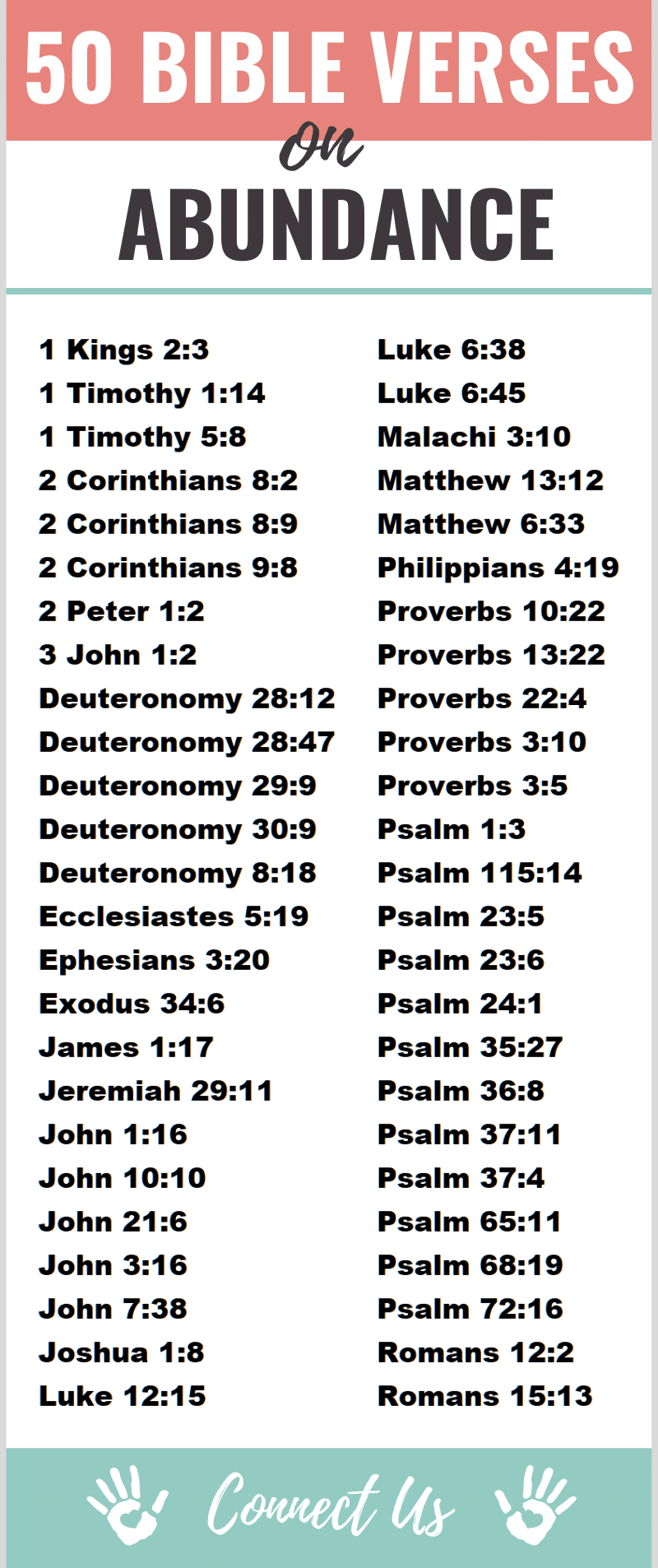 Author Bio
Natalie Regoli is a child of God, devoted wife, and mother of two boys. She has a Master's Degree in Law from The University of Texas. Natalie has been published in several national journals and has been practicing law for 18 years.