Here are the 50 most powerful Bible scriptures on tithing.
Luke 6:38
"Give, and it will be given to you. Good measure, pressed down, shaken together, running over, will be put into your lap. For with the measure you use it will be measured back to you."
Proverbs 3:9
Honor the Lord with your wealth and with the firstfruits of all your produce.
Matthew 23:23
"Woe to you, scribes and Pharisees, hypocrites! For you tithe mint and dill and cumin, and have neglected the weightier matters of the law: justice and mercy and faithfulness. These you ought to have done, without neglecting the others."
Leviticus 27:30
Every tithe of the land, whether of the seed of the land or of the fruit of the trees, is the Lord's; it is holy to the Lord.
Malachi 3:8
"Will man rob God? Yet you are robbing me. But you say, 'How have we robbed you?' In your tithes and contributions."
1 Corinthians 13:3
If I give away all I have, and if I deliver up my body to be burned, but have not love, I gain nothing.
1 Corinthians 16:2
On the first day of every week, each of you is to put something aside and store it up, as he may prosper, so that there will be no collecting when I come.
1 Timothy 5:8
But if anyone does not provide for his relatives, and especially for members of his household, he has denied the faith and is worse than an unbeliever.
1 Timothy 6:10
For the love of money is a root of all kinds of evils. It is through this craving that some have wandered away from the faith and pierced themselves with many pangs.
2 Corinthians 8:12
For if the readiness is there, it is acceptable according to what a person has, not according to what he does not have.
2 Corinthians 8:9
For you know the grace of our Lord Jesus Christ, that though he was rich, yet for your sake he became poor, so that you by his poverty might become rich.
2 Corinthians 9:11
You will be enriched in every way to be generous in every way, which through us will produce thanksgiving to God.
2 Corinthians 9:7
Each one must give as he has decided in his heart, not reluctantly or under compulsion, for God loves a cheerful giver.
Acts 20:35
In all things I have shown you that by working hard in this way we must help the weak and remember the words of the Lord Jesus, how he himself said, "It is more blessed to give than to receive."
Amos 4:4
Come to Bethel, and transgress; to Gilgal, and multiply transgression; bring your sacrifices every morning, your tithes every three days.
Colossians 2:14
By canceling the record of debt that stood against us with its legal demands. This he set aside, nailing it to the cross.
Deuteronomy 14:2
For you are a people holy to the Lord your God, and the Lord has chosen you to be a people for his treasured possession, out of all the peoples who are on the face of the earth.
Deuteronomy 14:22
You shall tithe all the yield of your seed that comes from the field year by year.
Deuteronomy 16:17
Every man shall give as he is able, according to the blessing of the Lord your God that he has given you.
Deuteronomy 26:12
When you have finished paying all the tithe of your produce in the third year, which is the year of tithing, giving it to the Levite, the sojourner, the fatherless, and the widow, so that they may eat within your towns and be filled.
Deuteronomy 8:18
You shall remember the Lord your God, for it is he who gives you power to get wealth, that he may confirm his covenant that he swore to your fathers, as it is this day.
Exodus 19:5
"Now therefore, if you will indeed obey my voice and keep my covenant, you shall be my treasured possession among all peoples, for all the earth is mine."
Exodus 25:2
"Speak to the people of Israel, that they take for me a contribution. From every man whose heart moves him you shall receive the contribution for me."
Galatians 2:10
Only, they asked us to remember the poor, the very thing I was eager to do.
Galatians 3:10
For all who rely on works of the law are under a curse; for it is written, "Cursed be everyone who does not abide by all things written in the Book of the Law, and do them."
Galatians 5:18
But if you are led by the Spirit, you are not under the law.
Genesis 14:20
And blessed be God Most High, who has delivered your enemies into your hand! And Abram gave him a tenth of everything.
Genesis 28:22
And this stone, which I have set up for a pillar, shall be God's house. And of all that you give me I will give a full tenth to you.
Haggai 2:8
The silver is mine, and the gold is mine, declares the Lord of hosts.
Hebrews 6:10
For God is not unjust so as to overlook your work and the love that you have shown for his name in serving the saints, as you still do.
Hebrews 7:4
See how great this man was to whom Abraham the patriarch gave a tenth of the spoils!
Hebrews 7:5
And those descendants of Levi who receive the priestly office have a commandment in the law to take tithes from the people, that is, from their brothers, though these also are descended from Abraham.
James 1:27
Religion that is pure and undefiled before God, the Father, is this: to visit orphans and widows in their affliction, and to keep oneself unstained from the world.
Job 41:11
Who has first given to me, that I should repay him? Whatever is under the whole heaven is mine.
John 3:16
For God so loved the world, that he gave his only Son, that whoever believes in him should not perish but have eternal life.
Leviticus 27:32
And every tithe of herds and flocks, every tenth animal of all that pass under the herdsman's staff, shall be holy to the Lord.
Luke 11:42
"But woe to you Pharisees! For you tithe mint and rue and every herb, and neglect justice and the love of God. These you ought to have done, without neglecting the others."
Luke 12:33
"Sell your possessions, and give to the needy. Provide yourselves with moneybags that do not grow old, with a treasure in the heavens that does not fail, where no thief approaches and no moth destroys."
Luke 12:48
"But the one who did not know, and did what deserved a beating, will receive a light beating. Everyone to whom much was given, of him much will be required, and from him to whom they entrusted much, they will demand the more."
Luke 18:12
"I fast twice a week; I give tithes of all that I get."
Malachi 3:10
"Bring the full tithe into the storehouse, that there may be food in my house. And thereby put me to the test," says the Lord of hosts, "if I will not open the windows of heaven for you and pour down for you a blessing until there is no more need."
Matthew 19:21
Jesus said to him, "If you would be perfect, go, sell what you possess and give to the poor, and you will have treasure in heaven; and come, follow me."
Matthew 6:21
"For where your treasure is, there your heart will be also."
Nehemiah 10:38
And the priest, the son of Aaron, shall be with the Levites when the Levites receive the tithes. And the Levites shall bring up the tithe of the tithes to the house of our God, to the chambers of the storehouse.
Numbers 18:21
To the Levites I have given every tithe in Israel for an inheritance, in return for their service that they do, their service in the tent of meeting.
Numbers 18:26
"Moreover, you shall speak and say to the Levites, 'When you take from the people of Israel the tithe that I have given you from them for your inheritance, then you shall present a contribution from it to the Lord, a tithe of the tithe.'"
Proverbs 28:27
Whoever gives to the poor will not want, but he who hides his eyes will get many a curse.
Psalm 24:1
A Psalm of David. The earth is the Lord's and the fullness thereof, the world and those who dwell therein.
Romans 12:1
I appeal to you therefore, brothers, by the mercies of God, to present your bodies as a living sacrifice, holy and acceptable to God, which is your spiritual worship.
Romans 13:7
Pay to all what is owed to them: taxes to whom taxes are owed, revenue to whom revenue is owed, respect to whom respect is owed, honor to whom honor is owed.
More Bible Verses that Will Move You
50 Most Powerful Scriptures on Faith
60 Transcendent Verses on Trust
50 Strong Scriptures on Perseverance
68 Powerful Verses on Forgiveness
40 Uplifting Scriptures on Patience
Add Our Infographic Below to Your Pinterest Board
Hit the pin button below to add our infographic, with all the verses, to one of your Pinterest boards.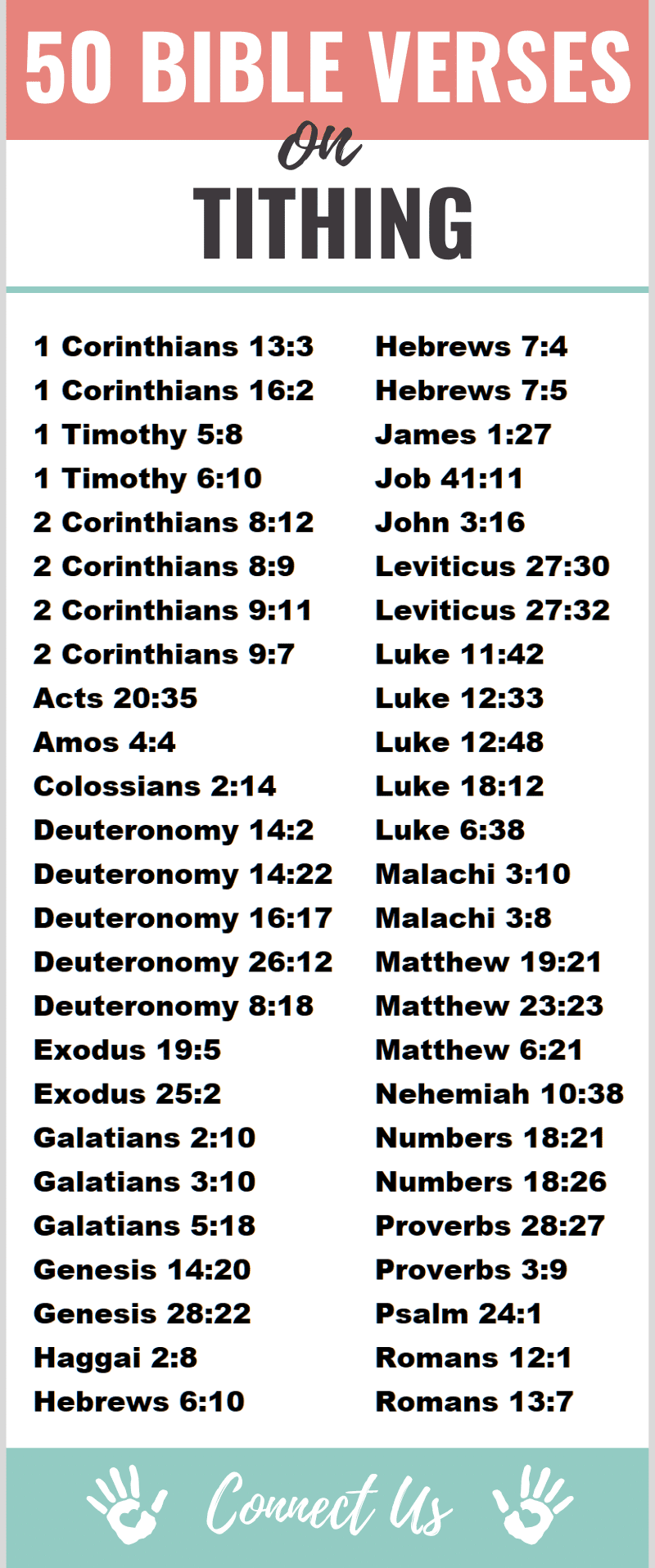 Author Bio
Natalie Regoli is a child of God, devoted wife, and mother of two boys. She has a Master's Degree in Law from The University of Texas. Natalie has been published in several national journals and has been practicing law for 18 years.