Romans 3:23
"for all have sinned and fall short of the glory of God."
Explanation and Commentary on Romans 3:23
This is one of the key statements of the entire New Testament.  It falls within the most powerful and thorough explanation of salvation by faith alone through the grace of God in the Bible.  Before anyone can put their faith in Jesus Christ's death on the cross to save them, they must believe and understand that they are a sinner in need of salvation.  Paul teaches us that the "glory of God" is the standard, and no one but Jesus Christ has ever come close to meeting it.
This is why in order to be saved, we must have Christ trade places with us.  He was totally righteous and never sinned.  In the transaction that takes place when we "believe in our hearts and confess with our mouth," his righteousness is imputed to us and our sinfulness and disobedience is imputed to him so that he can die our death on the cross, becoming a curse for us (Gal 3:13) in order to lift the curse from us and the world.
Breaking Down the Key Parts of Romans 3:23
#1 "For…"
Paul's point is that there is no one who can be saved without God's work on their behalf.  He said in Romans 3:22 that there is no difference in this regard between Jews and Greeks.  Both have the same problem and require the same solution, Christ's atoning work on the cross.
#2 "all have sinned and fall short…"
1 John 1:8 says, "If we claim to be without sin, we deceive ourselves and the truth is not in us." Earlier in Romans 3:10, Paul says, "There is no one righteous, not even one."  "The wages of sin is death" (Ro 6:23).  God promised Adam that as soon as he disobeyed God by eating from the forbidden tree of the knowledge of good and evil, he would surely die. Adam's rebellion brought sin into the world so that everyone is born into sin, therefore, all sin and fall short of God's standard for us.
#3 "…of the glory of God."
God's standard is His own perfection. His own glory.  His glory is paramount in his plans and thoughts.  God does everything ultimately for His own glory (Isa 48:9-11), and this is good because it includes saving men and women for his own glory.  If this is offensive it is because we forget that God is not a fallen man, like one of us, but rather, he is the most glorious being in the universe. It would be inconsistent with the truth and with his nature for him to want the most glory to go to something else besides himself.
Bible Study on Romans 3:23
Expert 8 Minute Overview of Romans 1-4
Biblical Translations of Romans 3:23
NIV
For all have sinned and fall short of the glory of God.
NLT
For everyone has sinned; we all fall short of God's glorious standard.
ESV
For all have sinned and fall short of the glory of God.
KJV
For all have sinned, and come short of the glory of God.
NKJV
For all have sinned and fall short of the glory of God.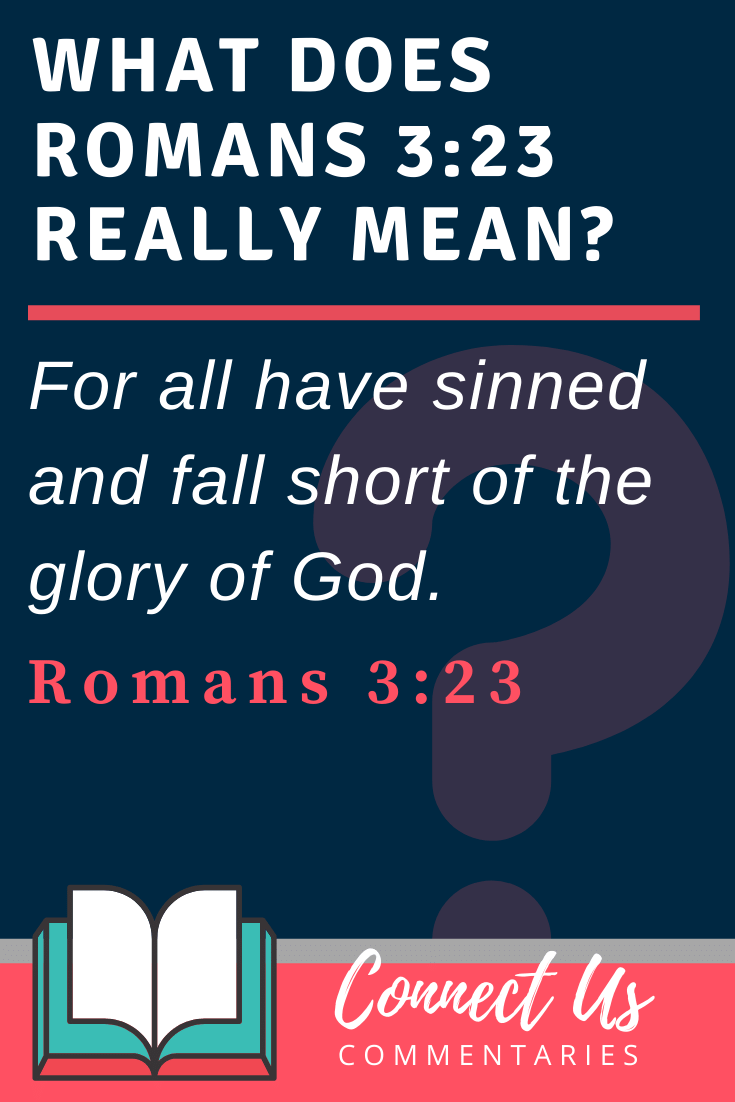 Author Bio
Natalie Regoli is a child of God, devoted wife, and mother of two boys. She has a Master's Degree in Law from The University of Texas. Natalie has been published in several national journals and has been practicing law for 18 years.