1 Timothy 4:12
"Don't let anyone look down on you because you are young, but set an example for the believers in speech, in conduct, in love, in faith, and purity."
Explanation and Commentary on 1 Timothy 4:12
Timothy was Paul's apostolic delegate, having been left in various places by the Apostle to continue acting on his behalf and completing the set up the churches that Paul helped to plant. Timothy was to continue teaching the churches and help them appoint elders to govern and shepherd the people in them.
Timothy was relatively young compared to some of those he was tasked with pastoring, and it may have been an issue that he had written or spoken with Paul about previously. Paul's instruction to him was to disregard his age, or what people thought of it, and focus on his way of being, setting an example for anyone who would have the eyes to see it for what it was and follow him.
Many have sought out a position in the Church for one reason or another, seeking to self-promote (Phil 2:3) and gain a following. But the right thing for any serious Christian would be to heed the instructions here to Timothy, which don't apply only to shepherds in God's Church, but to all who would be disciples.
Breaking Down the Key Parts of 1 Timothy 4:12
#1 "Don't let anyone look down on you…"
This could be misunderstood. How does one prevent all others from looking down on him or her? Some would do it by fighting anyone who seems to slight them. Others would do it by constantly trying to prove themselves. But what is required here has nothing to do with what others actually do. "Looking down on you" is the problem of the one looking down. To "let them" one must take offense. As Christians, we have every reason in the world to look to God, and not man (Gal 1:10) for our value. We can be no good to anyone until we have obeyed God and accepted ourselves for what we are intrinsically. It dishonors our Maker to do anything less.
#2 "…because you are young,"
The argument is not without merit that wisdom comes with age. Apparently, this was the source of the opposition to Timothy. They thought he was too young to have the authority that he had. If he was, then his life would prove that. Youth is not in itself a barrier to responsibility. Today's youth are waiting longer and longer to take life seriously, and we would do well to help them take their place as contributing adults much earlier than what is normal today.
#3 "but set an example for the believers…"
This is biblical leadership. What could Timothy do about those who disrespected his age? Nothing. Nothing except to go on doing what he should be doing: seeking first the Kingdom of God and his righteousness. Living for Jesus and being righteous in him will give others an example to imitate (1 Cor 11:1), requiring no coercion or "Lording over" (Mt 20:25) others.
#4 "in speech, in conduct, in love, in faith, in purity."
While this is a well-rounded list, it is comprehensive in the third quality, love. When asked what was the greatest commandment, Jesus answered, "'Love the Lord your God with all your heart and with all your soul and with all your mind.' This is the first and greatest commandment. And the second is like it: 'Love your neighbor as yourself." (Mt 22:37-38), and that all the law and prophets are summed up in it (40). To follow Jesus, we must seek to love this way, and so set an example for others to follow. Great reward will come to those who get to Heaven to find out that someone else is there because they followed his or her example.
Hit the play button below to hear a full explanation of 1 Timothy 4:12 and the preceding verses.
This incredible 9-minute video will make you an expert on 1 Timothy.
Biblical Translations of 1 Timothy 4:12
NIV
Don't let anyone look down on you because you are young, but set an example for the believers in speech, in conduct, in love, in faith and in purity.
NLT
Don't let anyone think less of you because you are young. Be an example to all believers in what you say, in the way you live, in your love, your faith, and your purity.
ESV
Let no one despise you for your youth, but set the believers an example in speech, in conduct, in love, in faith, in purity.
KJV
Let no man despise thy youth; but be thou an example of the believers, in word, in conversation, in charity, in spirit, in faith, in purity.
NKJV
Let no one despise your youth, but be an example to the believers in word, in conduct, in love, in spirit, in faith, in purity.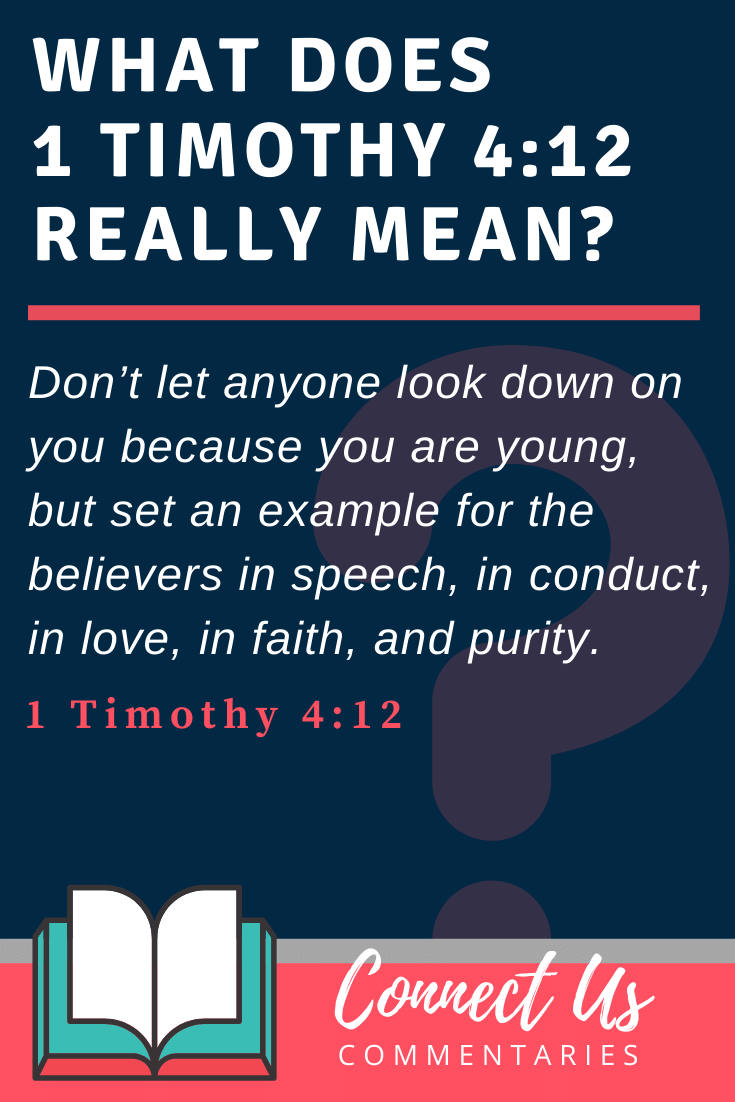 Author Bio
Natalie Regoli is a child of God, devoted wife, and mother of two boys. She has a Master's Degree in Law from The University of Texas. Natalie has been published in several national journals and has been practicing law for 18 years.