Proverbs 19:21
"Many are the plans in a person's heart, but it is the Lord's purpose that prevails."
Explanation and Commentary of Proverbs 19:21
God is sovereign and rules the universe, which he created for his own good purposes and his own glory. He has made man in his image and delegated authority to him to rule the earth and subdue it in the name of the Lord (Gen 1:26-28). If the world had not fallen when the first man rebelled, then "the plans in a person's heart," and the purposes of the Lord would be in perfect alignment.
But the world is fallen, and even Christians have the treasure of the Holy Spirit and a regenerated heart housed in a "jars of clay" (2 Cor 4:7), the flesh. Because of this, even Christians must submit their plans to God and trust him for direction. James 4:13-14 says, "Now listen, you who say, 'Today or tomorrow we will go to this or that city, spend a year there, carry on business and make money.' Why, you do not even know what will happen tomorrow…" James goes on to say that we should say, "If it is the Lord's will, we will live and do this or that" (15).
It is not wrong to plan, but to be open to God correcting your course is the way to go about it. While it is right to make plans as one who has been empowered for decision-making, we must remember that God is ultimately in charge and may change our course whenever he sees fit. In this way, we can live a wonderful life of working hard and doing the right things as we see what those things are, but then trusting him for all the outcomes.
Breaking Down the Key Parts of Proverbs 19:21
#1 "Many are the plans in a person's heart,"
People make plans for various reasons and with all kinds of motives. Try as we might to hear the voice of God for the present and even the future, sometimes our egos, lusts, or pride can cause us to start a course for a destination God is not leading us to. As fallen humans in a world ruled by satan, we are motivated by evil much of the time. Pride, envy, greed, lust, and the pursuit of all sorts of idols makes the world go round in the dominion of darkness.
#2 "but it is the Lord's purpose that prevails."
How good it is that even though the most mature Christians can follow false plans, God will ultimately get his way. This should be a great source of comfort to anyone who ultimately wants to see God have his way in their life. Even when the heart bears a deceptive false motive, the Holy Spirit in the Christian will long to see the person obey God. If you have plans, good, but always hold them out to God with an open hand.
Expert Overview of Proverbs
Biblical Translations of Proverbs 19:21
NIV
Many are the plans in a person's heart, but it is the Lord's purpose that prevails.
NLT
You can make many plans, but the Lord's purpose will prevail.
ESV
Many are the plans in the mind of a man, but it is the purpose of the Lord that will stand.
KJV
There are many devices in a man's heart; nevertheless the counsel of the Lord, that shall stand.
NKJV
There are many plans in a man's heart, Nevertheless the Lord's counsel—that will stand.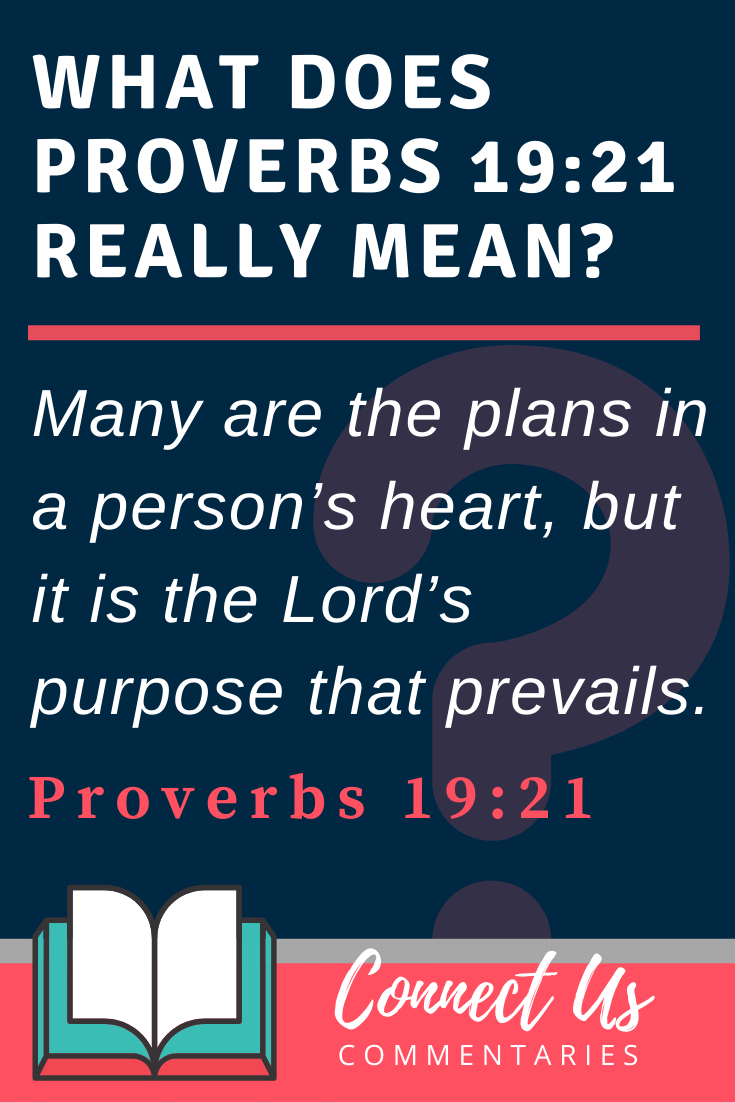 Author Bio
Natalie Regoli is a child of God, devoted wife, and mother of two boys. She has a Master's Degree in Law from The University of Texas. Natalie has been published in several national journals and has been practicing law for 18 years.