Proverbs 3:5
"Trust in the Lord with all your heart and lean not on your own understanding;" 
Explanation and Commentary on Proverbs 3:5
Here is the secret to living the best Christian life possible.  Believe in Jesus Christ, that he came and died to reconcile you to God, and then trust in the Lord, with all your heart. There is not a whole lot left after that.  You should love God with all your heart, love your neighbor (Mt 22:38-39), and love your enemies (Mt 5:44), but does this not take "trusting in the Lord…and lean[ing] not on your own understanding"?
God's ways are infinitely higher than our own (Isa 55:9). Who can understand the mind of the Lord (Ro 11:34)? We commit great folly trying to out-think God.  One way that modern man does this is through trying to test the Bible against the prevailing cultural norms and then seeking to "update" God's Word accordingly. This is folly. The culture changes opinions in each generation, but God does not change (Mal 3:6).
Have you put the trust of your whole heart in God? If you are a Christian, this is the goal of your spiritual disciplines. Your life will take on a whole new meaning if you will submit to him and trust him completely.
Breaking Down the Key Parts of Proverbs 3:5
#1 "Trust in the Lord…"
God is trustworthy because he does not change and because he is perfect and good. He wants the very best for us, and it is impossible for us to think of a better way to do anything, or to run our lives than what he has in mind for us.  And if he declares something, he will do it. Trust him.
#2 "…with all your heart…"
Why trust God with only a part of yourself?  Holding back a part of your life from him, telling him "off-limits here," will only lead to heartache and destruction. Many Christians attempt this, and it is folly. Sometimes it is some secret sin that they are not ready to give up, or sometimes it is a goal, dreamed up in the ego that is kept away, but the only way to truly live is to entrust your whole heart to the Lord.
#3 "…and lean not on your own understanding."
We love our tiny minds so much. In our pride, we want to believe that we know best, and understand all things. Many people don't like the paradoxes in the Bible because they highlight their own limitations.  We certainly hate to give over control to God when we don't quite know what he's up to. It is addictive to dream up our own plans and to fantasize about shaping our own future.  The problem is that we don't know what is best for us, but God does.  He loves us more than we love ourselves and has a perfect plan. Our only rational response is joyful submission.
Sermon on Proverbs 3:5
Expert 8 Minute Overview of the Book of Proverbs
Biblical Translations of Proverbs 3:5
NIV
Trust in the Lord with all your heart and lean not on your own understanding.
NLT
Trust in the Lord with all your heart; do not depend on your own understanding.
ESV
Trust in the Lord with all your heart, and do not lean on your own understanding.
KJV
Trust in the Lord with all thine heart; and lean not unto thine own understanding.
NKJV
Trust in the Lord with all your heart, And lean not on your own understanding.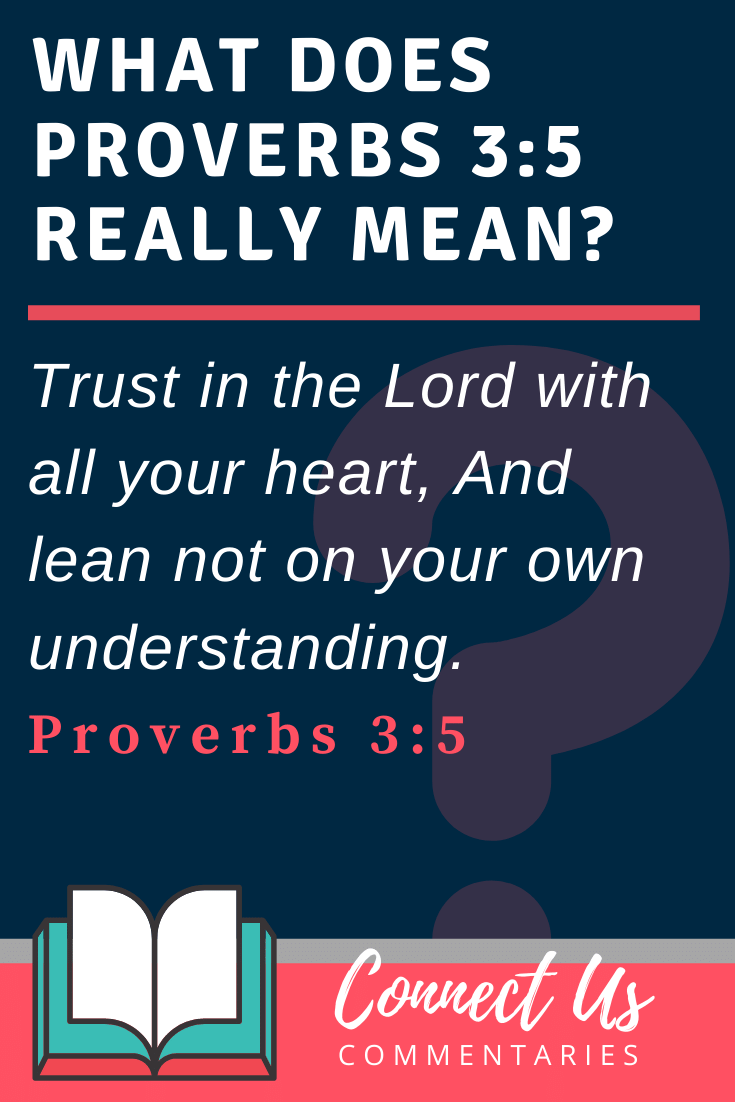 Author Bio
Natalie Regoli is a child of God, devoted wife, and mother of two boys. She has a Master's Degree in Law from The University of Texas. Natalie has been published in several national journals and has been practicing law for 18 years.