Galatians 1:10
"Am I now trying to win the approval of human beings, or of God? Or am I trying to please people? If I were still trying to please people, I would not be a servant of Christ."
Explanation and Commentary of Galatians 1:10
The Apostle Paul was the main champion of the message of salvation by grace alone. No one explained it better, and Paul was God's instrument to bring light to the world concerning this great truth. The Galatian church was being tempted by the "Judaizers" who preached a salvation of works, saying that the Gentile Christians must keep to Jewish law to be saved. Paul was adamant that this lie be opposed.
Here in this verse, Paul backs up his teaching on the subject by his insistence that, while he once lived for the approval and praise of man, he no longer does. Rather, in seeking to please God alone, he has gathered for himself myriad enemies. Everywhere he traveled, he was not only being disapproved of, but attempts on his life were constant. He explains this here to put his motive in the right light. Why does he risk the hatred of people? It is because of his deep desire to please Christ, of whom he is a servant.
Much of Jesus' teaching on discipleship centered on this very thing (Mt 5-7). Let our Father in heaven see what we do in secret as we die to the part of us that looks to man for approval. In our day this is an epidemic among humans and even Christians. Social media and free time from the toil to merely survive has given this generation more time than ever to people-pleasing and the projection of persona. It is an empty pursuit, and God would have us live for him alone. He would have us shun the praise of man for the praise of God (Jn 12:43).
Breaking Down the Key Parts of Galatians 1:10
#1 "Am I now trying to win the approval of human beings,"
Paul's ministry involved a great deal of conflict with opponents, both in and out of the Church. Having received revelation from God, he had no choice but to preach the truth of the Gospel to whoever would listen. Seeing the great threat that legalism was to the faith, he fought many battles with the opposition, sometimes under the threat of his life.
#2 "or of God?"
It is proper to consider God in heaven to be already pleased with us in Christ because we are seen by him covered with the imputed righteousness of Christ who became sin to die on the cross for us (2 Cor 5:21). But it is worshipful and righteous to have in mind God's pleasure when, because we are saved and accepted by him, we seek to please him. "What would God want from me" is a good question to ask multiple times per day.
#3 "Or am I trying to please people?"
The majority of the people in this world do not know their own minds. They don't have their own beliefs, opinions, or even desires. What they have in these things comes from the opinions of other people. God's people are called to have their own convictions, to seek the truth for themselves, and, while loving others, care nothing for what others think of them, save when someone they respect as wise presents their conscience with the truth for them to consider (2 Cor 4:2). People-pleasing is a scourge. We should look for it in our hearts and mortify it.
#4 "If I were still trying to please people…"
It should be encouraging that Paul confesses here to having been a pleaser of man at some point in his life. That changed after his encounter with Jesus (Acts 9). This gives hope to all who realize that they are hopelessly beholden to the opinions of others.
#5 "I would not be a servant of Christ."
Anything done for the approval of man is not done in service to Christ. Even the serving of one's fellow man, which we are called to do, cannot be considered love for neighbor if it is done for approval or attention.
Expert Overview of Galatians
Biblical Translations of Galatians 1:10
NIV
Am I now trying to win the approval of human beings, or of God? Or am I trying to please people? If I were still trying to please people, I would not be a servant of Christ.
NLT
Obviously, I'm not trying to win the approval of people, but of God. If pleasing people were my goal, I would not be Christ's servant.
ESV
For am I now seeking the approval of man, or of God? Or am I trying to please man? If I were still trying to please man, I would not be a servant of Christ.
KJV
For do I now persuade men, or God? or do I seek to please men? for if I yet pleased men, I should not be the servant of Christ.
NKJV
For do I now persuade men, or God? Or do I seek to please men? For if I still pleased men, I would not be a bondservant of Christ.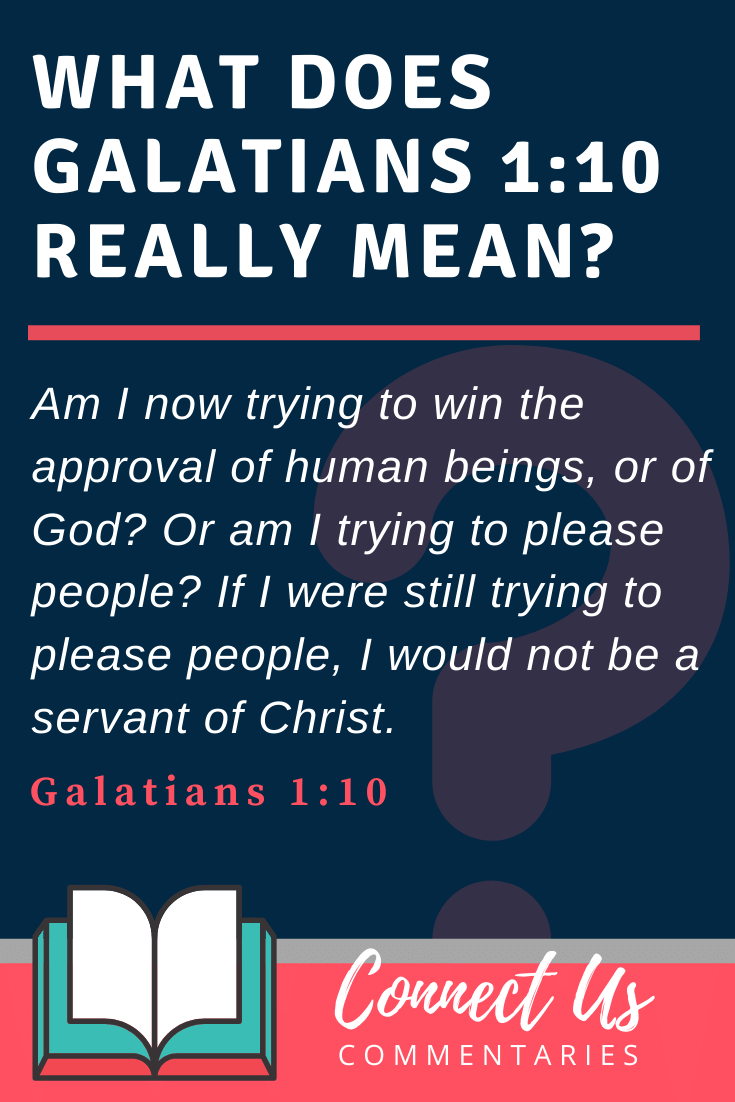 Author Bio
Natalie Regoli is a child of God, devoted wife, and mother of two boys. She has a Masters Degree in Law from The University of Texas. Natalie has been published in several national journals and has been practicing law for 18 years. If you would like to reach out to contact Natalie, then go here to
send her a message
.