Philippians 3:14
"I press on toward the goal to win the prize for which God has called me heavenward in Christ Jesus."
Explanation and Commentary of Philippians 3:14
Paul has renounced his former life of earning salvation by works and discipline. He now lives by grace in the righteousness that comes through faith in Christ. He has been called heavenward and stays focused in his determination to make it all the way to the end to receive his reward.
In this passage, Paul is showing the place of effort in the life of a disciple who has given up trying to be saved by his own works. Rather than give up following God altogether, grace has motivated Paul to forget what is behind, and strain toward what is ahead (Phil 3:13). Paul lives now for this prize. Living up to what he has already attained (Phil 3:16), Paul now hopes to "know Christ…the power of his resurrection, and participation in his sufferings, becoming like him in his death (Phil 3:10).
Pressing on is the work of the Christian. We have been saved by grace through faith in order to bear fruit. We will regret no amount of effort toward that end, so long as we are rooted in faith, and driven by grace and joy. There is a prize for each of God's children to be received at the dawn of the New Heavens and the New Earth when we are judged according to our righteousness in Christ and rewarded for our works done in his name.
Breaking Down the Key Parts of Philippians 3:14
#1 "I press on…"
Paul makes a conscious effort to keep his eyes on the prize promised to him by God. He lives a focused life. He has regarded his life on earth, particularly his former life as a Pharisee, as garbage compared to the life he now attains to, the life of knowing Christ.
#2 "toward the goal to win the prize…"
Paul is using a sports competition metaphor. In the same way, he says he doesn't run aimlessly, but straight towards a finish line to win a prize. He doesn't swing reckless punches but aims his punches so as to win the fight. He lives a life of great purpose, with the highest possible goal to get to the end, having done the most he possibly can to bear fruit.
#3 "for which God has called me heavenward,"
The Lord called Paul when he was Saul, the persecutor of the Church. Even at his calling and salvation, he was told how he would be called on to suffer for the name of Christ (Acts 9:16). Paul has embraced his calling and only wants to make it to the end. All Christians should understand their calling in the same way. Paul's admonition is to imitate him in this (1 Cor 11:1).
#4 "in Christ Jesus."
If the Christian does anything that is not in Christ Jesus, it will not bear lasting fruit. It will not stand the fire of testing. Paul's desire is that all the fruit he believes he has born for Christ will prove to have been genuine.
Bible Study on Philippians 3:14
Expert Overview of Philippians
Biblical Translations of Philippians 3:14
NIV
I press on toward the goal to win the prize for which God has called me heavenward in Christ Jesus.
NLT
I press on to reach the end of the race and receive the heavenly prize for which God, through Christ Jesus, is calling us.
ESV
I press on toward the goal for the prize of the upward call of God in Christ Jesus.
KJV
I press toward the mark for the prize of the high calling of God in Christ Jesus.
NKJV
I press toward the goal for the prize of the upward call of God in Christ Jesus.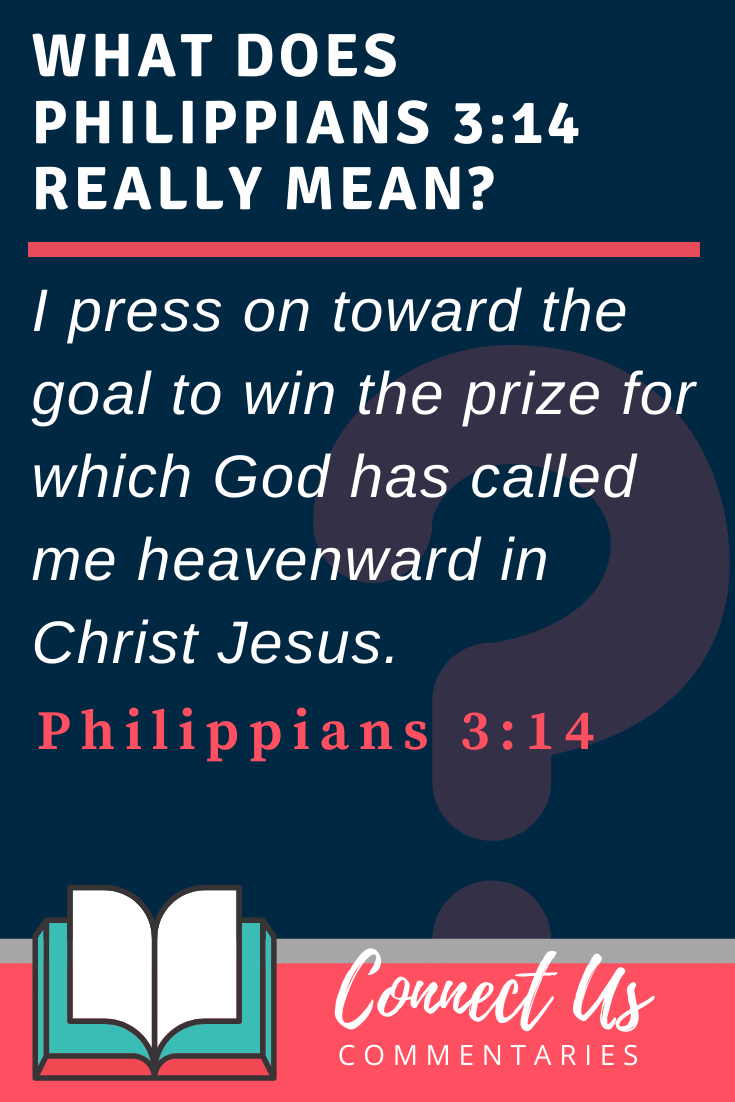 Author Bio
Natalie Regoli is a child of God, devoted wife, and mother of two boys. She has a Master's Degree in Law from The University of Texas. Natalie has been published in several national journals and has been practicing law for 18 years.