Proverbs 24:27
"Put your outdoor work in order and get your fields ready; after that, build your house."
Explanation and Commentary of Proverbs 24:27
What could be more practical and wise? While the example is agrarian, you don't have to be a farmer to heed this wisdom. Most people today prioritize their lifestyle. What sort of house should they buy? How nice of a car can they afford? How can they achieve the highest status by the way they consume? This is the American way of putting the cart before the horse.
Rather, understand that God has called us to work. From the very beginning, even before sin entered the world, the mandate was to produce (Gen 1:28). This is part of what it means to be an image-bearer of God. A place to live is necessary, but a means of living is more necessary. A life well-lived is one that is focused on one's contribution to the world, and for most, this will revolve around the work that you do. God has made you to provide some aspect of his grace to improve the lives of others around you. If you are doing that, you will likely receive a livelihood from that contribution. That is a proper focus for an image-bearer; working for good of the world, for the glory of God.
Only after this is squared away should we build our house. A home is important because it is where we will show hospitality and raise our children (for those called to have them). But prudence requires us to first be about our vocational calling. David had to unify the kingdom before he could build his house (2 Sam 7). If you have already put the cart before the horse in this, repent and flip it. God will show you what to do next.
Breaking Down the Key Parts of Proverbs 24:27
#1 "Put your outdoor work in order…"
Putting things into order is the responsibility of every image-bearer. It is one of the ways in which we are most like God and it brings glory to God when we bring order out of chaos in his name.
#2 "…and get your fields ready;"
For the farmer, there is much work to do. God and nature play a massive role in the success of a farm. God is the one who makes the rain come and crops grow. But the farmer must plow the earth and sow the seed. Before God can do his part, we have to do our own. Metaphorically, this applies across vocations. For God to bless our work, what is our part? This we must be attentive to.
#3 "after that; build your house."
There is no sense building your house before you have the means to pay for it. Debt comes when we get this backward. Unfortunately, our current economy runs on getting this Proverb backward. God's people should be different from the world in this respect.
Expert Overview of Proverbs
Biblical Translations of Proverbs 24:27
NIV
Put your outdoor work in order and get your fields ready; after that, build your house.
NLT
Do your planning and prepare your fields before building your house.
ESV
Prepare your work outside; get everything ready for yourself in the field, and after that build your house.
KJV
Prepare thy work without, and make it fit for thyself in the field; and afterwards build thine house.
NKJV
Prepare your outside work, Make it fit for yourself in the field; And afterward build your house.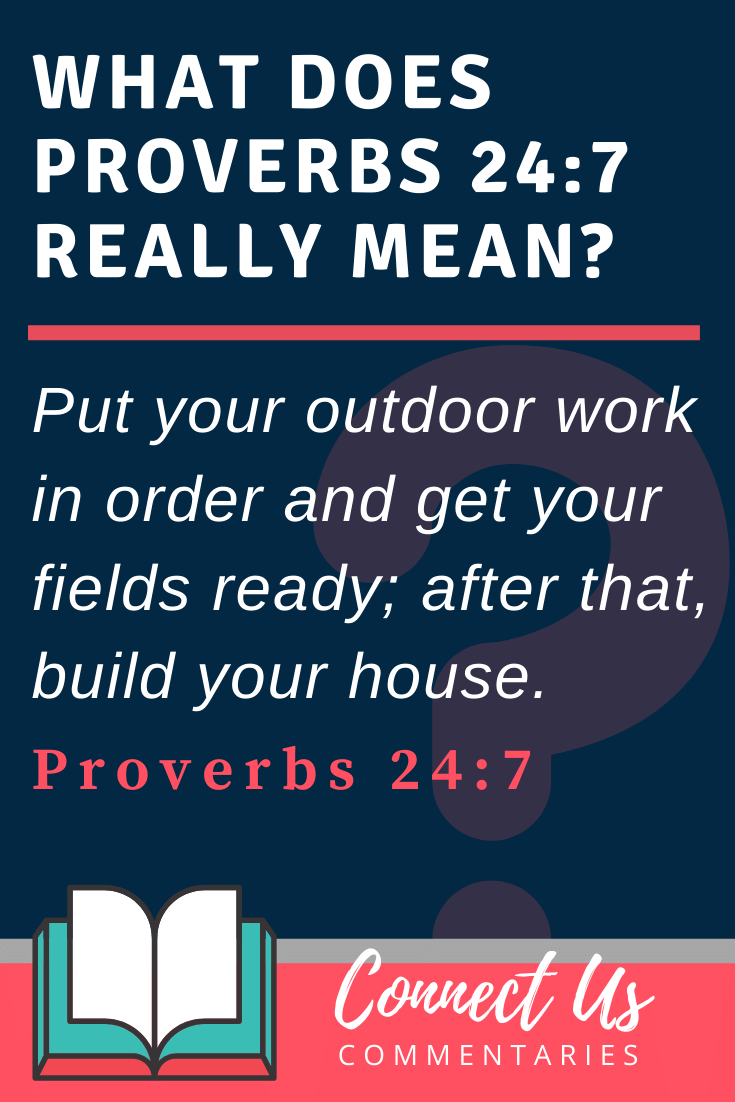 Author Bio
Natalie Regoli is a child of God, devoted wife, and mother of two boys. She has a Master's Degree in Law from The University of Texas. Natalie has been published in several national journals and has been practicing law for 18 years.