Romans 12:19
"Do not take revenge, my dear friends, but leave room for God's wrath, for it is written: 'It is mine to avenge; I will repay,' says the Lord."
Explanation and Commentary of Romans 12:19
Jesus said to love our enemies and to bless those who persecute us (Mt 5:44). Paul has said the same thing in this chapter of his letter to the Church in Rome. For the Christian, the question of taking revenge is answered. Never do it. There is no situation in which the Christian is to seek revenge on another, no matter how vile the deed done to one or one's loved ones. God knows the corruption that will come upon a man or woman if they take God's place in this matter. God, who is the judge so that we do not have to be, has ordained it to be this way. For our hearts to be free from hatred, we must be allowed to forgive and move on. But God is just. No one ever gets away with anything.
The flesh enjoys revenge, and to feed it what it wants will only create more hunger for it, not to mention what it will create in the other. Taking out our own revenge on someone assumes that we have all the pertinent information about them, their character, and what they do and don't deserve for their crimes against the universe. But God knows everything. He is perfect justice. One way or another, he will hand out the right justice, the right mercy, and he will do the most good for the most people all the time, in a way that brings glory to his name, and goodness upon his creation. In this way, he will protect the hearts of the offended ones from the corruption that will come from the human trying to do God's job.
One way to stop yourself from the impulse for revenge is to be an honest and straightforward person. Many people seek secret revenge when they feel they are mistreated. A sibling secretly commits some revenge on a brother or sister. A mother pinches a little too hard the ear of a whining five-year-old because she doesn't know how to properly discipline and gets frustrated. A bullied child avoids conflict until a volcano inside erupts into a school shooting. Integrity calls out to us to set healthy boundaries in life, but if one's boundaries are crossed, vengeance belongs to God alone.
Breaking Down the Key Parts of Romans 12:19
#1 "Do not take revenge,"
This is a simple command given by Christ (Mt 5:38-39) and repeated here by Paul. The Christian has no burden to distinguish one situation from another to ascertain when it is right to get vengeance. It is never allowed.
#2 "my dear friends,"
Paul is writing to some who are his personal friends from former journeys, but to most who are his dear friends in Christ.
#3 "but leave room for God's wrath,"
Perfect justice comes from the wrath of God for sin. To the sinner the very phrase, "the wrath of God" evokes fear, but the wrath of God is perfect and emanates from the throne of a just and holy God. It seems here that to take one's own vengeance gets in the way and leaves no "room for God's wrath," which is to stand in the way of righteousness on the earth.
#4 "for it is written: 'It is mine to avenge; I will repay,' says the Lord."
Paul quotes here Deuteronomy 32:35 from a song of Moses. It is a sad song about the corrupt and idol worshiping hearts of God's chosen people in the wilderness. God has avenged himself on his own stubborn and wicked children for their good discipline and to bring them back, and he will avenge his people on the gods and people groups who worship them who have oppressed his people in the time of their distress. Can any but God hold every string and balance every detail of what is done on the earth, and know exactly all the nooks and crannies where justice must be enforced for righteousness to prevail?
Bible Study on Romans 12:19
Expert Overview of Romans Ch. 5-16
Biblical Translations of Romans 12:19
NIV
Do not take revenge, my dear friends, but leave room for God's wrath, for it is written: "It is mine to avenge; I will repay," says the Lord.
NLT
Dear friends, never take revenge. Leave that to the righteous anger of God. For the Scriptures say, "I will take revenge; I will pay them back," says the Lord.
ESV
Beloved, never avenge yourselves, but leave it to the wrath of God, for it is written, "Vengeance is mine, I will repay," says the Lord.
KJV
Dearly beloved, avenge not yourselves, but rather give place unto wrath: for it is written, "Vengeance is mine; I will repay," saith the Lord.
NKJV
Beloved, do not avenge yourselves, but rather give place to wrath; for it is written, "Vengeance is Mine, I will repay," says the Lord.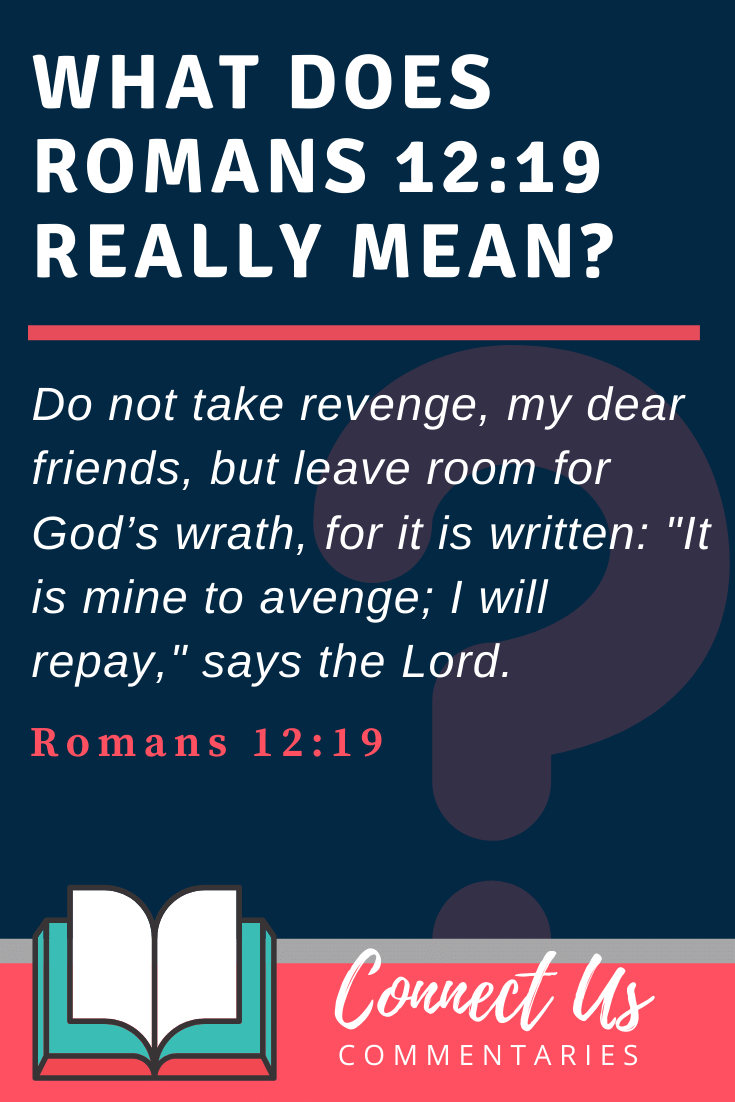 Author Bio
Natalie Regoli is a child of God, devoted wife, and mother of two boys. She has a Masters Degree in Law from The University of Texas. Natalie has been published in several national journals and has been practicing law for 18 years. If you would like to reach out to contact Natalie, then go here to
send her a message
.