1 John 3:18
"Dear children, let us not love with words or speech but with actions and in truth."
Explanation and Commentary of 1 John 3:18
After saying that if anyone sees his brother in need and does not help him, he does not have love, John broadens the point to say that love is an action. We cannot just say, "I love you," without showing it. It is meaningless. That said, we are saved by grace, and not by works. We don't serve those in need in order to be saved, but rather, because we are saved. "Actions and truth" go hand in hand. What we believe is shown by what we do.
A true test of whether we are abiding in Christ will be our compassion for the poor and for anyone in need. There are nuances to this, of course, because there is a way to help others that is toxic and will cause the harm of enabling and dependency. Paul said in 2 Thessalonians 3:10 that if someone won't work, they should not eat. But the reality is that there are many genuine needs that Christ would have us meet out of love for him. Jesus sees it as serving him when, in Christ, we serve and help others (Mt 25:40).
If you have not been as generous as you think you should have been, or you know that you have missed opportunities to show love with actions and truth, it is never too late to repent and start loving. Ask Jesus to help you, and he will show you where to start.
Breaking Down the Key Parts of 1 John 3:18
#1 "Dear children,"
John's whole letter has a fatherly tone. His paternal love for the Church is evident.
#2 "let us not love with words or speech…"
It is not that it is wrong to love with words, but words without "actions" or "truth" are empty and make us liars. Use words to bless others, but back up words with actions.
#3 "…but with actions…"
1 John 3:16-17 says, "This is how we know what love is: Jesus Christ laid down his life for us. And we ought to lay down our lives for our brothers and sisters. If anyone has material possessions and sees a brother or sister in need but has no pity on them, how can the love of God be in that person?"
#4 "…and in truth."
Just as the woman at the well was told to worship God in "spirit and in truth," (Jn 4:23-24) we are called here to love in truth. This is a powerful statement that out of our true belief in the death and resurrection of Jesus for poor sinners like us to be made rich in God, we are called live our lives accordingly, committing to the actions that genuine love dictates.
Bible Study on 1 John 3:18
Expert Overview of 1-3 John
Biblical Translations of 1 John 3:18
NIV
Dear children, let us not love with words or speech but with actions and in truth.
NLT
Dear children, let's not merely say that we love each other; let us show the truth by our actions.
ESV
Little children, let us not love in word or talk but in deed and in truth.
KJV
My little children, let us not love in word, neither in tongue; but in deed and in truth.
NKJV
My little children, let us not love in word or in tongue, but in deed and in truth.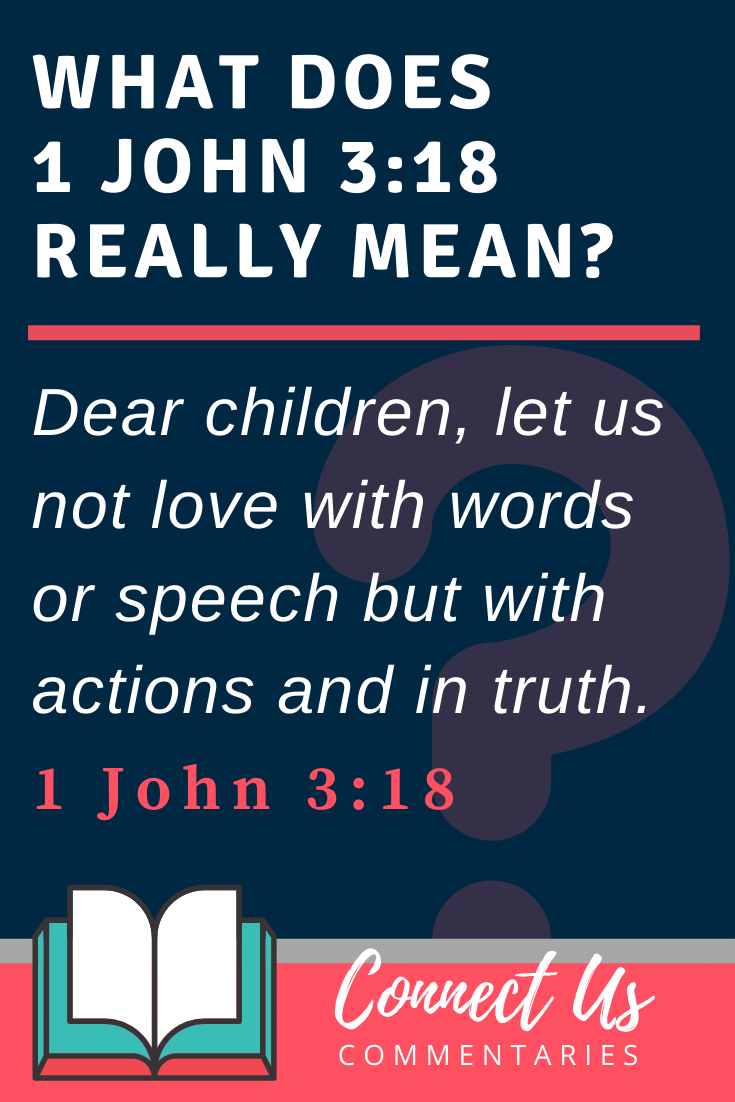 Author Bio
Natalie Regoli is a child of God, devoted wife, and mother of two boys. She has a Master's Degree in Law from The University of Texas. Natalie has been published in several national journals and has been practicing law for 18 years.